River City Smash
From SmashWiki, the Super Smash Bros. wiki
Jump to navigation
Jump to search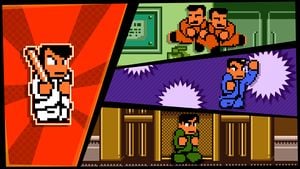 River City Smash was a Spirit Board event focused on spirits from River City. It ran from 6 a.m on January 24, 2020 to 6 a.m. on January 29, 2020 (UTC). During the event, defeating spirits on the Spirit Board which were part of the event would award more Gold than usual.
The spirits for this event were exclusive to it at the time. After April 20, 2020, these spirits became available in the Shop and on the Spirit Board like most other spirits.
Description
[
edit
]
Spirits of characters from the River City series are punching their way to the Spirit Board! Four new spirits will be available.
Defeat them in battle to earn more gold than usual. Take a look!
© ARC SYSTEM WORKS[1]
Randomly appearing spirits
[
edit
]
Spirit
Battle parameters
No.
Image
Name
Series
Enemy Fighter(s)
Type
Power
Stage
Rules
Conditions
Music
1,394

Kunio
River City Series
•Mii Brawler (Moveset 2122, Toad Outfit)

9,500
Moray Towers
•Item Tidal Wave
•Item: Battering Types
•The enemy favors neutral specials
•The enemy has increased attack power
•Certain items will appear in large numbers after a little while
Mach Rider
1,395

Riki (River City)
River City Series
•Little Mac

3,600
Saffron City (hazards off)
•Attack Power ↑
•Item: Balls
•The enemy has increased attack power after a little while
•The enemy favors neutral attacks
Excite Truck
1,396

Goda
River City Series
•Donkey Kong
•Diddy Kong

2,000
Onett
•Item: Battering Types
•Defeat the main fighter to win
•The enemy's side special has increased power
•The enemy favors side specials
Golden Forest
1,397

Ryuichi & Ryuji
River City Series
•Ryu ×2

9,300
Wrecking Crew (Battlefield form)
•Item: Killing Edge
•The enemy's side special has increased power
•The enemy favors side specials
Flash in the Dark (Dr. Wily Stage 1)
In other languages
[
edit
]
| Language | Name | Meaning |
| --- | --- | --- |
|  Japanese | ダウンタウン 熱血スマブラ行進曲 | Downtown Hot-Blooded Smash Bros. March |
|  French | Smash à River City | River City Smash |
|  German | River City Smash-Randale! | River City Smash-Rampage! |
|  Spanish | Smash River City | River City Smash |
|  Italian | Smash a River City | River City Smash |
|  Chinese (Simplified) | 闹市中的热血大乱斗进行曲 | Downtown Hot-Blooded Smash Bros. March |
|  Chinese (Traditional) | 下町熱血大亂鬥行進曲 | Downtwon Smash Bros. March |
|  Korean | 다운타운 스매시브라더스 행진곡 | Downtwon Smash Bros. March |
|  Dutch | River City Smash | — |
|  Russian | Разборки в Ривер-Сити | River City Smash |
References
[
edit
]