Bowser's Fury
From SmashWiki, the Super Smash Bros. wiki
Jump to navigation
Jump to search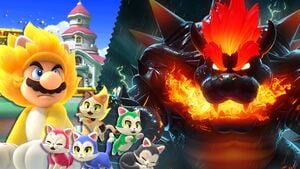 Bowser's Fury was a Spirit Board event focused on spirits from the Bowser's Fury submode found in the Nintendo Switch version of Super Mario 3D World. It ran from 6 a.m. on April 9, 2021 to 6 a.m. on April 14, 2021 (UTC). During the event, defeating spirits on the Spirit Board which were part of the event awarded more Gold than usual.
The spirits for this event were exclusive to it at the time. After July 13, 2021, these spirits became available in the Shop and on the Spirit Board like most other spirits.
Description
[
edit
]
Three new spirits from Super Mario 3D World + Bowser's Fury are raging onto the Spirit Board!
Defeat them in battle to earn more gold than usual. Be sure to check them out![1]
Randomly appearing spirits
[
edit
]
In other languages
[
edit
]
| Language | Name | Meaning |
| --- | --- | --- |
|  Japanese | 巨大クッパと一騎打ち! フューリーワールド | One on one battle with a giant Koopa! Fury World |
|  French | Bowser's Fury | — |
|  German | Bowser's Fury | — |
|  Spanish | Bowser's Fury | — |
|  Italian | Bowser's Fury | — |
|  Chinese (Simplified) | 单挑巨大酷霸王!狂怒世界 | One on one battle with a giant Koopa! Fury World |
|  Chinese (Traditional) | 單挑巨大庫巴!狂怒世界 | One on one battle with a giant Koopa! Fury World |
|  Korean | 거대 쿠파와의 맞대결! 퓨리 월드 | One on one battle with a giant Koopa! Fury World |
|  Dutch | Bowser's Fury | — |
|  Russian | Bowser's Fury | — |
References
[
edit
]