Tournament
:
EVO Japan 2020
From SmashWiki, the Super Smash Bros. wiki
Jump to navigation
Jump to search
EVO Japan 2020
Dates
January 24th-26th, 2020
Venue
Makuhari Messe
Address/City
Japan, 〒261-8550 Chiba, Mihama Ward, Nakase, 2 Chome−1
Chiba, Japan
Attendance
1,819
Results
winners
 Shuton
EVO Japan 2020 was a Super Smash Bros. Ultimate supermajor held in Tokyo, Japan, from January 24th-26th, 2020. Initially, EVO Japan 2020 had 2,988 entrants, making it the second largest Super Smash Bros. tournament of all time, the largest international tournament, and the only international tournament that had reached over 2,000 entrants. However, the tournament saw an estimated 1,169 disqualifications, placing the total entrants that showed up at around 1,819.[1] This can likely be attributed to the tournament not having any entrance fee, causing many to sign up without knowing for sure if they would be able to attend, as pools were in the middle of a work day.
The top 8 players were congratulated by the director of the Super Smash Bros. series, Masahiro Sakurai, and were awarded a gift bag from the Nintendo Tokyo store. The winner, Shuton, won a limited edition Nintendo Switch Pro Controller with a gold Super Smash Bros. series symbol emblem.
Results
[
edit
]
(1,819 entrants)
Top 24 Bracket
Top 8 Bracket
Pot prize controversy
[
edit
]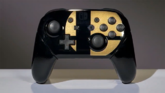 On January 20th, 2020, PracticalTAS made a post on Twitter that listed all the prizes for every game at EVO Japan 2020.[2] He noted that, while every other fighting game had a pot prize for the players who made top 8, Ultimate only rewarded the champion a Nintendo Switch pro controller as the prize, with second place and below being rewarded nothing. This stirred up controversy in the Smash community due to the underwhelming prize pool - or lack thereof - in a tournament with almost 3,000 entrants, and further fueled ongoing debate on Nintendo's support of Smash Bros. prize pools.
On January 26th, 2020, the tournament had wrapped up and all of the top 8 ended up receiving a reward in the form of a bag filled with an assortment of Nintendo merchandise. However, there was no monetary prize whatsoever for any of the competitors.
References
[
edit
]
External links
[
edit
]