Smasher:Abadango
From SmashWiki, the Super Smash Bros. wiki
Jump to navigation
Jump to search
Abadango "Aba"
Ultimate mains
Meta Knight, Mr. Game & Watch
Other Ultimate
characters
Palutena, Samus
Retired Ultimate
characters
Wario, Inkling, Pikachu
SSB4 mains
Bayonetta, Mewtwo
Other SSB4
characters
Meta Knight, Rosalina & Luma
Retired SSB4
characters
Pac-Man, Wario
Brawl main
Wario
Other Brawl
characters
Olimar, Falco
Melee main
Jigglypuff
Project M main
Diddy Kong
Sponsor(s)
Shinobism Gaming
Former sponsor(s)
Luminosity Gaming
Former crews
#THE, SHI-Gaming, Radical Stormerz
Skill
Upper mid level
Top level
Top level
Upper mid level
Top level
Ranking
Panda Global Rankings 100: 13th
UltRank 2022: 49th
OrionRank 2022: 44th
Winnings
~$20,564.88
~$1,186.14
Additional info
Real name
Yuta Kawamura
Birth date
Location
Tokyo, Kanto 
Abadango (あばだんご) is an Ultimate Meta Knight and Mr. Game & Watch player with Palutena and Samus secondaries from Tokyo, Japan, considered the best Meta Knight player in the world and one of the best Samus players in Japan. He was formerly considered the best Wario and Palutena player in Japan, one of the best Inkling players in the world in the early metagame, and one of the best Pikachu players in Japan prior to dropping them or relocating them to pocket characters. He is currently ranked 7th on the discontinued Japan Player Rankings, 58th on the Experimental Smash Player Rankings, 49th on the UltRank 2022, and 44th on the OrionRank 2022.
In SSB4, Abadango is a Bayonetta and Mewtwo player, and is considered one of the three current best Mewtwo players in the world along with SDX and WaDi, the best Mewtwo player of all time, and one of the best Bayonetta players in the world. He is also a prominent Meta Knight and Rosalina & Luma player. He was originally considered the best Pac-Man player in the world, and a top Wario player before switching to Mewtwo.[1] Abadango is ranked 1st on the JAPAN Power Rankings and 13th on the Panda Global Rankings 100.
In SSBB, Abadango was a Wario player, and was considered the best Wario player in Japan.
On October 8th, 2016, Abadango was signed by Luminosity Gaming.[2] Over a year later, on December 15th, 2017, Abadango would part ways with Luminosity Gaming.[3] Abadango joined Shinobism Gaming on November 30th, 2018.
Tournament history
[
edit
]
Rise to fame
[
edit
]
Abadango's breakout tournament was Apex 2015. Using the relatively unexplored character of Pac-Man, he quickly became a fan favorite, being dubbed the "Pac-Main" by the community. After losing in winners' finals of his round 2 pool to Mr. R, he ran through losers' bracket, defeating NinjaLink and AeroLink to make it to losers' top 8. In losers' eighths, he faced Dabuz in an infamously campy set that resulted in multiple timeouts and the 2-1 in favor of Dabuz. Abadango finished the tournament at 7th place.
After not attending any other major tournaments for six months, Abadango next appeared at EVO 2015. Having picked up his old Brawl main of Wario to complement his Pac-Man, Abadango swept through his round 1 and round 2 pools to reach top 8, defeating ESAM's Heavy Skull Bash-empowered Pikachu in the process. After losing to ZeRo in winners' semis, he had a rematch with Dabuz in loser's quarters. Abadango won the set 2-0, including a comeback in the second game with a Wario Waft stage spike. In losers' semis, he then had a close set with Mr. R, but ultimately lost 1-2, ending his run at 4th.
Character changes
[
edit
]
After EVO, Abadango made the decision to drop Wario and pick up Meta Knight and Rosalina, which he used to win Umebura 19. With this improved character spread, he entered The Big House 5, and made a deep losers' bracket run after losing to Wizzrobe. He defeated San 2-0, Megafox 3-1, and 6WX 3-0, but was defeated by ANTi 3-2 in loser's eighths, placing 7th at the tournament.
In between The Big House 5 and GENESIS 3, Abadango decided to drop Pac-Man entirely along with Rosalina, opting to solo main Meta Knight for GENESIS 3. This did not work out for him, however, as he lost sets to Zan and Zinoto, placing at an all-time low of 49th.
In February of 2016, Abadango attended Niconico Tokaigi 2016, competing with other top Japanese players and Nairo. He bounced back from his poor placing at GENESIS by winning the tournament, defeating Nairo in grand finals.
Mewtwo and Pound 2016
[
edit
]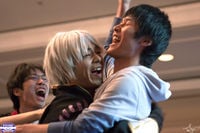 In light of the major buffs Mewtwo received in patches 1.1.3 and 1.1.5, Abadango opted to switch mains to Mewtwo, relegating Meta Knight to his secondary. With this new character in his arsenal, Abadango took Pound 2016 in dominant fashion, defeating Dabuz 3-2 in winners' quarters, VoiD 3-0 in winners' semis, Marss 3-1 in winners' finals, and Ally 3-0 in grand finals. This cemented his status as one of the best players in the world.
After Pound, Abadango attended Battle Arena Melbourne 8 where he placed 2nd, losing to Mr. R in grand finals.
Summer of Smash
[
edit
]
In June of 2016, Abadango attended Smash 'N' Splash 2 and CEO 2016, placing 5th and 4th respectively while using primarily Mewtwo. Zinoto notably eliminated him from both tournaments. In July, he attended EVO 2016 where he placed 5th losing to Ally in winners' side and ZeRo in losers. He then attended PPT Summer in Germany and Clutch City Clash in America, which he both won convincingly, defeating Ixis and Samsora respectively in grand finals.
Abadango's next major tournament was Super Smash Con 2016, where he placed 7th. Coming back from an early loss in the Mewtwo ditto against Rich Brown in round 2 pools, he defeated SuperGirlKels 2-0, Trela 2-0, Master Raven 3-0, Saj 3-1, and Ryo 3-2 before finally falling to his rival Ally 3-2 in loser's eighths. Abadango underperformed at Umebura S.A.T., however, placing 13th with losses to Taiheita and Nietono. He then placed 2nd at Umebura 25, losing 3-1 to Kameme in grand finals.
Fall 2016
[
edit
]
Fall 2016 began a string of sub-par placings for Abadango. At his namesake tournament, 2GGT: Abadango Saga, he placed 13th, losing in pools to a relatively unknown Dr. Mario main in B7Games. He then lost in bracket to Elegant. At The Big House 6, Abadango tried his new Mega Man pocket pick against ZeRo in winner's quarters, but lost 3-0. He then immediately lost to VoiD 3-1 in losers, finishing at 9th. At Waseda Festival 2016, Abadango also finished in 9th place, losing once again to Taiheita and being eliminated by Todoman.
His placings began to improve once again starting at DNG Kanto Invitational, where Abadango placed 3rd in a round-robin with some of the best smashers in Kanto. He followed this up with a stellar performance at UGC Smash Open, where he defeated ANTi 3-1 in the round of 16, Nairo 3-1 in winners' quarters, and reverse swept ESAM 3-2 in winners' semis. After once again being defeated by ZeRo 3-0 in winner's finals, Abadango crushed ESAM 3-0 in the losers' finals runback, and using his Meta Knight, took ZeRo to a last game, last stock, last hit situation in grand finals before finally being defeated 3-2. He finished the tournament at 2nd place. Abadango then placed first at Hirosuma Tokaigi Qualifiers defeating Atelier 2-1, Ron 2-1, OCEAN 2-0, and Kome 2-1 and 2-0 on his march to victory. One week later at 2GGT: ZeRo Saga Abadango defeated Locus 2-0, and Pugwest 3-1 to make it out of pools. In bracket he defeated Salem 3-1 before falling to Larry Lurr 1-3 in winners quarters. He was then eliminated by Komorikiri 2-3 and finished in 9th place.
Abadango attended SGC 2017 where he was upset by MasaRotom 1-2. He then made a losers run taking out players such as Yui before being eliminated by Mao 1-2 and finishing at 9th place.
At GENESIS 4, he defeated Light 2-0 to make it into Round 2 pools. In Round 2 pools he defeated Mr. ConCon 2-0 and Ito 2-1 to make it to Top 32 winners side. In top 32 he defeated MVD 3-2 and Tweek 3-1 before losing to Ally 0-3 in winners semis and CaptainZack 2-3 in losers quarters to finish at 5th place.
At Niconico Tokaigi 2017, Abadango made his way to winners finals defeating Hiro 2-1, Shuton 2-1. and Ranai 2-1 before falling to Nairo 0-2. In losers he was eliminated by KEN 1-2 and ultimately finished in 3rd place.
At Frostbite 2017, Abadango was upset by Black Yoshi 0-2 in pools and sent to losers. In losers he defeated Rayquaza07 3-1 and Blacktwins 3-1 before being eliminated by MKLeo 0-3 and finishing in 17th place.
At the MIT Sloan Sports Analytics Conference Pro Exhibition, Abadango defeated Koolaid 2-0, and Pugwest 2-1 before falling to Marss 2-3 in Winners finals. In losers finals he defeated Light 3-1 before losing to Marss 1-3 in Grand Finals finishing 2nd.
Abadango's next event would be 2GGC: Civil War. En route to top 32 Abadango defeated Max Ketchum 2-0, AC 2-1, and Elegant 3-1. In top 32 Abadango defeated HIKARU 3-0 before falling to T 2-3 and Marss 1-3 to finish 9th place.
At Kawaii Kon 2017, Abadango defeated Saiki 3-1 to move onto winners finals where he was defeated by VoiD 0-3. In losers finals he defeated Saiki 3-0 before falling to VoiD 1-3 in grand finals finishing 2nd.
Abadango placed 2nd at KSB 2017, losing to MKLeo 1-2 and 0-2 in winners finals and grand finals respectively.
Abadango kicked off the 2018 season with a 2nd place finish at EVO Japan 2018, losing to MkLeo in Winner's Finals and Grand Finals 2-3 and 1-3, respectively.
However, despite this strong start Abadango would have a rocky rest of the year. He placed 7th and 5th at Umebura Tokaigi Qualifier 1 and Umebura Tokaigi Qualifier 2 respectively, failing to qualify for Niconico Tokaigi 2018.
He placed 3rd at Umebura 31, beating Kome and T before losing to Atelier and T in the runback.
At his first international event of the year, SwitchFest, Abadango placed 9th beating Nicko before falling to Larry Lurr in Top 32. From there, he beat Kameme and falln before losing to VoiD.
After underplacements at Umeki Project (17th) and KVOxTSB 2018 (9th), Abadango would attend his second international event of the year, 2GG: Hyrule Saga. There, after losing to ANTi in Winner's Quarter Final, Abadango would beat NAKAT, Captain L, and Ally before falling to Shuton 1-3 to finish at 13th.
His next event, CEO 2018, saw him making his first supermajor top 8 of the year. Abadango would beat Lames, ESAM 2-0, and Nairo 3-1 before losing to Cosmos 1-3. He would then beat Marss in Game 5 to make it into top 8 before losing to CaptainZack 1-3 to finish at 7th.
Abadango would continue this momentem with a 2nd place finish at Smash Sounds, beating Jakal, Light, Nairo, and Shuton to make it to Grand Finals before losing to Dabuz 0-3 and 2-3 in the reset.
Abadango would place 25th at his next supermajor EVO 2018, beating Extra and Tyrant, and losing to Shuton and Salem.
He would close out Smash 4's lifespan at Umebura Smash 4 Final, the last Smash 4 major prior to Ultimate's release. Abadango would end up placing 13th, with losses to JILL and Tea.
The beginning of Ultimate
[
edit
]
With the release of Super Smash Bros. Ultimate just around the corner and the death of Smash 4's competitive scene with it, Abadango shifted his attention from Smash 4 to Ultimate. While he placed 4th at the Super Smash Bros. Invitational 2018, using Mewtwo, Pac-Man, and Corrin, he instead opted for newcomer Inkling as his first main alongside former Smash 4 main Meta Knight as a secondary, due to both character's strong initial perceptions as well as numerous nerfs made to his former mains Bayonetta and Mewtwo.
His first Ultimate tournament saw him placing 5th at a local-turned-regional, losing to Zackray and Nanchan.
Japan's first major, Umebura SP, took place two days later on December 16th, 2018. Due to its size (the largest Ultimate tournament at the time with 746 entrants) and time constraints, the event was forced to be single elimination. Abadango would end up placing 9th using Inkling, losing to Shuton 0-2.
Abadango's first national of the year was Sumabato SP, where he was upset early by You3. He would beat Kome and DIO before losing to Akasa to place 13th.
At Umebura SP 2, Abadango would go out early at 49th, being upset by Rotsuku in winner's and Neon in loser's.
He would bounce back at his next two events, placing 2nd at Toryumon Kiwami #5 with wins on Raito, Kisha, and T and winning WeeklySmashParty 21 over Raito.
GENESIS 6 marked his first international and supermajor appearance. After losing to Kurama, Abadango would pilot Inkling, Meta Knight, and new addition to his roster Wario to take wins over Kasei, Commander, AC, False, and ZD before losing to Secret 2-3 for a 25th finish.
At Frostbite 2019, Abadango would once again place 25th, this time mainly using Meta Knight and using Inkling occasionally. He would beat Runes and Seagull Joe before losing to Cosmos. He would then beat Skilly before losing to Marss in a last-stock game 5.
Unlike its last iteration, Abadango would turn up at Umebura SP 3. After beating supa and Choco, Abadango would lose 0-2 to Kameme. He would then beat Somo, Etsuji, Raito, and Choco in the runback before losing to ProtoBanham to finish 5th.
Abadango would place 7th at Sumabato SP 3, with wins over Uto, Rizeasu, and Cloud Madomin.
Character shifts
[
edit
]
At Japan's first supermajor, Umebura Japan Major 2019, Abadango would drop Wario in favor of Palutena alongside his Inkling to a 13th place finish. After losing to Logix, he took wins off Kome, Kie, and OCEAN before losing to Tsu 1-2.
His next tournament, EGS Cup, saw him place 3rd with wins over shky, supa, and zackray before losing to MkLeo 1-3 and KEN 0-3.
Abadango would place 3rd at French major Stunfest 2019, with wins over Niko and Leon before losing to Oryon. He would then beat Jeda, Homika, Meru, and Oryon in the runback before losing to Glutonny in Losers Final.
After a 13th place finish at Sumabato SP 4, Abadango would attend The Kid, the Goat, and the Mang0 and its pre-tournament The Mang0 Kickoff. These would be the first regional-or-higher tournaments where he mainly used Palutena, and he placed 5th at the former beating Xzax and Nicko before losing to Kameme and Tsu, and 2nd at the latter.
He netted his first super-regional or higher win at Just Roll With It! 11, a flawless run through players such as Ak8, LazyBoredom, Fatality, and Kola twice.
At CEO 2019, Abadango opted for mainly Inkling en route to a 25th place finish. He beat D2da and Spaghetti before losing to Puppeh. He would then beat Wrath before falling to MuteAce.
In his final tournament before the end of the first PGRU season, Karisuma SP 3, Abadango brought back the Wario to place 13th. After losing to OCEAN early, he would beat Rizeo, Tsumusuto, and Kome before losing to DIO.
Despite not being as dominant as he was in Smash 4, Abadango was still able to put up solid performances at majors. Due to this, he was ranked 40th on the Spring 2019 PGRU.
Tournament placings
[
edit
]
| Tournament | Date | 1v1 placement | 2v2 placement | Partner |
| --- | --- | --- | --- | --- |
| SRBT 1-1 | February 11th, 2012 | 9th | — | — |
| SRBT 1-2 | March 3rd, 2012 | 1st | — | — |
| SRBT 1-3 | April 7th, 2012 | — | 5th | Yukhoe |
| SRBT 1-4 | May 27th, 2012 | 3rd | — | — |
| SRBT 1-5 | June 30th, 2012 | 9th | — | — |
| Sun Rise Tournament | August 10th-12th, 2012 | 25th | 4th | Yukhoe |
| Piosuma | October 28th, 2012 | 5th | — | — |
| Piosuma 2 | December 2nd, 2012 | 7th | 3rd | Otori |
| Apex 2013 | January 11th-13th, 2013 | 33rd | 5th | Otori |
| Piosuma 2.1 | January 27th, 2013 | 2nd | — | — |
| Piosuma 5 | June 15th, 2013 | 9th | — | — |
| Piosuma 7 | October 27th, 2013 | 13th | 9th | Mikeneko |
| Umebura 5 | July 26th, 2014 | 17th | — | — |
| Umebura 6 | August 10th, 2014 | — | 7th | Yukke |
| PPT Summer | July 22nd-24th, 2016 | 1st | — | — |
| Super Smash Con 2016 | August 11th-14th, 2016 | 17th | 4th | Vinnie |
| Tournament | Date | 1v1 placement | 2v2 placement | Partner |
| --- | --- | --- | --- | --- |
| Umebura 8 | September 23rd, 2014 | 2nd | — | — |
| Umebura 10 | November 23rd, 2014 | 49th | — | — |
| Tournament | Date | 1v1 placement | 2v2 placement | Partner |
| --- | --- | --- | --- | --- |
| Umebura 11 | December 23rd, 2014 | 9th | — | — |
| Smash 4-Ever #10 | January 28th, 2015 | 5th | — | — |
| Apex 2015 | January 30th-February 1st, 2015 | 7th | 13th | aMSa |
| Umebura 12 | February 8th, 2015 | 2nd | — | — |
| Cannes Winter Clash | February 27th-March 1st, 2015 | 2nd | — | — |
| Umebura 13 | March 15th, 2015 | 5th | — | — |
| KSB 2015 | May 2nd-4th, 2015 | 9th | — | — |
| EVO 2015 | July 17th-19th, 2015 | 4th | 33rd | RAIN |
| Umebura 18 | August 8th, 2015 | 13th | — | — |
| Umebura 19 | August 29th, 2015 | 1st | — | — |
| Umebura F.A.T. | September 21st-22nd, 2015 | 17th | — | — |
| Smashfield Weekly #9 | October 1st, 2015 | 3rd | — | — |
| The Big House 5 | October 2nd-4th, 2015 | 7th | 2nd | ANTi |
| Sumabato 6 | October 24th, 2015 | 4th | — | — |
| Rikabura 3 | November 22nd, 2015 | 5th | — | — |
| Umebura Niconico Qualifiers | November 29th, 2015 | 7th | — | — |
| Sumabato Niconico Qualifiers | December 26th, 2015 | 2nd | — | — |
| Umebura Genesis Cup | January 11th, 2016 | 3rd | 4th | Nyanko |
| GENESIS 3 | January 15th-17th, 2016 | 49th | 3rd | Mr.R |
| Niconico Tokaigi 2016 | January 30th-31st, 2016 | 1st | — | — |
| Umebura 21 | February 11th, 2016 | 9th | — | — |
| Rikabura 4 | March 20th, 2016 | 1st | — | — |
| Pound 2016 | April 2nd-3rd, 2016 | 1st | 9th | Mr.R |
| Umebura 22 | April 24th, 2016 | 9th | — | — |
| Ignition #28 | April 27th, 2016 | 1st | ? | NiTe |
| Midwest Mayhem 2 | April 30th, 2016 | 3rd | 2nd | iStudying |
| Battle Arena Melbourne 8 | May 13th-15th, 2016 | 2nd | 1st | MM |
| Umebura 23 | May 21st, 2016 | 33rd | – | – |
| Smash 'N' Splash 2 | June 11th-12th, 2016 | 5th | 2nd | ZeRo |
| CEO 2016 | June 24th-26th, 2016 | 4th | 17th | RAIN |
| Takera's House Tournament | July 10th, 2016 | 2nd | — | — |
| EVO 2016 | July 15th-17th, 2016 | 5th | — | — |
| PPT Summer | July 22nd-24th, 2016 | 1st | 1st | Sodrek |
| Clutch City Clash | August 6th-7th, 2016 | 1st | 4th | Samsora |
| Super Smash Con 2016 | August 11th-14th, 2016 | 7th | 5th | Vinnie |
| Umebura S.A.T. | August 20th-21st, 2016 | 13th | 13th | Dabuz |
| TSC 4 | September 3rd, 2016 | 3rd | — | — |
| Umebura 25 | September 10th, 2016 | 2nd | — | — |
| 2GGT: Abadango Saga | September 24th, 2016 | 13th | 3rd | Larry Lurr |
| Mega Smash Mondays 67 | September 26th, 2016 | 5th | — | — |
| Little Big House 2 | October 6th, 2016 | 2nd | — | — |
| The Big House 6 | October 7th-9th, 2016 | 9th | 17th | Sodrek |
| Rikabura 6 | October 30th, 2016 | 1st | — | — |
| Waseda Festival 2016 | November 5th, 2016 | 9th | — | — |
| Umebura 25.5 | November 6th, 2016 | — | 2nd | Kameme |
| DNG Kanto Invitational | November 19th, 2016 | 3rd | — | — |
| UGC Smash Open | December 2nd-4th, 2016 | 2nd | 9th | Kameme |
| Hirosuma Tokaigi Qualifiers | December 11th, 2016 | 1st | — | — |
| 2GGT: ZeRo Saga | December 16th-18th, 2016 | 9th | 9th | Kameme |
| SGC 2017 | January 7th-8th, 2017 | 9th | — | — |
| GENESIS 4 | January 20th-22nd, 2017 | 5th | 5th | Kameme |
| Niconico Tokaigi 2017 | February 11th-12th, 2017 | 3rd | — | — |
| Smashfield Weeklies #78 | February 23rd, 2017 | 7th | — | — |
| Frostbite 2017 | February 25th-26th, 2017 | 17th | 3rd | Kameme |
| Smash 'N' Chill Weekly #7 | February 28th, 2017 | 2nd | — | — |
| Smashfield Weeklies #79 | March 2nd, 2017 | 1st | — | — |
| Wednesday Night Fights 2017 Winter Season 1.6 | March 22nd, 2017 | 13th | — | — |
| 2GGC: Civil War | March 24th-26th, 2017 | 9th | 4th | Kameme |
| Kawaii Kon 2017 | April 7th-9th, 2017 | 2nd | 3rd | DarkMusician |
| Toryumon Weekday Tournament x STUDIO SKY #1 | April 26th, 2017 | 5th | — | — |
| Tokyo Game Bar 3 | April 30th, 2017 | 2nd | — | — |
| KSB 2017 | May 4th-6th, 2017 | 2nd | — | — |
| Umebura Japan Major 2017 | May 6th-7th, 2017 | 9th | 13th | Kameme |
| Toryumon Weekday Tournament x STUDIO SKY #2 | May 10th, 2017 | 7th | — | — |
| Toryumon Weekday Tournament x STUDIO SKY #3 | May 17th, 2017 | 9th | — | — |
| 2GGC: Greninja Saga | May 20th, 2017 | 9th | 7th | Mr.R |
| Mega Smash Mondays 98 | May 22nd, 2017 | 2nd | — | — |
| Wednesday Night Fights 2017 Spring Season 2.3 | May 24th, 2017 | 1st | — | — |
| MomoCon 2017 | May 26th-28th, 2017 | 9th | 3rd | Kameme |
| UBC Smash 4 Pre-Battle of BC 2 Weekly | June 1st-2nd, 2017 | 1st | — | — |
| Battle of BC 2 | June 3rd-4th, 2017 | 2nd | 2nd | ANTi |
| Mega Smash Mondays 24 - The Lose Episode | June 5th, 2017 | 5th | — | — |
| Wednesday Night Fights 2017 Spring Season 2.5 | June 7th, 2017 | 2nd | — | — |
| 2GGC: Nairo Saga | June 10th-11th, 2017 | 5th | 3rd | Kameme |
| Mega Smash Mondays 100 | June 12th, 2017 | 17th | — | — |
| Wednesday Night Fights 2017 Spring Season 2.6 | June 14th, 2017 | 3rd | — | — |
| CEO 2017 | June 16th-18th, 2017 | 17th | — | — |
| Toryumon Weekday Tournament x STUDIO SKY #6 | June 28th, 2017 | 2nd | — | — |
| Umebura 27 | July 1st, 2017 | 1st | — | — |
| Toryumon Weekday Tournament x STUDIO SKY #7 | July 5th, 2017 | 2nd | — | — |
| 2GGC: ARMS Saga | July 8th-9th, 2017 | 13th | 3rd | Kameme |
| Mega Smash Mondays 104 | July 10th, 2017 | 2nd | — | — |
| EVO 2017 | July 14th-16th, 2017 | 9th | — | — |
| Toryumon Weekday Tournament x STUDIO SKY #8 | July 26th, 2017 | 5th | — | — |
| Low Tier City 5 | August 5th-6th, 2017 | 7th | 4th | Larry Lurr |
| Shockwave 142 | August 9th, 2017 | 2nd | — | — |
| Super Smash Con 2017 | August 10th-13th, 2017 | 33rd | 9th | Kameme |
| Weds Night Fights 2017 Summer Season 3.3 | August 16th, 2017 | 3rd | — | — |
| 2GGC: SCR Saga | August 19th-20th, 2017 | 17th | 9th | Kameme |
| Toryumon Weekday Tournament x STUDIO SKY #10 | August 30th, 2017 | 1st | — | — |
| 2GGC: West Side Saga | September 9th, 2017 | 9th | 7th | JK |
| GameTyrant Expo 2017 | September 29th-October 1st, 2017 | 25th | — | — |
| Little Big House 3 | October 5th, 2017 | 2nd | — | — |
| The Big House 7 | October 6th-8th, 2017 | 17th | 13th | Umeki |
| 2GGC: Fire Emblem Saga | October 14th-15th, 2017 | 25th | 5th | ANTi |
| Mega Smash Mondays 118 | October 16th, 2017 | 5th | — | — |
| DreamHack Denver 2017 | October 20th-22nd, 2017 | 5th | 2nd | Larry Lurr |
| Umebura 29 | October 28th, 2017 | 2nd | — | — |
| 2GGC: MkLeo Saga | November 4th, 2017 | 7th | 4th | Kameme |
| Umebura 30 | November 18th, 2017 | 2nd | — | — |
| Toryumon Weekday Tournament x STUDIO SKY #16 | November 22nd, 2017 | 9th | — | — |
| Rikabura 8 | November 25th, 2017 | 5th | — | — |
| 2GG Championship | December 1st-3rd, 2017 | 7th | — | — |
| Umebura T.A.T. | December 23rd-24th, 2017 | 17th | 13th | Namata |
| Toryumon Weekday Tournament x STUDIO SKY #18 | January 24th, 2018 | 13th | — | — |
| EVO Japan 2018 | January 26th-28th, 2018 | 2nd | — | — |
| Umebura Tokaigi Qualifier 1 | February 3rd, 2018 | 7th | — | — |
| Umebura Tokaigi Qualifier 2 | February 4th, 2018 | 5th | — | — |
| Rikabura 9 | March 18th, 2018 | 2nd | — | — |
| Umebura 31 | March 21st, 2018 | 3rd | — | — |
| Toryumon Weekday Tournament x STUDIO SKY #22 | April 11th, 2018 | 5th | — | — |
| SwitchFest | April 21st-22nd, 2018 | 9th | 5th | Kameme |
| Mega Smash Mondays 143 | April 23rd, 2018 | 1st | — | — |
| Umeki Project | April 29th, 2018 | 17th | 4th | Nanchan |
| Toryumon Weekday Tournament x STUDIO SKY #24 | May 2nd, 2018 | 1st | — | — |
| KVOxTSB 2018 | May 4th-6th, 2018 | 9th | — | — |
| Umebura 32 | May 12th, 2018 | 2nd | — | — |
| Triforce Friday | June 22nd, 2018 | 9th | — | — |
| 2GG: Hyrule Saga | June 23rd-24th, 2018 | 13th | 5th | Kameme |
| Master Sword Monday | June 25th, 2018 | 9th | — | — |
| CEO 2018 | June 29th-July 1st, 2018 | 7th | — | — |
| Smash Sounds | July 7th-8th, 2018 | 2nd | 1st | Kameme |
| Umebura 33 | July 28th, 2018 | 1st | — | — |
| EVO 2018 | August 3rd-5th, 2018 | 25th | — | — |
| Umebura Smash 4 Final | December 1st-2nd, 2018 | 13th | — | — |
| Tournament | Date | 1v1 placement | 2v2 placement | Partner |
| --- | --- | --- | --- | --- |
| Super Smash Bros. Invitational 2018 | June 12th, 2018 | 4th | — | — |
| WeeklySmashParty 017 | December 14th, 2018 | 5th | — | — |
| Umebura SP | December 16th, 2018 | 9th | — | — |
| Toryumon Kiwami #3 | January 2nd, 2019 | 9th | — | — |
| Sumabato SP | January 6th, 2019 | 13th | — | — |
| Toryumon Kiwami #4 | January 9th, 2019 | 4th | — | — |
| Umebura SP 2 | January 12th, 2019 | 49th | — | — |
| Toryumon Kiwami #5 | January 23rd, 2019 | 2nd | — | — |
| WeeklySmashParty 21 | January 30th, 2019 | 1st | — | — |
| GENESIS 6 | February 1st-3rd, 2019 | 25th | 33rd | Shuton |
| Toryumon Kiwami #6 | February 6th, 2019 | 33rd | — | — |
| WeeklySmashParty 23 | February 8th, 2019 | 2nd | — | — |
| Toryumon Kiwami #7 | February 13th, 2019 | 4th | — | — |
| Toryumon Kiwami #8 | February 20th, 2019 | 17th | — | — |
| Frostbite 2019 | February 22nd-24th, 2019 | 25th | 5th | kameme |
| Toryumon Kiwami #10 | March 6th, 2019 | 9th | — | — |
| Toryumon Kiwami #11 | March 13th, 2019 | 1st | — | — |
| Toryumon Kiwami #12 | March 20th, 2019 | 2nd | — | — |
| Umebura SP 3 | April 13th, 2019 | 5th | — | — |
| Sumabato SP 3 | April 14th, 2019 | 7th | — | — |
| Kurobra 15 | April 21st, 2019 | 2nd | — | — |
| Umebura Japan Major 2019 | May 1st-2nd, 2019 | 13th | — | — |
| EGS Cup | May 6th, 2019 | 3rd | — | — |
| Toryumon Kiwami #18 | May 8th, 2019 | 5th | — | — |
| Stunfest 2019 | May 17th-19th, 2019 | 3rd | 1st | Shuton |
| Sumabato SP 4 | May 26th, 2019 | 13th | — | — |
| The Mang0 Kickoff | June 7th, 2019 | 2nd | — | — |
| The Kid, the Goat, and the Mang0 | June 8th-9th, 2019 | 5th | 2nd | Elegant |
| Wednesday Night Fights 2019 2.6 | June 13th, 2019 | 13th | — | — |
| Just Roll With It! 11 | June 15th, 2019 | 1st | — | — |
| 2GG: Grand Tour - South Carolina | June 15th-16th, 2019 | 7th | — | — |
| CEO 2019 | June 28th-30th, 2019 | 25th | — | — |
| Karisuma SP 3 | July 6th, 2019 | 13th | — | — |
| Sumabato SP 6 | July 13th, 2019 | 9th | — | — |
| Smash Factor 8 | July 26th-28th, 2019 | 5th | 4th | NAKAT |
| GameWorks Pre-EVO 2019 | August 1st, 2019 | 4th | — | — |
| EVO 2019 | August 2nd-4th, 2019 | 9th | — | — |
| Sumabato SP 7 | August 11th, 2019 | 17th | — | — |
| Umebura SP 4 | August 16th, 2019 | 1st | — | — |
| EGS Cup 2 | August 25th, 2019 | 7th | — | — |
| Sumabato SP 8 | September 15th, 2019 | 3rd | — | — |
| Karisuma SP 4 | September 16th, 2019 | 5th | — | — |
| Umebura SP 5 | September 28th, 2019 | 17th | — | — |
| Little Big House 5 | October 3rd, 2019 | 17th | — | — |
| The Big House 9 | October 4th-6th, 2019 | 49th | — | — |
| Umebura SP 6 | October 22nd, 2019 | 17th | — | — |
| Pearl One | November 2nd-3rd, 2019 | 2nd | 1st | kameme |
| Umebura SP 7 | November 16th, 2019 | 25th | — | — |
| POP-OFF | November 23rd, 2019 | 4th | — | — |
| Seibugeki 3 | November 29th-30th, 2019 | 4th | — | — |
| 2GG: Kongo Saga | December 7th-8th, 2019 | 65th | 4th | kameme |
| Mega Smash Mondays 219 | December 9th, 2019 | 5th | — | — |
| Karisuma SP 7 | January 11th, 2020 | 1st | — | — |
| EGS Cup 3 | January 13th, 2020 | 2nd | — | — |
| EVO Japan 2020 | January 24th-26th, 2020 | 9th | — | — |
| Maesuma TOP 2 | March 1st, 2020 | 7th | — | — |
| Voyage Qualifier 1 | May 3rd, 2020 | 5th | — | — |
| Voyage | May 5th, 2020 | 13th | — | — |
| Eastern Powerhouse Invitational FINAL | October 24th, 2020 | 2nd | — | — |
| Tamisuma Championship 2 | March 18th, 2021 | 65th | — | — |
| Kagaribi 3 | March 27th, 2021 | 17th | — | — |
| SWT: Japan Ultimate Online Qualifier | April 16th-17th, 2021 | 33rd | — | — |
| Tamisuma Championship 4 | June 10th, 2021 | 9th | — | — |
| Winner! | June 21st, 2021 | 33rd | — | — |
| Kagaribi 4 | June 26th-27th, 2021 | 33rd | — | — |
| Maesuma TOP 5 | July 3rd-4th, 2021 | 7th | — | — |
| DAWN 1 | October 17th, 2021 | 13th | — | — |
| Kagaribi 5 | October 30th-31st, 2021 | 33rd | — | — |
| Mjolner 0 | November 4th, 2021 | 13th | — | — |
| Seibugeki 9 | November 7th, 2021 | 33rd | — | — |
| Kurobra 26 | November 20th, 2021 | 1st | — | — |
| Mjolner 1 | November 21st, 2021 | 17th | — | — |
| DAWN 2 | November 14th, 2021 | 4th | — | — |
| Kagaribi 6 | January 8th-9th, 2022 | 33rd | — | — |
| Smash OPEN in Akihabara esports Japan | March 12th, 2022 | 9th | — | — |
| Sumabato SP 23 | March 19th, 2022 | 25th | — | — |
| Sumabato SP 24 | March 20th, 2022 | 5th | — | — |
| Ignite 1 | March 27th, 2022 | — | 49th | Namata |
| Sumabato SP 25 | April 2nd, 2022 | 33rd | — | — |
| WINNER! -Next Gen- | April 9th, 2022 | 7th | — | — |
| Maesuma TOP 7 | May 1st, 2022 | 9th | — | — |
| Seibugeki 10 | May 3rd, 2022 | 17th | — | — |
| Kagaribi 7 | May 4th-5th, 2022 | 49th | — | — |
| Shinosuma HEROES 1 | May 21st, 2022 | 4th | — | — |
| Kurobra 29 | May 28th, 2022 | 17th | — | — |
| Maesuma TOP 8 | June 11th-12th, 2022 | 25th | — | — |
| Wave 1 | June 18th, 2022 | 7th | — | — |
| Seibugeki 11 | July 2nd, 2022 | 49th | — | — |
| Kagaribi 8 | July 30th-31st, 2022 | 2nd | — | — |
| Wave 2 | September 4th, 2022 | 13th | — | — |
| VCA 2022 | October 1st-2nd, 2022 | 3rd | 33rd | kept |
| Maesuma TOP 10 | October 15th-16th, 2022 | 17th | — | — |
| Koshisuma x Super Smash Brothers Shintoshin 1 | October 23rd, 2022 | 3rd | — | — |
| KOWLOON 3 | November 5th, 2022 | 9th | — | — |
| WINNER! -Next 1- | November 27th, 2022 | 13th | — | — |
| Seibugeki 12 | December 3rd, 2022 | 33rd | — | — |
| DELTA 1 | December 17th, 2022 | 5th | — | — |
| JAPAN 24 | December 24th-25th, 2022 | 17th | — | — |
| Umebura SP 9 | January 7th-8th, 2023 | 17th | — | — |
| DELTA 2 | January 29th, 2023 | 5th | — | — |
| Kagaribi 9 | February 4th-5th, 2023 | 97th | — | — |
| Shinosuma HEROES 3 | February 11th, 2023 | 9th | — | — |
| WINNER! -Next 2- | February 18th, 2023 | 13th | — | — |
| Seoul Smash 2022 Finals Invitational | February 26th, 2023 | 1st | — | — |
| WINNER! -Next 3- | March 19th, 2023 | 4th | — | — |
| DELTA 3 | March 21st, 2023 | 13th | — | — |
| Wave 4 | April 22nd, 2023 | 13th | — | — |
| Maesuma TOP 12 | April 30th, 2023 | 17th | — | — |
| Kagaribi 10 | May 6th-7th, 2023 | 33rd | — | — |
| Midobura SP 3 | May 27th, 2023 | 9th | — | — |
External links
[
edit
]
References
[
edit
]