Smasher:iStudying
From SmashWiki, the Super Smash Bros. wiki
Jump to navigation
Jump to search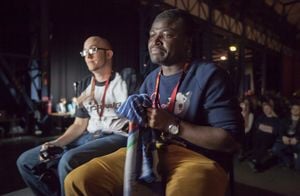 iStudying is a professional Dutch smasher who plays Greninja in both Ultimate and Smash 4. In Ultimate, he is considered one of the best Greninja players in Europe, along with Tarik, and has defeated players such as Mr.R, Tilde, Stroder, quiK, NaetorU and eMass. He is currently ranked 6th on the Dutch Ultimate Power Rankings, and 27th on both the OrionRank 2022 Europe, and the PGRU v3 EU.
He is widely considered to be one of the best Smash 4 Greninja mains in the world and a great Diddy Kong player in Brawl. At B.E.A.S.T 6, he made a very long run through losers bracket after losing to Light 1-2, while also defeating top American players MVD 3-1 in losers semis and ESAM 3-2 in losers finals consecutively, proving both his global skill as a player and Greninja's potential as a fighter, having defeated characters unanimously considered superior to Greninja. He also upset Ally at UGC Smash Open and Rich Brown at Syndicate 2016.
iStudying is currently ranked 3rd on the Dutch Smash 4 Power Rankings, 10th on the European Smash 4 Power Rankings and was formerly ranked 42nd on the Panda Global Rankings v1.
Tournament placings
[
edit
]
| Tournament | Date | 1v1 Placement | 2v2 Placement | Partner |
| --- | --- | --- | --- | --- |
| Super Lion 4 | August 7th-9th, 2009 | — | 1st | Mr. R |
| ZEST 5 | May 1st, 2010 | 4th | 2nd | Mr. R |
| Bushido Brawl Impact | July 23rd-25th, 2010 | 13th | 2nd | Mr. R |
| Brawl in Berlin | August 13th-15th, 2010 | 4th | 2nd | Mr. R |
| Make Some Neuss | December 10th-12th, 2010 | 17th | 7th | Mr. R |
| Make Some Neuss 2 | May 27th-29th, 2011 | 5th | 5th | Mr. R |
| OSTS: Archer | August 27th, 2011 | 3rd | 2nd | Mr. R |
| AGON Winter | March 1st, 2013 | 7th | 4th | Mr. R |
| Avalon I | October 5th, 2013 | 5th | 1st | Mr. R |
| Avalon II | November 9th, 2013 | 5th | 1st | Mr. R |
| Avalon III | March 8th, 2014 | 2nd | 1st | Mr. R |
| Avalon IV | July 12th, 2014 | 1st | 2nd | Gregs |
| Summer Gamers Beverwijk | August 9th, 2014 | 2nd | 1st | Mr. R |
| Avalon V | September 6th, 2014 | 1st | 1st | Gregs |
| Tournament | Date | 1v1 placement | 2v2 placement | Partner |
| --- | --- | --- | --- | --- |
| Avalon VI | November 29th, 2014 | 3rd | — | — |
| Tournament | Date | 1v1 Placement | 2v2 Placement | Partner |
| --- | --- | --- | --- | --- |
| Avalon VII | January 31st, 2015 | 1st | 2nd | Gregs |
| GGWP II | February 22nd, 2015 | 5th | 9th | Arvi |
| Avalon VIII | April 4th, 2015 | 3rd | 5th | Gregs |
| GGWP III | April 26th, 2015 | 2nd | 3rd | Gregs |
| JST7 | May 23rd-24th, 2015 | 5th | 5th | Gregs |
| Smash4United 3 | May 30th, 2015 | 4th | 3rd | Gregs |
| Avalon IX | June 13th, 2015 | 3rd | 3rd | Gregs |
| BIG AGON Season-Frühling! | June 26th-28th, 2015 | 17th | 4th | Gregs |
| GGWP IV | July 5th, 2015 | 2nd | 3rd | Gregs |
| ESL Community Cup 1 Europe | July 26th, 2015 | 3rd | — | — |
| ESL Community Cup Final Europe | August 23rd, 2015 | 5th | — | — |
| Avalon X | September 5th, 2015 | 1st | 1st | Gregs |
| DAT BlastZone 7 | October 3rd, 2015 | 5th | 9th | Gregs |
| Smash Brabant Tournament 4 | October 18th, 2015 | 1st | 1st | Gregs |
| Avalon U | November 7th, 2015 | 2nd | 3rd | Gregs |
| Smash4United 4 | November 21st, 2015 | 2nd | 2nd | Gregs |
| GGWP V: The Awakening | January 31st, 2016 | 2nd | 3rd | Gregs |
| Counterpick 6 | February 5th, 2016 | 1st | — | — |
| Avalon U-II | February 6th, 2016 | 3rd | 5th | Gregs |
| B.E.A.S.T 6 | February 19th-21st, 2016 | 2nd | 5th | Gregs |
| Counterpick 7 | February 26th, 2016 | 2nd | — | — |
| GGWP VI: The Heroes | February 27th, 2016 | 2nd | 1st | Gregs |
| NH Smash 2 | March 19th, 2016 | 2nd | 1st | Gregs |
| Pound 2016 | April 2nd-3rd, 2016 | 25th | 25th | Hungrybox |
| Midwest Mayhem 2 | April 30th, 2016 | 7th | 2nd | Abadango |
| Sunday Smash #67 | May 1st, 2016 | 4th | 2nd | Rich Brown |
| Get On My Level 2016 | May 20th-22nd, 2016 | 17th | 3rd | Mr.R |
| Avalon U-IV | June 4th, 2016 | 2nd | 2nd | Gregs |
| GGWP VIII: Preparations | June 23rd, 2016 | 2nd | 4th | Gregs |
| PPT Summer | July 23rd, 2016 | 5th | 7th | Gregs |
| DAT BlastZone 14 | August 27th, 2016 | 1st | 2nd | Gregs |
| Avalon U-V | September 3rd, 2016 | 4th | 3rd | Gregs |
| Key to The PG House | September 8th-18th, 2016 | 17th | — | — |
| Syndicate 2016 | September 10th-11th, 2016 | 3rd | 2nd | Gregs |
| Eclipse 2 | October 21st-23rd, 2016 | 3rd | 2nd | Gregs |
| Smashdown World | November 25th-26th, 2016 | 13th | 4th | Gregs |
| UGC Smash Open | December 2nd-4th, 2016 | 17th | 7th | Mr.R |
| B.E.A.S.T 7 | February 17th-19th, 2017 | 4th | 9th | Gregs |
| 2GGC: Civil War | March 24th-26th, 2017 | 65th | 33rd | Mr.R |
| Mega Smash Mondays 91 | March 27th, 2017 | 4th | — | — |
| Icarus III | April 22nd-23rd, 2017 | 4th | 3rd | quiK |
| 2GGC: Greninja Saga | May 20th, 2017 | 33rd | 13th | Elexiao |
| Albion 2 | July 1st-2nd, 2017 | 33rd | 7th | Gregs |
| Elysium | July 15th, 2017 | 9th | 4th | Gregs |
| Smash4United 6 | September 16th, 2017 | 1st | 1st | Gregs |
| Syndicate 2017 | September 23rd-24th, 2017 | 5th | 17th | Gregs |
| Tech Republic III | November 17th-19th, 2017 | 4th | 5th | Gregs |
| Fortuna | November 25th, 2017 | 1st | 5th | S1 |
| DAT BlastZone 25: The Silver Anniversary | January 27th, 2018 | 13th | 4th | Light |
| European Smash 4 Pro Circuit Invitational Final Event | July 7th, 2018 | 9th | — | — |
| Canada Cup 2018 | October 26th-28th, 2018 | 17th | 5th | Mr.R |
| VCA 2018 | November 17th-18th, 2018 | 2nd | 2nd | Mr.R |
| Tournament | Date | 1v1 placement | 2v2 placement | Partner |
| --- | --- | --- | --- | --- |
| Valhalla II | January 3rd-7th, 2019 | 25th | 17th | Gregs |
| GGWP: Ultimate | January 12th, 2019 | 4th | 4th | Gregs |
| Tech Republic IV | March 1st-3rd, 2019 | 7th | 17th | Gregs |
| Brussels Challenge Major Edition 2019 | April 5th-7th, 2019 | 5th | 5th | Meru |
| Regen 2019 | April 27th-28th, 2019 | 3rd | 1st | Mr.R |
| TSEA Link Summer Smash | May 12th, 2019 | 5th | 5th | Gregs |
| Lightning: The New Spark | June 8th, 2019 | 9th | 4th | Gregs |
| The Ultimate Performance | June 29th, 2019 | 3rd | — | — |
| Albion 4 | July 6th-7th, 2019 | 17th | 17th | Gregs |
| EVO 2019 | August 2nd-4th, 2019 | 49th | — | — |
| Super Smash Con 2019 | August 8th-11th, 2019 | 97th | 49th | Patrino |
| Lightning: Strikes Twice | September 7th, 2019 | 5th | — | — |
| Ultimate Fighting Arena 2019 | October 4th-6th, 2019 | 9th | 4th | Meru |
| DreamHack Rotterdam | October 18th-20th, 2019 | 3rd | — | — |
| Syndicate 2019 | October 25th-27th, 2019 | 65th | 25th | Meru |
| The Ultimate Performance 2 | November 16th, 2019 | 5th | — | — |
| Heroes of Dutch Comic Con Winter Edition | November 23rd-24th, 2019 | 1st | — | — |
| Lightning: Volume 3 | December 7th, 2019 | 5th | — | — |
| Valhalla III | January 9th-13th, 2020 | 13th | — | — |
| DreamHack Leipzig 2020 | January 25th-26th, 2020 | 13th | — | — |
| The Ultimate Performance 3 | February 22nd, 2020 | 1st | — | — |
| The Quarantine Series: Minor Tournament 1 | April 18th-19th, 2020 | 97th | — | — |
| Pound Online | April 24th-26th, 2020 | 49th | — | — |
| Battle of the Armada | May 3rd, 2020 | 9th | — | — |
| Online Smash Contest: DigiKomi | May 23rd, 2020 | 7th | — | — |
| The Quarantine Series: Europe Edition! | June 6th-7th, 2020 | 49th | — | — |
| Bearded Beatdown | September 6th, 2020 | 3rd | — | — |
| SWT: Europe Ultimate Online Qualifier | April 10th-11th, 2021 | 13th | — | — |
| SWT: Europe Ultimate Online Qualifier Last Chance Qualifier | April 11th, 2021 | 17th | — | — |
| Ultimate WANTED 3 | August 12th-15th, 2021 | 9th | 9th | Enki |
| Temple: Hermès Edition | September 1st-5th, 2021 | 9th | — | — |
| AOMA Esports Unleashed | October 31st, 2021 | 4th | — | — |
| Tax Deluxe: 3 | March 19th, 2022 | 5th | — | — |
| The Ultimate Performance 3.5 | May 8th, 2022 | 7th | 9th | Gregs |
| E-Caribana | June 19th, 2022 | 9th | — | — |
| COLOSSEL 2022 | July 2nd-3rd, 2022 | 17th | — | — |
| Lightning: Volume 4 | July 9th, 2022 | 13th | — | — |
| Brussels Challenge Major Edition 2022 | July 23rd-24th, 2022 | 13th | — | — |
| Vulcan 4 | September 3rd, 2022 | 1st | — | — |
External links
[
edit
]
Gameplay videos
[
edit
]