Advanced technique
From SmashWiki, the Super Smash Bros. wiki
Jump to navigation
Jump to search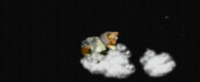 An advanced technique is a series of actions, typically complex and/or difficult enough to require reasonable tech skill, that results in a benefit to the metagame of a character.
Advanced techniques mainly differ from standard techniques in that their presence was not discovered or expected by the game's designers. This often manifests itself in the form of advanced techniques being results of oversights or glitches, such as wavedashing and momentum cancelling. In the broader context of video games in general, their use is an example of what is known as emergent gameplay. A strong or properly-applied advanced technique can radically alter a character's metagame - for example, the short hop fast fall l-cancel provides a significant speed boost to a player's aerial assault and helps to patch up holes in slower characters' offenses. Certain characters rely heavily on their specific advanced techniques, such as the Ice Climbers' chain grabs and desynching techniques, and Fox's waveshine combos in Melee. Reliance of these "exploits" to shape top-level metagames is a common source of discontent among new and casual players.
List of advanced techniques
[
edit
]
A list of techniques that are notably difficult to perform/require precise technical skill.
List of character-specific advanced techniques
[
edit
]
A list of advanced techniques that can only be performed by one or a few characters.
Pikachu
[
edit
]
Captain Falcon
[
edit
]
Ice Climbers
[
edit
]
Dr. Mario
[
edit
]
Young Link
[
edit
]
Ganondorf
[
edit
]
Mr. Game & Watch
[
edit
]
Meta Knight
[
edit
]
Zero Suit Samus
[
edit
]
Pokémon Trainer
[
edit
]
Squirtle
[
edit
]
Charizard
[
edit
]
Diddy Kong
[
edit
]
Toon Link
[
edit
]
Villager
[
edit
]
Mega Man
[
edit
]
Wii Fit Trainer
[
edit
]
Rosalina and Luma
[
edit
]
Pac-Man
[
edit
]
Ryu / Ken
[
edit
]
Inkling
[
edit
]
Simon/Richter
[
edit
]
King K. Rool
[
edit
]
Isabelle
[
edit
]
Piranha Plant
[
edit
]
Banjo & Kazooie
[
edit
]
Pyra / Mythra
[
edit
]