Reverse aerial rush
From SmashWiki, the Super Smash Bros. wiki
Jump to navigation
Jump to search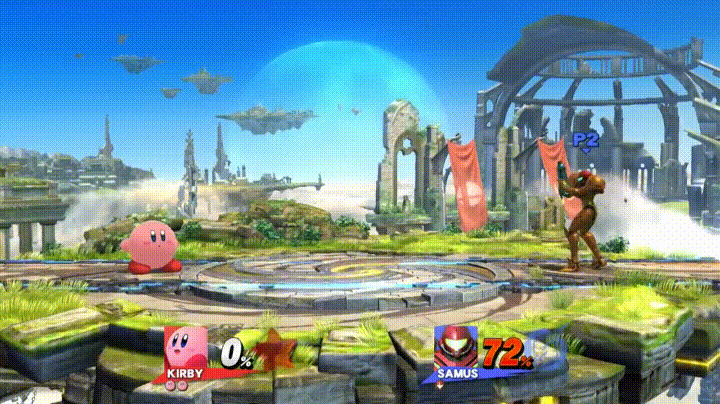 A reverse aerial rush (abbreviated as RAR) is a technique in Super Smash Bros. Brawl, Super Smash Bros. 4 and Super Smash Bros. Ultimate. It is done by running and canceling the turnaround animation with a jump. It works as a very useful way to approach with back aerials (and jump-canceled up smashes in Brawl and SSB4).
Application
[
edit
]
To perform a RAR in Brawl, the player must be running, and cannot be in the initial dash animation (limiting the usefulness of the RAR for characters with long initial dashes, such as Captain Falcon and Sonic). In SSB4, an RAR can be performed at any time during the dash animation as long as it does not coincide with the dash-dance window, which is the first five frames. In Ultimate, an RAR is possible during virtually any part of the initial dash. If the player presses the control stick backwards to turn around but jumps as soon as the turnaround begins, the character will jump backwards while keeping the running momentum. The result is a jump like a normal jump out of a run, except that the character is facing the other direction.
The main purpose of using a RAR is to attack with a back aerial with running momentum. This is especially helpful for characters with very strong or effective back aerials (e.g. Ike or Mr. Game & Watch) and/or slow or ineffective forward aerials (e.g. Falco). It is also useful for attacking a player behind with a special move or aerial.
RAR with Special Stick
[
edit
]
With the C-Stick set to special moves and while a character is running, the player can press the C-Stick in the opposite direction of the run, and their character will then start a turnaround. In Brawl, this causes the character to jump (presumably a glitch), while in SSB4, it requires a jump input from the player. Since the special stick inputs last one frame only, it reduces less momentum overall and is considered to be a more effective input, albeit requiring different controller settings.
In Ultimate, pressing the C-Stick in the opposite direction the character is running in results in the character performing their side special in the opposite direction while grounded, rendering this method impossible.
Characters that notably benefit
[
edit
]
External links
[
edit
]