Sweet spot (hitbox)
From SmashWiki, the Super Smash Bros. wiki
Jump to navigation
Jump to search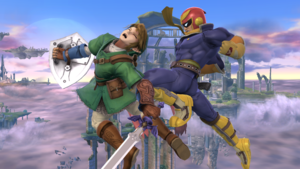 The sweet spot of an attack is the area of the hitbox with the most desirable knockback effect - usually, the most powerful part of the attack. For example, in Super Smash Bros. Melee, the sweet spot for most of Roy's attacks is the area of his sword closest to his body, while Marth's is at the end of his blade, called a tipper. Sweet spots are critical to learn to master a character. Most sweet spots on moves come out straight away, e.g. the move has 2 hitboxes, one with a sweet spot and one very weak one. However, the sweet and sour spots of some attacks, such as sex kicks, depend on timing rather than the hitbox's placement. In this case, most of the attack's duration is the sourspot and only a few frames are the sweetspot.
When an attack hits with its sweetspot, it is officially called a critical hit.
Notable sweet spot moves
[
edit
]
Sour spot
[
edit
]
A sour spot is the exact opposite of a sweet spot; an area with the least powerful part of the attack, such as the tip of Roy's blade and the "jumping" portion of Luigi's Super Jump Punch.
Notable sour spots
[
edit
]
Notable sour spots include:
The sour spot on Luigi's Super Jump Punch is the most infamous in Smash; if the sweet spot of the move isn't landed, the opponent is otherwise hit with only 1% in damage and near nonexistent knockback.
In Melee and Brawl, Marth's down aerial, when sour spotted, hits with very weak horizontal knockback and much lower damage, instead of powerfully spiking/meteor smashing.
In Melee, Roy's forward smash is normally one of the strongest forward smashes. However, when landed with the outer half of the sword, it deals much less damage, with extremely weak knockback.
In Brawl, Falco's down aerial is a powerful meteor smash during its initial hitboxes. However, if landed during the later hitboxes, the move hits with weak horizontal knockback. This also applies to Falco's down aerial in PAL versions of Melee.
Useful sour spots
[
edit
]
While normally sour spot hitboxes are undesirable to land, they can occasionally be beneficial. This is usually due to them hitting in a vastly different trajectory, which can be more useful for certain situations despite the lowered knockback, or their weaker knockback allowing the move to combo into other moves when it normally wouldn't.
The following is a list of notable useful sour spots.