Hilldash
From SmashWiki, the Super Smash Bros. wiki
Jump to navigation
Jump to search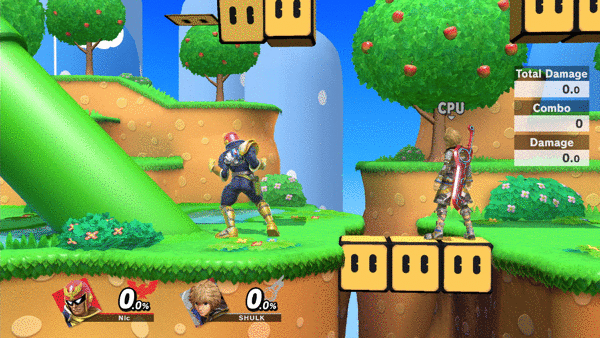 A hilldash is a pseudo-wavedash advanced technique for Super Smash Bros. Brawl, Super Smash Bros. 4, and Super Smash Bros. Ultimate. It is done by jumping (or already being in the air), then, by whatever method, gaining momentum towards a hill or slant in order to land on it and use the momentum to slide across the ground and up the hill. Characters with delayed double-jumps, such as Ness or Yoshi, can do it by jumping, then quickly double jumping into the hill to gain momentum. Another method of doing the hilldash is by using some sort of speed-altering move, such as Captain Falcon's Raptor Boost. There are also other methods, like Peach floating into a hill.
The hilldash has multiple applications. The most direct application is sliding along the ground quickly and, sometimes, in a standing position. However, the slide is not very far for all characters, and lag from the hilldash, along with hard set-up for a hilldash and slow speed for some characters makes the slide more work than it's worth. Another, possibly more useful application for some characters could be the immediate transition from a dashing motion to a standing position, opening up options such as smashes. The hilldash can also be used for mindgames. However, the hilldash is only usable on certain stages with slopes, most notably Corneria and Yoshi's Island from Melee. It can also be done on Lylat Cruise, Green Hill Zone, Pirate Ship, and others.
There is another minor technique, called the reverse-hilldash, in which the player can slide downwards instead of upwards on a hill. The reverse-hilldash can be performed by any character.
Characters
[
edit
]
The characters that can perform the hilldash, along with the method of doing so (double jump method, speed-boost method or other method) are listed below:
Reverse hilldash
[
edit
]
The reverse-hilldash is a natural technique in Brawl. It is a simple slide across the ground that is usually quite small, but can sometimes be a moderate distance. It happens by simply landing on a slope, in which the character will slide downwards. Although most characters find no use of it due to its negligible distance for that character, other characters with low traction can slide quite far with this, such as Luigi and Captain Falcon.
External links
[
edit
]