Zero-to-death combo
From SmashWiki, the Super Smash Bros. wiki
Jump to navigation
Jump to search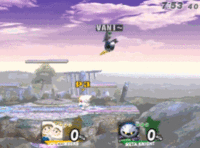 A zero-to-death combo, commonly referred to as a zero-death or 0-death for short, is a combo, usually particularly long and intricate, that starts on an opponent at 0% damage, and ends with the eventual KO of the character being comboed. Zero-death is also used to refer to any general sequence where a player brought an opponent from 0% to a KO without interruption (such as beginning the opponent's stock with a combo that sends them into the air, then reading their landing option and punishing with an attack that sends them offstage, then reading their recovery option and punishing with an attack that KOs them). Zero-deaths are related to infinites, but are not the same. While an infinite can continue forever regardless of damage percent, a zero-death must come to an end as eventually the opponent will be knocked too far away to continue comboing, if they are not finished before then. However, zero-deaths and infinites are functionally equivalent, since infinites are utilised to zero-death the opponent, with their only additional utility over zero-deaths being able to stall by continuing the infinite beyond KO percent, which all serious tournaments have a general blanket rule forbidding.
While combos of some sort are relatively common, zero-to-death combos require almost perfect timing and placement in order to properly work, and even a single missed hitbox can ruin a combo; owing to the particularly high hitstun and lack of DI in Super Smash Bros. compared to the future installments, zero-to-death combos are most frequently seen in the first game, though their high need for technical skill makes them rare sights at tournaments unless at high level play, where they are more often seen in demonstrations or friendlies.
Zero-to-death combos also vary in characteristics in the games; whereas the original game focuses on continued aerial combat, particularly with multi-hit attacks and similar traps, Super Smash Bros. Melee, with its lesser hitstun, relies on good movement and tech chasing. Combos in Super Smash Bros. Brawl are rare due to the ability to act out of hitstun, but the few that remain rely on continued chain throws and jab locks. In Super Smash Bros. 4, hitstun cancelling was removed and thus combos were restored, though due to its moderate falling speeds, combos in the game usually don't last more than 3-4 hits; this, combined with the removal of chain throws and the inability to lock opponents indefinitely, has led to repeatable zero-deaths becoming a rarity. Additionally, with patching now being possible, it is unlikely for repeatable zero-deaths to remain in the game long after their discovery.
In all Smash games, zero-to-death combos are a common subject of TAS videos; extensions of the zero-to-death combo also exist in these runs, such as having multiple characters perform the combo on one character, or making the combo have a particularly high number of glancing blows.
A rather easy to perform zero-to-death combo in a specific matchup is often responsible for creating hard counters. In Brawl, for example, Pikachu hard counters all the space animals and Captain Falcon, as it possesses a simple chain throw (with its down throw) that can bring each of them from 0% to over 100%, and end with an unavoidable up smash, that if doesn't KO, can then be followed up by a Thunder that will finish them off.
Notable examples
[
edit
]
In Super Smash Bros.

[

edit

]
Every character apart from Samus are capable of pulling off a zero-death in their natural combos. In the case of Samus, she is unable to perform a zero-death because of a missing hitbox on her up aerial.
Donkey Kong's grab release chain with his forward throw (cargo hold) works on most of the cast up to the point where a simple back-throw will KO. A video demonstrating this with Kirby can be viewed here.
In Super Smash Bros. Melee

[

edit

]
In Super Smash Bros. Brawl

[

edit

]
In Super Smash Bros. 4

[

edit

]
In Super Smash Bros. Ultimate

[

edit

]
Gallery
[
edit
]
An example of a zero-to-death combo in Melee, performed by Marth.
External links
[
edit
]