Edge recovery
From SmashWiki, the Super Smash Bros. wiki
Jump to navigation
Jump to search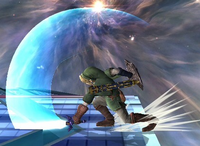 Edge recoveries are a set of moves that can be executed while a character is hanging on an edge. Along with grabbing the edge, these moves typically give a character invincibility frames to aid in recovery. It is often prudent to return to the stage before the invincibility frames expire. Edge recovery maneuvers are sometimes used to edge-guard, especially when releasing and re-grabbing the ledge to refresh midair jumps. Edge recovery moves also sometimes play a role in stalling.
Types of recovery moves
[
edit
]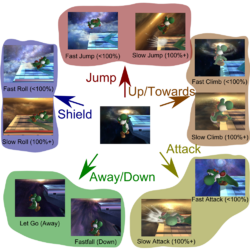 There are five general recovery moves which may be performed while grabbing the edge. Each technique generally becomes slower and/or more powerful at damage percentages equal to or greater than 100%, with the exception of letting go/fast falling off the edge; this distinction has been removed in Super Smash Bros. 4.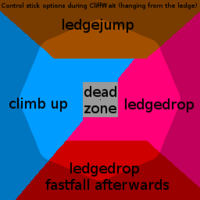 Sorted by priority. For example, pressing A and R at the same frame will result in an edge attack.
Attack: Press A, B, Z or move the C-stick upwards.
Roll: Press L, R or move the C-Stick towards the stage.
Jump: Press X, Y or move the control stick upwards.
Climb: Control stick up / towards (for all possible value combinations, see the image on the right).
Let go: Control stick down / away (for all possible value combinations, see the image on the right) or C-stick away or down.
Edge attacks
[
edit
]