Professional smasher
From SmashWiki, the Super Smash Bros. wiki
Jump to navigation
Jump to search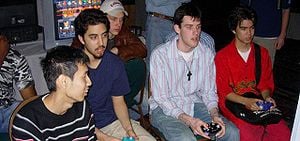 A professional smasher, commonly shortened to pro, is a person who plays a Super Smash Bros. game at a very high level of skill and often makes a living or acquires income from playing the game. In general, professionals regularly make money off of playing the game in tournaments and/or is recruited and sponsored by a notable organization, such as Major League Gaming or Cloud9. A professional is also commonly considered the person at the top of the metagame of that said character, such as Armada for Peach or Axe for Pikachu.
Other types of professionals
[
edit
]
Semi-professional
[
edit
]
A semi-professional, or a semi-pro, is a player with above-average skill who can rank high and win money in local tournaments, but lacks the overall prowess to place well at regionals and nationals.
Top professional
[
edit
]
A top professional is a player who is among the very best in the world for their respective games. Notable examples include MkLeo, Tweek, and Samsora for Ultimate; ZeRo, Ally, and Nairo for SSB4; Mew2King, ANTi, and Ally for Brawl; Mew2King, Mango, and Armada for Melee; and Isai, SuPeRbOoMfAn, and Jousuke for Smash 64. These players consistently place high at any tournament, and have the potential to win national tournaments.
Income and standard of living
[
edit
]
Being a professional Smasher is widely considered to not be very lucrative given the time commitment. In a Reddit post, Hungrybox speculates that Mango is the highest earning Smasher and earns $70,000 a year from tournament winnings, Twitch subscriptions/donations/ads, and Cloud9 stipend. Outside of the top 10-20 Melee players, it is not sustainable as a full time job.[citation needed]
ZeRo revealed that he made around $40,000 in 2014.[1] S2J said he used to make 1k+ a month from getting 1st-3rd at Super Smash Sundays/Mayhems.[2]
References
[
edit
]