Tekken Tourney
From SmashWiki, the Super Smash Bros. wiki
Jump to navigation
Jump to search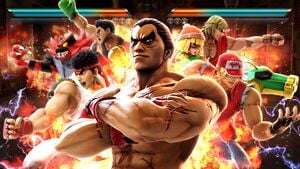 Tekken Tourney was an Event Tourney commemorating the release of Kazuya, that ran from 6 a.m. on July 9, 2021 to 6 a.m. on July 12, 2021 (UTC), and will be repeated from 6 a.m. on September 30, 2022 to 6 a.m. on October 3, 2022 (UTC). During the event, only characters who do not use weaponry in their non-special moves could be used.

Description
[
edit
]
This time-limited tourney features only fighters whose standard attacks don't involve weapons.
Format: Smash
Rules: Time
Time Limit: 2:30
FS Meter: On
Items: Medium
Available fighters
[
edit
]
Names in other languages
[
edit
]
Language
Name
Meaning
 Japanese

鉄拳トーナメント

Tekken Tournament
 English
Tekken Tourney
—
 French (PAL)
Tournoi à la Tekken
Tekken Tourney
 French (NTSC)
Tournoi Tekken
Tekken Tourney
 German
Tekken-Turnier
Tekken Tourney
 Spanish
Torneo Tekken
Tekken Tourney
 Italian
Torneo di Tekken
Tekken Tourney
 Chinese (Simplified)

铁拳淘汰赛

Tekken Competition
 Chinese (Traditional)

鐵拳淘汰賽

Tekken Competition
 Korean

철권 토너먼트

Tekken Tournament
 Dutch
Tekken-toernooi
Tekken Tourney
 Russian

Турнир

Tekken
Tekken Tourney
Despite not wielding weapons in his standard movesets, Olimar was not usable in this tourney, though it is possible that the Pikmin are considered weapons.
The health bar on the banner is taken directly from Tekken 7, particularly its Season 4 iteration.
References
[
edit
]