Use Your Head!
From SmashWiki, the Super Smash Bros. wiki
Jump to navigation
Jump to search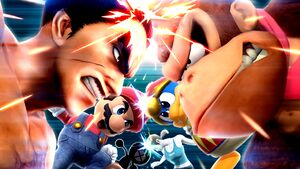 Use Your Head! was an Event Tourney that ran from 6 a.m. on August 13, 2021 to 6 a.m. on August 16, 2021 (UTC), with a theme of headbutt attacks in some way. During the event, only certain fighters could be chosen.

Description
[
edit
]
This time-limited tourney features characters with headbutt attacks!
The further you advance, the better the spirit you'll win![1]
Format: Smash
Rules: Time
Time Limit: 2:30
FS Meter: On
Items: Medium
Available fighters
[
edit
]
Names in other languages
[
edit
]
| Language | Name | Meaning |
| --- | --- | --- |
|  Japanese | タマをつかえ! ずつきトーナメント | Use Your Head! Headbutt tournament |
|  English | Use Your Head! | — |
|  French (PAL) | Sers-toi de ta tête ! | Use your head ! |
|  French (NTSC) | Sers-toi de ta tête! | Use your head! |
|  German | Kämpfen mit Köpfchen! | Fighting with your brains! |
|  Spanish | ¡Usa la cabeza! | Use your head! |
|  Italian | Usa la testa! | Use your head! |
|  Chinese (Simplified) | 动动头脑!头锤淘汰赛 | Use your brain! Hammer-head tournament |
|  Chinese (Traditional) | 動動頭腦!頭錘淘汰賽 | Use your brain! Hammer-head tournament |
|  Korean | 머리를 써라! 박치기 토너먼트 | Use Your Head! Headbutt tournament |
|  Dutch | Koppiekoppie | Using your head |
|  Russian | Всему голова! | A-head of everything! |
References
[
edit
]