Reflect-a-thon
From SmashWiki, the Super Smash Bros. wiki
Jump to navigation
Jump to search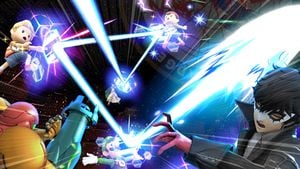 Reflect-a-thon (みんなで反射! リフレクトーナメント, Reflections with Everyone! Reflect Tournament) was a Event Tourney that ran from 6 a.m. on October 30, 2020 to 6 a.m. on November 2, 2020 (UTC). During the event, Franklin Badges were permanently enabled.
Description
[
edit
]
All entrants are given Reflect status in this unusual time-limited tourney. Whatever the projectile, it'll bounce straight off!
The further you advance, the better the spirit you'll win![1]
Format: Smash
Rules: Time
Time Limit: 2:30
FS Meter: Off
Items: Med
Reflect: On
Names in other languages
[
edit
]
| Language | Name |
| --- | --- |
|  Japanese | みんなで反射! リフレクトーナメント |
|  English | Reflect-a-thon |
|  French | Moment de réflexion |
|  German | Attackiert und reflektiert! |
|  Italian | È tempo di riflettere |
|  Spanish | Puro reflejo |
|  Chinese (Simplified) | 大家都反射!反弹淘汰赛 |
|  Chinese (Traditional) | 大家都反射!反射淘汰賽 |
|  Korean | 다 함께 반사! 리플렉트 토너먼트 |
|  Dutch | Moment van reflectie |
|  Russian | Отрaженцы |
References
[
edit
]