Perth Power Rankings
From SmashWiki, the Super Smash Bros. wiki
Jump to navigation
Jump to search
The Perth Power Rankings are the power rankings for the region of Perth, Western Australia.
Inactive: Spud, StriderAce, Legacy
Inactive: Karu, KIC, MiKeL, Niven
May - July 2021[4]

[

edit

]
Inactive: Teehee! 

January - March 2021[5]

[

edit

]
Honorable Mention: Naz 


Hidden Boss: Spud 


Inactive: Poppt1 

, Teehee! 

,
January - March 2020[6]

[

edit

]
Honorable Mention: TinTin 


Hidden Bosses: Ttam 

, Shroom 

October - December 2019[7]

[

edit

]
Honorable Mention: YGOduelistkosc 



Ghosts: Luma 

, Ttam 

, nmne 

, Orion 

July - September 2019 [8]

[

edit

]
Honorable Mentions: The Fool 


, Nazzer 


Hidden Bosses: Lonezen 

, Ttam 

, Asiatic 


Inactive: Kevin 

, Lion 

April - May 2019 [9]

[

edit

]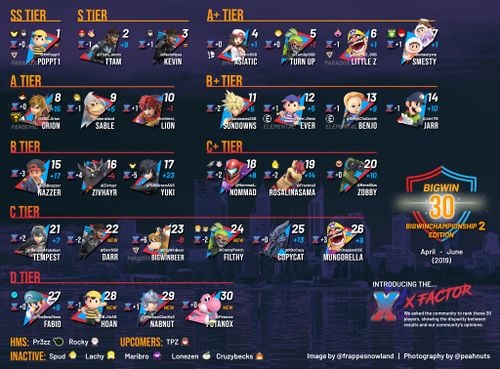 Honorable Mentions: Pr3zz

, Rocky


Upcomers: TPZ


Inactive: Spud

, Lachy

, Maribro

, Lonezen

, Cruzybecks

December 2018 - March 2019 [10]

[

edit

]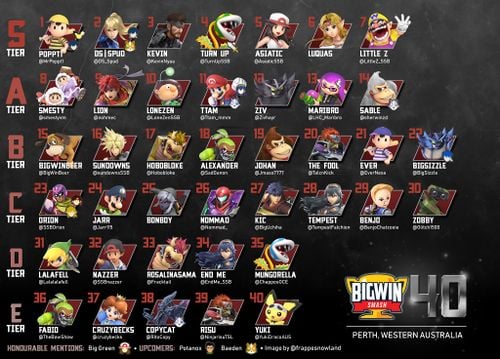 Honorable Mention: Big Green


Upcomers: Potanox

, Baeden

References
[
edit
]