Super Smash Bros. for Nintendo 3DS / Wii U: A Smashing Soundtrack
From SmashWiki, the Super Smash Bros. wiki
Jump to navigation
Jump to search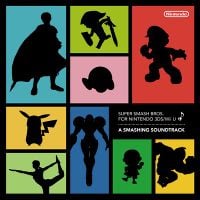 The Super Smash Bros. for Nintendo 3DS & Wii U soundtrack, subtitled A Smashing Soundtrack in the American version, Special Sound Test in the Japanese version, and Premium Sound Selection in the European/Australian version, is an official physical soundtrack containing selected music tracks from Super Smash Bros. for Nintendo 3DS and Super Smash Bros. for Wii U. The soundtrack was available for free to anyone who registered both versions of the game on Club Nintendo between November 21, 2014 and January 13, 2015, and the soundtrack was shipped between February and March of 2015.
Track Listing
[
edit
]
The album is split into two compact discs, each containing 36 tracks; the "Red" CD contains music primarily from the 3DS version, while the "Blue" CD contains music from the Wii U version. Lists of all music tracks from both versions can be found here.
Red CD Tracklist
[
edit
]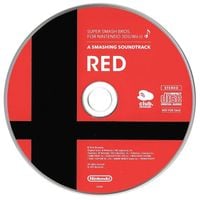 Blue CD Tracklist
[
edit
]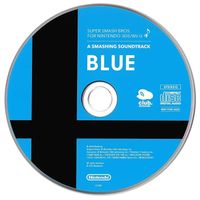 Gallery
[
edit
]
At the time of the soundtrack's release, the Mii Plaza theme was only available in the 3DS version of the game, and the Mario Paint Medley was not available in-game at all, yet both were featured on the Blue CD. Both songs would later be used on the Miiverse stage.

Mario Paint Medley is placed among the miscellaneous tracks instead of the Mario section, likely due to this.

The EarthBound (Mother) series is the only franchise featured in the original Super Smash Bros. that is absent from the soundtrack.
The Pac-Man series is the only third-party franchise featured on the soundtrack.
Only five tracks are original tracks ripped from their originating games, all being on the Red CD: How to Play, Id (Purpose), Dark Pit's Theme, Gaur Plain, and You Will Know Our Names.

Id (Purpose) and Gaur Plain, however, are shortened versions of their original tracks.

Mega Man 2 Medley is the only preview track on the official website that does not appear on the soundtrack.
Light Plane (Vocal Mix) is incorrectly labeled as simply "Light Plane" inside the front cover.
Despite featuring Wii Fit Trainer on the cover, no music from the Wii Fit series is represented in the soundtrack.
Despite the Menu theme being featured of the Red side, which features music primarily from the 3DS version, the soundtrack uses the Wii U variant of the song.