Forum:Smash Arena
From SmashWiki, the Super Smash Bros. wiki
Jump to navigation
Jump to search
Forums:
Index
→
Smash Arena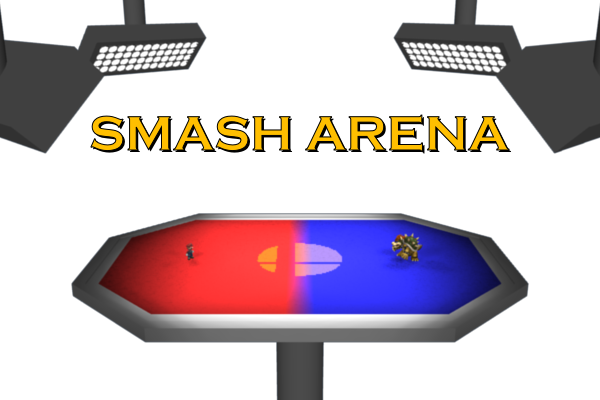 Ladies and gentlemen, welcome, editors and users, to the Smash Arena! Each week (or possibly less often, if the wiki's status is high or there's not much voter traffic) this forum hosts a tussle between two (or sometimes three!) characters, items, stages or anything else from the Super Smash Bros. series! The winner gets, well, nothing. It's more of a poll but functionally, this is a popularity contest. You may vote for your favorite or who you think would win in a competition between the two combatants that round. No, you don't have to vote for the character with strength & power, or the stage considered more "fair", or the combatant with the most fans - just vote if you are a total fanboy of the participant. So what are you waiting for? Get voting!
The Rules
[
edit
]
When voting, you can give a brief comment on why you voted the way you did, or you can just leave your signature. Long explanations for your vote are discouraged, as they are unnecessary (a vote is worth the same regardless of its reasoning), and they inflate the size of an already large page.
You can vote only once. Any multiple votes will be removed.
Put a # before your vote to facilitate the vote counting.
Type ~~~~ after your vote to sign it, whether you are logged in or not. Using the wrong number of "~"s counts as not signing - your signature must have both your signature itself and the time.
There is a line in each section consisting of "DO NOT ADD COMMENTS OR EDIT ANYTHING BELOW THIS LINE". You are to follow this rule; do not just type your vote at the bottom of the editing window. Not following this rule results in your vote being displayed in the wrong place.
Put your vote below other votes; that is, so the votes are in chronological order.
You may change or remove your vote at any time. To do this you must remove your old vote in its entirety; this is an exception to the "never remove comments" rule.
You may vote only in the current fight; all previous fights are closed.
Do not leave a space between your comment and the ones above it (and/or below it). Extra spacing results in the list numbers becoming disjointed.
While previewing an edit of a single section, you will see loose formatting marks (such as a trailing |}). Do not alter or delete them; they are important to the page's construction and take effect only when the entire round is viewed.
If there are multiple fights in a single round, try to make all your votes in a single edit.
Any comments about the fight should be left in the comments section. The following kinds of comments are not allowed:

Comments relating to how close or one-sided a matchup is.
Comments about other users' opinions. You can point out that a user may have gotten a fact wrong, but you can't say things such as "That's not a good reason" or "But the other guy is better because X". Users can vote for any reason they want; trying to argue with someone's opinion generally has no positive outcome, in addition to simply inflating the comments section of an already large page.

Similarly, avoid writing votes that may invite an argument. Stating your opinion is fine, but don't make it easy for others to see it as goading.
If your vote is not added correctly - specifically, it breaks rules 3, 4, or 5 - you have a short amount of time to fix it (typically between fifteen minutes to an hour). After this time, it may be corrected and moved by any user to the Half-Votes section (adding the unsigned template if necessary), and it will count as half a vote. Other users should not fix such broken votes without also making them half-votes. Your vote will also be considered a half-vote if your edit causes someone else's valid vote to break one of these rules. Attempting to move your vote out of the Half-Votes section may result in it being worth zero (and subsequently deleted) at an operator's discretion.
Multiple votes in a round are not allowed; attempts to circumvent this with sockpuppets will result in all your votes being deleted, and is a blockable offense. Probated users who attempt to circumvent their probation with sockpuppets are also committing a blockable offense and will have their vote discounted. Remember that admins have access to CheckUser to check the IPs of any user, and will use it when sockpuppetry is suspected.
Intentional half-votes undermine the intent of the half-vote system as a way to punish voters for voting incorrectly. It is legal to want a vote to be worth half, but it is very heavily discouraged, and you must state in your vote you want it to be worth half. If you put your vote in the half-votes section without stating reasons why you want it there, it is worth zero and may be deleted by any user. You may replace it later should you do it correctly.
Above all, remember that voting in the Smash Arena is a privilege, not a right. In the vein of what SmashWiki is not, you are expected to at least attempt reasonable contributions to the wiki if you wish to retain your privilege to participate.
Winner!!
Magicant



45 to 48


These two worlds only exist within protagonists' dreams - who wakes up first?

Votes for Mushroom Kingdom II

[

edit

]

1. Wow, who'd have thought that I would ever vote for a Melee stage over a Smash 4 stage? Unfortunately for Magicant, I just find the stage to be ugly and weird looking. It probably doesn't help that it runs on the 3DS but it doesn't look appealing to me in the slightest. On the other hand who can't love the design of a stage inspired by the classic Super Mario Bros. NES series itself? Alex the Jigglypuff trainer 10:48, 2 June 2018 (EDT)

I hate Magicant with a passion. Going with the obvious better option. A classic too. Kirby's Crazy Appetite ~ 12:48, 2 June 2018 (EDT)
Mushroom Kingdom II = Super Mario Bros. 2! Dragonfirebreath25 (talk) 12:52, 2 June 2018 (EDT)
ZeldaStarfoxfan2164 (talk) is a never lover boy 20:56, 2 June 2018 (EDT)
Magicant is just weird.

Awesomelink234, the Super Cool Sonic Fan

Leave a message if needed 08:41, 4 June 2018 (EDT)
This one's pretty close because I like trolling people with Flying Man, but this was my favorite Melee stage so nostalgia beats trolling. TheNuttyOne 14:41, 7 June 2018 (EDT)
Magicent's a cool stage, but I have no real relation with the Earthbound series. Super Mario Bros. 2 is a good game. But speaking in terms of stages, Mushroom Kingdom II has more room to move around, no assist characters that will gang up on you (Birdo's only slightly annoying), and I like the Pidget. Alex95 (talk) 21:07, 8 June 2018 (EDT)
I'm a sucker for nostalgia, plus I like this stage better anyway, so... yeah. Smash Master 15:22, 9 June 2018 (EDT)
I like Melee... and Mario... 54.175.143.180 21:39, 30 June 2018 (EDT)
It's very close for me, but I gotta go with MKII. it's such a throwback, I gotta go for it. Sorry Magicant. Dakota.952 User talk:Dakota.952 17:00, 8 July 2018 (EDT)
For me it's either a game I have never played or a series I don't care about. That and I'm a big Mario fan. Captain Gamer (talk) 13:06, 16 July 2018 (EDT)
mario bros. 2 is my choice for best nes game and this level captures my first experiences with the game XVI (talk) 18:33, 20 July 2018 (EDT)
Even though I am a fan of Magicant because of the universe its in, Mushroom Kingdom II is just... better. In every way. Kbimbatti22 (talk) 13:22, 25 July 2018 (EDT)l
I like Magicant because it seems weird, BUT in this matchup Mushroom Kingdom II is better. It's more refined, stable and easier to play. Long live Ultimate. Sparkwave (talk) 12:06, 17 August 2018 (EDT)
I don't know what to say Sammybambam11 (talk) 14:25, 10 August 2018 (EDT)
Playing on Mario stages in Smash for me is an absolute treat, plus the retro-sounding music gives off so much nostalgia. Sorry Magicant, you're cool, but not as good as one of Mr. Video Game's home stages! Speed48 20:40, 20 August 2018 (EDT)
I think Mushroom Kingdom II is a much bigger throwback to the classics. Sorry Magicant! RetroPika 03:29, 8 September 2018 (EDT)
Mushroom kingdom is superior. Sorry, earthbound fans! NicoNiconii (talk) 11:16, 2 November 2018 (EDT) NicoNiconii, November 2, 2018, 11:16 AM EST
I've never played Earthbound so I'll cast my vote here. --203.128.94.27 10:29, 3 November 2018 (EDT)
I am a HUGE Mario fan, and Magicant is very... odd. Go Mushroom Kingdom! Also, the music rocks:)Super Eli (talk) 04:51, 6 November 2018 (EST)
--14.199.84.205 09:47, 10 November 2018 (EST)
Here I am. UltimateWoomy (talk) 22:55, 11 November 2018 (EST)
Super Mario Bros. 2 is quite underrated so this stage is pretty cool for representing that game, plus it's coming back to Ultimate.Magicant's a pretty good stage too 174.55.24.64 13:44, 15 November 2018 (EST)
I MADE UP MY MIND! BESTIDIOTEVER (talk) 22:43, 25 November 2018 (EST)
It's the obvious choice to go with the face of gaming's sequel! Johnson T. Shy Guy 17:36, 19 December (EDT)
The song has been stuck in my head all day, so I can't not vote this. 63.224.129.183 15:34, 23 January 2019 (EST)
The hazards and stuff are much more creative. Are there even any in Magicant? KingKRool26 8:00, 14 February 2019 (EST)
I vote for Mushroom Kingdom II becuase overall I think it looks better as a stage then Magicant. 8:56 AM 18 February 2019 (CST)
Mushroom Kingdom II is overall a much better stage to fight on, despite the fact it's a walk-off stage. And there's no Flying Man. 2:43 PM, 4 March 2019 (EST)
I like Mario. And Magicant sounds too much like Magic can't. 50.43.56.91 19:30, April 11, 2019 (EDT)
A-sla-a-sla-a-sla-tte-ry... When I was young, not only did I make up the aforementioned lyrics for the SMB2 theme's opening notes, but I wrote an unintentional self-insert fanfic based on SMB2.

Rick

Tommy

01:24, April 25, 2019 (EDT)
I love retro stages, Magicant is camping galore as well, sooooooAzantix (talk) 11:52, June 24, 2019 (EDT)
Magicant made a level 9 Luigi look dumb.Snorlax TheGreat (talk) 08:15, July 5, 2019 (EDT)
--Doggieboy9 (talk) 13:08, July 5, 2019 (EDT)
I prefer beating up Birdo over getting beat up by Chicken Man198.98.24.19 19:23, September 3, 2019 (EDT)
I prefer Mushroom Kingdom II because I am a Mario Fan.Crocodile Dippy 2 (talk) 14:14, September 11, 2019 (EDT)
Jesus this hasn't been updated in a while...but yeah Magicant sucks. Your Senpai, Iron Warrior 12:13, November 20, 2019 (EST)
everything is better than flying man lolStelgard M (talk) 17:24, December 25, 2019 (EST)
Clearly, Flying Man is way to OP and unfair for the others when someone grabs him. I destroyed someone much better than me using him. They should trash either him or the stage. As for Mushroom Kingdom II, I have nothing against it. Mario Kart 7 Rules (talk) 12:37, March 2, 2020 (EST)

Half votes

[

edit

]

Votes for Magicant

[

edit

]

Half votes

[

edit

]

Comments

[

edit

]

The reason I love Mushroom Kingdom II is because of the music from Super Mario Bros 2. First, you have the overworld theme during a match and when time is running out and in Sudden Death, it changes to the boss battle theme! Great stage! Dragonfirebreath25 (talk) 17:19, 2 June 2018 (EDT)

Actually, Suzaku Castle in Smash 4 will do the same thing, although it has to be a specific track of music.72.133.91.93 08:09, 7 June 2018 (EDT)Blueflame105

Someone keeps deleting my vote! I keep voting the same thing on Magicant, but every time I come back to the page to look at new votes, my vote is gone! I'm not sockpuppeting, so why do my votes keep being taken off? 72.133.91.93 12:00, 8 June 2018 (EDT)Blueflame105

Apparently someone with the same IP address has already voted. That's probably why it didn't count.SugarCookie420 (talk) 08:40, 23 August 2018 (EDT)
Amazing stage picks for this Smash Arena

How is this still going RetroPika 04:58, 8 January 2019 (EST)

The wiki status is still Red, so not much attention is placed onto this.

SugarCookie

420

14:54, 4 March 2019 (EST)

Still, these are supposed to be weekly, and it's been about 10 months. We should probably end this round at some point. Everone123 (u / t / c) 21:50, March 15, 2019 (EDT)

We are in a red Wiki status which means we must focus more on main articles than the SA. We can get new rounds once the status lowers to at least a yellow. ZeldaStarfoxfan2164 (talk) is made in America 21:58, March 15, 2019 (EDT)
We are now in the yellow status. It's still high, but we should probably have a new arena by the end of April. X-Biaur19 (talk) 10:10, April 25, 2019 (EDT)X-Biaur19

Hasn't this match been going for more than a year now?DarkNight (talk) 20:55, June 16, 2019 (EDT)

I think both stages are about equal in functionality when weighing strengths and weaknesses, but Magicant wins out for me not only because it's absolutely breathtaking, especially in Ultimate, but because of the rampant references to Mother 1 and 2. As anyone who has followed my edits knows (which I expect to be a grand total of zero), origins really really matter to me, so to see a stage crafted with such love for the source material just amazes me. Mushroom Kingdom II is no slouch either, but I'd argue it's slightly worse since almost all of its assets are just straight-up taken from All-Stars while Magicant uses mostly original models and animations. Sure it also takes things directly from both of the Mother games it appears in, but uses them sparingly and mostly just for a few cool call-backs in the background. I think it says a lot when I've never been a huge Mother fan and yet the love for the series put into this stage blows me away. 73.220.19.65 16:45, June 19, 2019 (EDT)

...This is going to end soon right? Supa Toad 64 02:17, June 22, 2019 (EDT)

OK I think this one has had its run and we should stop it now. We may be in red but my god this just dragged on and on and on and on... Coconut2 10:08, June 25, 2019

OK END THIS ALREADY THIS IS ALREADY TOO MUCH TIME OR HELL EVEN CANCEL SMASH ARENA ENTIRELY, I DON'T CARE, JUST END IT. Coconut2 21:21, July 17, 2019

When will we get a new Smash Arena? 174.55.24.64 17:52, September 4, 2019 (EDT)

Just gonna put it here, do not comment on when we are getting another Smash Arena. The admins will get to it when they get to it, and asking again and again will get you nowhere. CookiesCreme 18:39, September 22, 2019 (EDT)

Ok, so when's the new Smash Arena coming? Genuine confusion. —Preceding unsigned comment added by TCBlitz (talk • contribs) 22:13, November 12, 2019

Uhhh... how long has this been on? I just made my account in March and, judging by your comments, it's been like, two years. Weegeegaming|talk 04:37, April 11, 2020 (EDT)

Smash Arena is not a priority as of right now. The admins will make a new one eventually, not yet just. OmegαToαd the Toαd Wαrrior (BUP) 04:40, April 11, 2020 (EDT)

Huh, I guess that's the end of Smash Arena. I stopped following it a few years back. RIP. --Meester Tweester (talk) 00:15, April 16, 2020 (EDT)

Smash Arena is on Discord now, the SA tab links to its page. ZeldaStarfoxfan2164 (talk) is a never lover boy 23:21, April 23, 2020 (EDT)
Winner!!
Greninja



11 to 12


Simple fight - ninja vs ninja, disguised vs. deceitful, blue vs. blue, needle vs. shuriken. Have at 'em.

Votes for Sheik

[

edit

]

Yeah Sheik is 10x more fun to play at high level, and way more interesting to watch than Greninja most of the time. --Penro 08:41, 19 December 2017 (EST)
Fun fact: when I was in primary school, I once wore a similar disguise and was known as Sheik for that day.

Rick

Tommy

22:27, 11 January 2018 (EST)
Sheik has a grenade, martial arts training, needles, and exploding walnuts. Greninja has a long-ass tongue, a log, and a crappy doll. Who would you choose? Iron Reggie, Master of Memes (talk) 02:04, 28 January 2018 (EST)
I like both of them but I like Sheik more cuz top tier SmileFtw123 (talk) 03:05, 30 January 2018 (EST)
I think I prefer Sheik a little bit more, so I guess I'll place my vote here.--192.197.128.21 13:16, 2 February 2018 (EST)
I prefer Sheik's aesthetic design, and Greninja isn't a very good starter in my opinion. Neither is great to me, but I prefer Sheik. --UnbeatableSith (talk) 21:41, 16 March 2018 (EDT)
174.53.1.71 10:57, 5 February 2018 (EST)
I can't stand fighting against Greninja, and Sheik was one of my mains in Brawl. Also, I feel like she has a higher chance of making it into Smash 5. TheNuttyOne 15:58, 11 April 2018 (EDT)

Half Votes

[

edit

]

Shiek is better —Preceding unsigned comment added by 24.234.62.218 (talk • contribs) 23:22, 11 December 2017 (EST)
very good at aerial combos# —Preceding unsigned comment added by 73.222.194.39 (talk • contribs) 03:46, 9 January 2018

Votes for Greninja

[

edit

]

Comments

[

edit

]

Shouldn't this match have been decided, like, several weeks ago? Iron Reggie, Master of Memes 10:31, 26 February 2018 (EST)

This js still going? Currently Sheik 11, Greninja 12. User:SmileFtw123 User talk:SmileFtw123 Smileftw the tier list dose not matter im a dedede and jiggly main

Seriously, this should have happened months ago! Who's in charge of Smash Arena anyway? Blueflame105

Ay, they did change his final smash for Smash 5. Nice. Crazy456Rhino (talk) 15:18, November 5, 2019 (EST)
| | | | | | | | | |
| --- | --- | --- | --- | --- | --- | --- | --- | --- |
| 257 | 258 | 259 | 260 | 261 | 262 | 263 | 264 | 265 |
Suggestions
[
edit
]
To view and comment on suggested fights, go here.
Past fights
[
edit
]