Super Smash Bros. Ultimate in competitive play
From SmashWiki, the Super Smash Bros. wiki
Jump to navigation
Jump to search
Although Super Smash Bros. Ultimate's competitive scene is still rather young, there have been several developments since its release.
2018: Rapid Growth
[
edit
]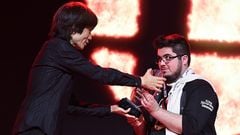 Similar to Super Smash Bros. 4, Super Smash Bros. Ultimate's competitive scene started before the game was released with the Super Smash Bros. Invitational 2018, an invitational tournament hosted by Nintendo at E3 2018 on June 12th, 2018. Similar to the last invitational, professional Smashers were invited to compete against each other; however, only eight players were invited this time, four of them being top SSB4 players while the other four were top Melee players. The only invitee who participated in the previous tournament was ZeRo, who managed to defend his previous title and defeated MkLeo, winning his first Ultimate tournament.
When Ultimate was released on December 7th, 2018, many tournaments started hosting the game, with a lot of them having over 100 attendees. By the end of the year, Ultimate's largest tournament, Umebura SP, had hosted 746 players, over 7 times more entrants than Smash 4's largest tournament in the same period of time.
New mechanics
[
edit
]
The introduction of the Final Smash Meter and the general standardization of Final Smashes and their strength brought up the topic of legalizing them. However, including them in tournament play quickly fell out of favor due to many of the same problems that led to their ban in the past still being present. The most prominent of these is the disparity in effectiveness, with attacks like Triforce of Wisdom being considerably more effective than attacks like Puff Up, while several characteristics of Final Smashes themselves, such as the fact that they cannot be blocked, mean that they continue to supplant many mechanics in the game.
Despite the term "Echo Fighter" being heavily marketed as a new method of branding clone characters, players quickly noticed that the term was somewhat inconsistent. While the term was used on all clones with little to no differences, a few other Echo Fighters had noticeable differences. Ken, Chrom and Lucina have all been seen as different enough from Ryu, Roy and Marth respectively to warrant being ranked separately from each other. Conversely, Daisy, Richter, and Dark Samus are commonly merged with their base fighters when ranking them, as they have minimal gameplay differences from their parent characters. Dark Pit has been argued to fit in both categories, since while his only differences lie in his side special, neutral special, and Final Smash (the latter of which is not used in competitive play), his differences in those moves are fairly notable.
2019: A Growing Metagame
[
edit
]
2019 started off with a bang, with over 2,000 players participating in GENESIS 6, the first tournament since EVO 2016 to surpass the milestone. This tournament saw the first international appearance of Zackray, a 15-year-old from Japan who was a top player in SSB4. Despite being his first time in a tournament outside of Japan, Zackray made an impressive run by placing 5th and defeating top players such as K9sbruce and Light. MkLeo, a young Smash 4 prodigy, was also able to prove that he was still a top player by winning the whole tournament and double eliminating VoiD.
Nintendo also began hosting their own Ultimate tournaments, starting with the Super Smash Bros. Ultimate North American Open 2019. Their ruleset, however, was criticized by many competitive players for being too casual, as items were allowed and certain stages banned in competitive play were used. Nintendo would slowly fix this problem, first by getting rid of Smash Balls and Assist Trophies at the Super Smash Bros. Ultimate Online Open June 2019, and later adopting the competitive ruleset for the Super Smash Bros. Ultimate Online Open August 2019.
The Panda Global Rankings Ultimate, or PGRU, made a return for Ultimate, starting its first season with GENESIS 6 and Sumabato SP 2 on February 1st, 2019, and ending with Albion 4, The Pinnacle 2019, and BigWinChampionship 2 on July 7th, 2019. Although the PGRU has almost the same mechanics as the previous iteration, there were some notable changes. The biggest change was the international multiplier, which counts entrants from tournaments outside of the continental US as 1.25 entrants, allowing more international tournaments to have representation on the PGR.
The first iteration of the PGRU was met with some controversy. Many players were confused on how players who have only attended a few PGRU tournaments, such as Frozen and LeoN, were present on the list while more consistent players, such as ZD and Gen, were relegated to PGRU's "Area 51" or were not present on the list at all. On PGStat's SmashCenter podcast, Panda Global director suar stated that, since there were no PGRU players for reference, outplacements were also counted for the list. This meant that large tournaments where top 10 players were upset early, such as Tweek at Smash 'N' Splash 5, allowed players who have ranked higher to have a better chance to make it onto the list.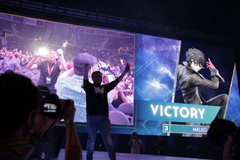 Unlike Smash 4, where ZeRo dominated competitive play, during the first few months of the first season, many people were unsure about who would take the top spot; MkLeo was commonly viewed as the best player after his victory at GENESIS 6 until Tweek defeated him twice at Frostbite 2019 and took the tournament. This renewed the debate for the best player, which saw some new contenders as well, such as Zackray, Marss, and Shuton. Most potential candidates have several top placements but a few mediocre ones as well; for example, MkLeo had won GENESIS 6 but also placed 33rd at the Umebura Japan Major 2019, and Zackray has had weaker performances abroad. However, as the metagame progressed, MkLeo - after switching mains from Ike, Lucina, and Wolf to the DLC character Joker - started to gain more wins than the other contenders; since MomoCon 2019, he has not placed outside of top 2 at all the tournaments he attended. While some complaints arose of Joker being potentially broken, few outside of MkLeo have achieved as much success with the character, in contrast to characters such as Bayonetta and Diddy Kong in previous installments. As it stands, MkLeo is currently widely viewed as the best player in the world, though nowhere near as dominant as ZeRo's presence in Smash 4.
The record for the largest Smash tournament in history, previously held by Smash 4 at EVO 2016, was shattered at EVO 2019, when Ultimate became the first game to surpass 3,000 entrants, totaling at 3,534. A week later, Super Smash Con 2019 would also surpass EVO 2016's record with 2,708 entrants. With these numbers, Ultimate is currently the only Smash title where more than one tournament has surpassed 2,000 entrants. The EVO 2019 Grand Finals between MkLeo and Tweek is currently the most viewed Ultimate tournament match on YouTube, with over 2 million views.
In the second half of the year, the presence of international players in the competitive scene started to increase. Japan started hosting more Umebura and Sumabato tournaments, allowing players such as Kuro and Choco to gain more recognition. Furthermore, Europe - previously seen as a weaker region in Smash 4 - started to gain more recognition thanks to Glutonny's outstanding placements at majors and several of Europe's best players defeating other top players, including Space defeating kameme at Ultimate Fighting Arena 2019, quiK defeating KEN at 2GG: Kongo Saga, and Leffen defeating both Maister and Tweek at Super Smash Con 2019 and Smash Ultimate Summit 2, respectively. Finally, several players from Mexico and Central America also had incredible performances at national tournaments, including brothers Meme and Joker defeating Light and ESAM, respectively, at Low Tier City 7 and Yei defeating Mr. E at Smash Factor 8. Most notably, Maister placed in the top 8 at every PGR tournament he attended except EVO 2019 and Mainstage.
Character viability
[
edit
]
As with most new Smash games, character viability was significantly different from Smash 4. In the early days of Ultimate, some popular veteran picks included Palutena, Pichu, Zero Suit Samus, Lucina, Olimar, Peach (along with her new Echo Fighter Daisy), Pokémon Trainer, Snake, and Wolf. Many veteran characters received multiple buffs that made them significantly more viable. Pichu's self-damaging was offset by its great combo game and kill power, Palutena's reduced landing lag made her aerials oppressive, Olimar and Wolf received hitbox buffs to their smash attacks, and Peach's use of float canceling to perform highly damaging strings and combos made her a top tier threat, to name a few. As for newcomers, early opinions of King K. Rool, Simon and Richter were strong, but it was a matter of time before their weaknesses were highlighted. Inkling was once commonly thought to have the most potential, with the ink effect allowing damage to racking up very quickly. Many top tiers from previous iterations fell, including Diddy Kong, Sheik, Ice Climbers, Rosalina & Luma, Sonic, Ryu, Corrin, Meta Knight, and most notably Bayonetta, who had been drastically nerfed as a result of her controversial dominance in SSB4. Other characters saw a handful of buffs that made them significantly more viable, albeit not overbearing, than in past iterations, including Pac-Man, Greninja, and Ike.
After launch, Olimar, Peach, Daisy, Pichu, Wolf, Pokémon Trainer, Snake, and Lucina were commonly viewed as among the best characters in Ultimate, though numerous patches have toned some of them down. Peach, Daisy, Wolf, and Lucina were still viewed as top tiers after nerfs, albeit less dominating, while Olimar and Pichu fell out of "Top Tier" status in the eyes of most players. Patches also improved other lower tier characters, such as Sheik, Ryu, Ken, and Diddy Kong, to where they see much more tournament representation and results. The advent of DLC characters had some wary of a new overpowered character. Hero's use of randomised mechanics and being able to kill opponents at low percents with ease had some players argue the character should be banned, but no such ban was ever widely implemented, and Hero's results remain decent at best. Instead, Joker rose from being viewed as a decent high tier to a universal top tier with MkLeo's dominance. Nerfs saw other already viable characters steal the spotlight, including Pikachu with its strong combos and confirms. As it stands, the top 3 characters were widely considered to be Joker, Pikachu, and Palutena, though many Japanese players also make the argument for Zero Suit Samus; Pikachu is widely believed to have the strongest kit in the game, though its smaller playerbase means the character lacks strong results.
Ultimate has shown to be the best game in the series in terms of character balance. It is fairly common to see an entirely unique character pool in top 8s for many major tournaments. Additionally, there are few low- and bottom tiers that are seen as completely unviable, and there are no top tier characters that over-centralize the metagame in the same vein that Fox in Melee, Meta Knight in Brawl, and Bayonetta in Smash 4 did. So-called low/bottom-tier characters have received decent results as well; Ben Gold notably won Australia's largest major with King K. Rool, a character who at the time was notably viewed as one of the worst characters in the game. While there may be clear high-tier and low-tier characters in Ultimate, the gap between the two is nowhere near as significant as it was in previous games.
2020-present: COVID-19 Outbreak and the Rise of Online Play
[
edit
]
The second iteration of the PGRU was released prior to GENESIS 7 and EVO Japan 2020, and for the first time in PGR history, the number of international players outnumbered American players. The list caused controversy over the placements of certain players and the increase in Japanese representation, although several complaints were due to misconceptions about the rankings. As a result, the PGRU received an overhaul for the third season, expanding the rankings to top 100 and getting rid of the algorithm in favor of a panel-based system. The international multiplier was also split; while Japan maintained the previous multiplier, all other international tournaments received an even greater boost at x1.67. This allowed smaller regions such as the United Kingdom, Chile, and El Salvador to gain more recognition. MkLeo ended up taking the number 1 spot on the second PGRU as well.
Nintendo's support for the competitive scene was called into question when the EVO Japan 2020 prize pool was announced, revealing that Ultimate's top prize was only a Nintendo Switch Pro Controller (awarded to champion Shuton), in contrast to other games which had large prize pools. Despite the wishes of players such as Hungrybox to have Nintendo provide a prize pool for Smash, Nintendo president Shuntaro Furukawa stated that Nintendo would not fund tournaments. In response, the team behind VGBootCamp and Super Smash Con announced the Smash World Tour, a circuit that would provide over $250,000 in prize money. This announcement was received with praise from players, and the circuit was set to start at CEO Dreamland 2020.
At GENESIS 7, held concurrently with EVO Japan 2020, Marss won his first supermajor after defeating MkLeo in an explosive Grand Finals, beating him 3-0.
The fourth and final supermajor of the year, Frostbite 2020, saw MkLeo famously upset by Prodigy 3-0. Afterwards, MkLeo tore through the Loser's Bracket, defeating several top players. In Grand Finals, he 6-0'd Maister to win the whole tournament, using the newly released Byleth for the final game.
COVID-19 outbreak
[
edit
]
2020, however, also marked the start of a global outbreak of COVID-19, later declared a pandemic by the World Health Organization. Due to warnings by them and several health professionals to avoid contact with others and travelling abroad, many players stopped attending tournaments altogether and dropped out of the ones they were registered for. The PGRU and Smash World Tour were also frozen in an effort to dissuade players from attending tournaments, many of which were either postponed or cancelled. Notably, CEO Dreamland 2020 saw players such as Light, Dabuz, Salem, and Maister opt out, and tournament organizer Alex Jebailey was forced to ask for donations in order to keep the tournament afloat. As the outbreak continued it became clear that offline competitive play wouldn't return for the rest of the year, and major tournaments, including CEO 2020 and EVO 2020, were either canceled or delayed indefinitely.
Though offline tournaments were halted worldwide, the online tournament scene drew significant attention as both tournament organizers and players looked for alternative options. Most notably, Cr1tikal and Alpharad launched The Quarantine Series in response to the sudden drop in offline play. In its first three tournaments, the series attracted over 8,000 unique players, including 26 PGRU-ranked smashers. Other major tournaments such as Pound 2020 and 2GG: Final Saga ran equivalent online tournaments, Pound Online and 2GG Crisis Core: Final Saga, respectively. While the online scene was prominent for years, the pandemic has turned the attentions of players who otherwise would not have competed online.
With more attention, however, came more criticism for Ultimate's online mode. Matches were plagued by unstable connections, leading to frequent framedrops and input lag. The environment also promoted campy play, allowing characters that benefit from it, such as Sonic, to have more matches time out. On the contrary, characters such as Peach and Joker performed worse online, as the input lag made it harder to perform their combos. Numerous complaints over the issue soon caused the hashtag "#FixUltimateOnline" to trend on Twitter in late April. In an effort to combat the terrible connections, ethernet cables became mandatory for several online tournaments and region locks, which limited online tournaments to certain regions, started to gain traction.
Due to the increase in entrants as well as changes to online tournaments, adjustments were made for the Wi-Fi Warrior Rank v5, the online equivalent of the PGR. Most notably, the rankings were extended to top 75 and a multiplier was added that increased the value of international region-locked tournaments but decreased the value of American region-locked tournaments. At the end of the season, Kola would be ranked first on the rankings due to his consistently strong placements at S-tier tournaments, most notably claiming victory at Soaked Series Invitational.
By June, several venues in the United States started to host small locals, enforcing social distancing and other measures that prevents the spread of COVID-19. Several players such as ESAM criticized these tournaments for opening before the pandemic had been completely stabilized in the United States. In July, offline tournaments outside of the United States started to return as well, and French tournament Super Smash Stadium 1 became the first offline tournament since March 2020 to reach 100 entrants. By the end of the year, Japan in particular was one of the few regions holding national-level tournaments such as Mēsuma and Kagaribi.
The latter half of the year also saw a slow decrease in entrants in online tournaments due to the aforementioned problems. As a result, the Wi-Fi Warrior Rank v6 reverted to a top 50 rankings but kept most of the other changes. A notable change was the addition of sub-only tournaments to the rankings, albeit with a multiplier that decreased its value; this allowed popular sub-only tournaments, most notably Hungrybox's The Box series, to count towards the rankings. At the end of the season, the number one spot would be given to Sparg0, who had consistently placed top 8 at A-tier and S-tier tournaments, notably winning Lockhart Series and Zinc Tank 3.
Sexual misconduct allegations
[
edit
]
In July 2020, numerous allegations of sexual misconduct were risen upon over fifty members of the Super Smash Bros. community, including some of Ultimate's most well-known players, commentators, tournament organizers, and streamers, including Cinnpie, ZeRo, D1, Keitaro, Sky, and Mr. Wizard. Following the allegations, many of these players were stripped of professional sponsorships, banned from entering tournaments, and isolated from the community; EVO 2020 Online was also canceled entirely. Many feared that Nintendo would further distance itself from the competitive Ultimate scene as a result.
Despite a spike in COVID-19 cases at the beginning of the year which shut down tournaments in regions that had opened up, offline tournaments continued to slowly return, especially as COVID-19 vaccines became available. With hopes that the pandemic would be over by the summer, VGBootCamp announced the Smash World Tour 2021, which would feature region-locked online tournaments for the first half of the year before moving offline for the second half. However, unlike last year, the reaction was more mixed; several top players such as MkLeo and Tweek noted how players were required to play in online tournaments just to qualify for the brackets with prize pools and questioned whether it would be safe enough to host offline tournaments by summertime.[1][2]
The first offline major of the year, Kagaribi 3 in Japan, saw the surprise third-place finish of solo-Hero main Akakikusu, who upset top players such as Zackray, considered the best player in the country. Tea, the best Pac-Man main in the world, narrowly defeated Akakikusu in Loser's Finals to face Atelier in Grand Finals. Though Atelier used Wolf--a notoriously difficult matchup for Pac-Man--Tea managed to beat him after resetting the bracket, winning the tournament.
As the competitive scene slowly warmed up to the idea of online based tournaments, Smash World Tour 2021 was announced to have most of the qualifiers held online, while most of the finals were held in person. The idea was to make the qualifiers as accessible as possible so no one is excluded due to geographic constraints and make the offline portions of the circuit logistically smoother by only having to worry about a few select players. Another noteworthy aspect of the circuit is that the initial prize pot was $150,000 and increased over time with donations and merch sales, an incredibly large amount of money for a Smash related event. While these ambitions were praised by the community, the circuit itself was marred by a major incident. It was discovered towards the end of the finals that underdog boost was on and had been on for a total of 5 sets without being noticed. Due to the logistical nightmare of replaying these sets in the name of fairness, the orgainizers decided to simply let the matches stand and continue the tournament as normal with underdog boost off. This caused a great amount of controversy, with many players and spectators being frustrated and believing that the competitive integrity of the tournament had been ruined (with comparisons being made to the GENESIS 4 0.9 launch rate incident). In response, the Smash World Tour organizers stated that they would contact the affected players.
While EVO returned in an online format this year, Ultimate did not receive a main stage presence. While no official reason was given at the time, Sony Interactive Entertainment had acquired the tournament and brand during this year, and many speculated legal issues for the absence.
Sparg0 continued his rise as a top player this year, with notable victories against players such as MkLeo, Tweek, KEN, ESAM, Riddles, Elegant, and Zackray, as well as coming close to winning majors such as Super Smash Con: Fall Fest and Mainstage 2021. While Sparg0 ultimately did not win a major throughout the year, he was widely considered to be the second best Ultimate player in the world.
The aftermath of the sexual misconduct allegations continued into this year, with more information and context trickling in about the transpiring events. Many of the accused have broken their silence with official responses containing their sides of the story, with several having accusations of their own towards other members of the community. Content creators such as Technicals also created videos containing their own points of view regarding these incidents. As a result, the perception of many competitive figures have shifted for better or worse; Nairo in particular would go on to be unbanned from most tournaments and has returned to streaming, although he has largely retired from competitive play.
In October, Sora, the final DLC fighter, was released, and update version 13.0.1 was released in December as supposedly the last update with major balance changes. Like Smash 4 before it, the lack of updates for Ultimate means that competitive play is no longer in a state of volatility due to characters being buffed or nerfed at any point, and the metagame has begun developing in earnest.
Effects on other competitive scenes
[
edit
]
Similarly to Brawl's competitive community when SSB4 was released, most SSB4 players transitioned to Ultimate when the game was released, causing the SSB4 scene to completely disappear.
Unlike SSB4, Melee players have mostly praised Ultimate's engine, noting how some Melee techniques such as directional airdodges have made a return, as well as an increase in speed compared to the previous game. However, a few players noted that Ultimate's wavedashing is far less useful than it was in Melee, and the speed was still below that of Melee. Although Melee tournaments still exist, many top Melee players such as Plup, Armada, and Wizzrobe have all achieved notable success in Ultimate.
Ultimate was the only Smash Bros. game in EVO's lineup at EVO 2019, while Melee was relegated to a side event. Some players were worried that this, combined with the absence of Armada, PPMD, and Mew2King, signaled the decline of Melee. However, Melee has continued strong regardless of this absence and has been notably less dominated by the Five Gods; players such as Wizzrobe and Axe would go on to majors with unconventional characters. The decline of the Five Gods and rise of new players and characters to fill the void has kept interest in Melee growing, or at worst, steady.
Criticisms of competitive Ultimate

[

edit

]
Despite the extremely positive reception of Ultimate competitively, some players have criticized some of the aspects and mechanics of the gameplay which were either altered or removed from past Smash titles; some of these aspects include:
Removal of microspacing options such as perfect pivoting and shield dropping through platforms such as the ones in Battlefield, with the former having a major effect on characters such as Little Mac and Marth.
Platforms notably are much harder to drop through in Ultimate, causing costly misinputs [1].
Whiff punishing being much more difficult due to the reduced lag on the majority of moves and the severe weakening of grabs, which has led to some players jokingly labeling moves as "unpunishable".
Buffer systems being overly generous, to the point of unintentional actions that only occur because of the buffer.
High input lag making the gameplay less precise and reaction based.
Poor online experience making both casual and competitive play difficult, particularly during the pandemic.
See also
[
edit
]
References
[
edit
]