Amaranthine gas
From SmashWiki, the Super Smash Bros. wiki
Jump to navigation
Jump to search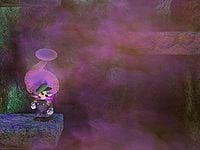 Amaranthine gas is a dangerous substance found in certain caves in the Subspace Emissary. When characters enter the purple mist, they quickly start taking damage at about 2% every half-second, depending on the difficulty. However, characters do not flinch while in the gas. Whenever amaranthine gas is present, there is always a switch nearby that, when hit, will temporarily clear the gas; the length of time the gas is deactivated depends on the difficulty and location.
In some instances, if Sonic dashes through the gas wearing a Bunny Hood, he may not take damage.
The Poison Cloud in Super Smash Bros. Ultimate's spirit battles have a similar concept to amaranthine gas as they are both purple gaseous substances that deals damage to the player.

In addition, Piranha Plant's Poison Breath could be considered a miniature version of this, as they have the same effects with the Poison Breath being much smaller.

The gas is similar in appearance to the gas in Poisonous Pipeline from Donkey Kong Country 3: Dixie Kong's Double Trouble.