PGR v2
From SmashWiki, the Super Smash Bros. wiki
Jump to navigation
Jump to search
The PGR v2 lists the world's top 50 Super Smash Bros. for Wii U smashers during the period of May through December 2016, as compiled by PG Stats.
Methodology
[
edit
]
The second list took into account results from LVL UP EXPO 2016 to 2GGT: ZeRo Saga included. Spike, juddy, and Giant were added to the PG Stats team to more accurately cover the Japanese, European, and Mexican scenes. The tournaments included were classified into tiers according to the number of ranked players attending and the number of entrants in general, with tier 1 including major events and tier 4 locals. Just like the first rankings, a heavy emphasis was put on 6 tier 1 tournaments: CEO 2016, EVO 2016, Super Smash Con 2016, The Big House 6, UGC Smash Open, and 2GGT: ZeRo Saga. The X-Factor metric made its return as well.
Panelists
[
edit
]
The number of panelists was reduced from 48 to 30. The survey used was similar to the first one.
Tristate (7) - Tweek, Dabuz, Austy, ANTi, Gunblade, Max Ketchum, Dom
SoCal (5) - Larry Lurr, NAKAT, Keitaro, VoiD, Zan
New England (4) - Pugwest, TMPR, Rorec, suar
Europe (3) - Tetra, SilentDoom, vyQ
Midwest (2) - Zinoto, Vayseth
South (2) - CaptainZack, Samsora
Canada (2) - Toronto Joe, juddy
Maryland/Virginia (2) - EE, Tantalus
Southwest (1) - Bear
Florida (1) - ESAM
Japan (1) - Haruki
Tournaments evaluated
[
edit
]
Bolded tournaments signify tier 1 events, and non-bolded tournaments are defined as tier 2 events by the PG Stats team.
Rankings
[
edit
]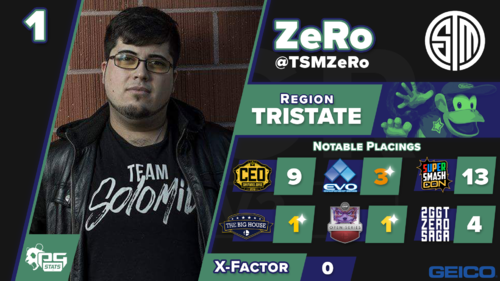 X-Factor adjusted rankings (subjective)
[
edit
]
External links
[
edit
]