PGR v4
From SmashWiki, the Super Smash Bros. wiki
Jump to navigation
Jump to search
The PGR v4 lists the world's top 50 Super Smash Bros. for Wii U smashers during the period of June through December 2017, as compiled by PG Stats.
Methodology
[
edit
]
The Tournament Tier System (TTS) returns and retains a similar formula to the last list, but there have been notable changes. The biggest change is that there are now two separate methods for determining the TTS score: a combination of total entrants and pot bonus, and attendance of PGR ranked players. A tournament's actual tier and score is based on whichever one of these two methods provides the highest score. This is mainly meant to prevent penalizing tournaments that have low total entrants but a high concentration of top level players, such as invitationals like Niconico Tokaigi 2017, and lower the score of tournaments with a great number of entrants but little to no top level attendees. Other changes include giving points based on the pot bonus instead of the prize pool, so as not to penalize regions that lack prize pools (such as Japan); separating PGR players into five different levels instead of the two from the previous season; and the introduction of the new S+ tier, separate from and higher than the regular S tier.
The PGR v4 season ended with 2GG Championship on December 3rd, 2017, with an off-season lasting from December 4th to January 18th.
Tournaments evaluated
[
edit
]
Grouped together with 2GG Championship.
Rankings
[
edit
]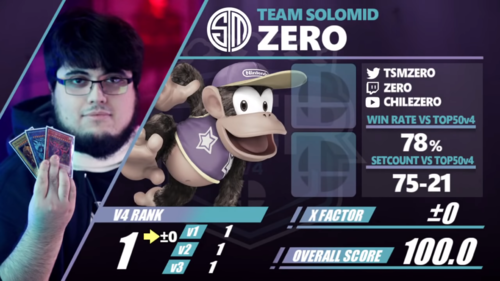 Area 51
[
edit
]
The day before they began unveiling the regular top 50 rankings, PGStats released a list of the five players who most closely missed the cut for the PGRv4 top 50, known as "Area 51." They were unranked between each other, and as such are all considered to be effectively ranked #51.
X-Factor adjusted rankings (subjective)
[
edit
]
Similar to the previous season, players outside of the official rankings top 50 were also counted for this list, making up a total of 100 players in this season's X-Factor rankings. However, unlike the previous season, voting did not start until after the season was over.
External links
[
edit
]