MPGR 2019
From SmashWiki, the Super Smash Bros. wiki
Jump to navigation
Jump to search
The MPGR 2019 lists the world's top 100 Super Smash Bros. Melee smashers during 2019 as compiled by Panda Global's PG Stats division. They were announced in a series of Red Bull eSports articles published from January 13th, 2020 to January 24th, 2020.
Methodology
[
edit
]
PG Stats asked 45 panelists from across the world, including top players, community leaders, tournament organizers and analysts, to rate the quality of play for each of the 120 qualified players during 2019 on a scale of 1 to 10 based on the quality and quantity of results. In addition to this, they were also prompted with the following question:
"A tournament is held every weekend during the ranking period, and all players on the list are able to attend every event. Over the course of the season, who performs the best? You may give the benefit of the doubt to players who attended more events during the ranking period if you so choose."
Panelists were allowed to abstain from scoring a particular player if they did not know enough about them. This had no effect on the player's score, unless enough panelists abstained from rating a particular player in which case the player would be disqualified. This only occurred to Duck. Once the scores were obtained, they would be normalized for consistency. Afterwards, each player's score would be calculated using a weighted average with higher weights given to an individual rating the closer it is to the interquartile mean of the given player's scores.
Panelists
[
edit
]
Central U.S. (9) - 100 Grand, billybopeep, Snowy, Kaiju, Killablue, Penicilin Krillin, Tuesday, Unsure, Zamu
Northeastern U.S. (14) - Ambisinister, bambi, Bitts, Cool Lime, DarkGenex, Dawson, EdwinBudding, GimmeDatWheat, Gtown_Tom, Jackzilla, Kalvar, Pikachu942, Redd, SaveAsUntitled
Southeastern U.S. (4) - Causter, Weis, Wills, Wily
Western U.S. (10) - Aura, BeyondFables, Captain Faceroll, Cat Named Virtue, Chango, Chroma, Destinyfan, Nickemwit, S2J, V$
International (8) - Faust, KayB, MetaKill, Moby, Mosh, Kyle, Nicki, Zedreo

Rankings
[
edit
]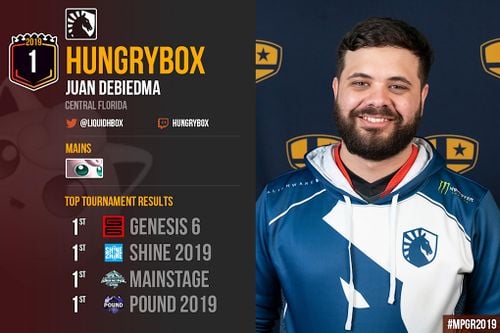 Honorable Mentions
[
edit
]
Instead of having a "Mr. 101" player like they have in the past, PracticalTAS interviewed the players on the ballot that didn't make it on the PGR. The players listed here are in alphabetical order.
External links
[
edit
]