Veronica
From SmashWiki, the Super Smash Bros. wiki
Jump to navigation
Jump to search
Veronica (ベロニカ, Veronica) is a character from Dragon Quest XI and is the game's dedicated mage.
Veronica is a brash mage that the player first meets in Hotto, looking for her twin sister, Serena. Veronica and Serena are Keepers, a group of people dedicated to aiding the Luminary in defeating evil. Despite appearing very young, she is actually much older, but her magic was stolen by a monster named Jarvis.
The Luminary helps Veronica defeat Jarvis and get her sister and her magic back, but her age does not return until much later in the game (albeit temporarily). After returning to Hotto and learning about how to get to Yggdrasil, Veronica and Serena both swear to protect the Luminary in his quest to defeat the Dark One, and save Erdrea.
When Yggdrasil falls because of the evil sorceror Mordegon, a gravely injured Veronica uses the last of her strength to save her comrades from death and scatter them throughout the world. The Luminary comes across her lifeless body when they return to her homeland of Arboria, whereupon she disappears into light.
After Mordegon's defeat, the Luminary learns of a way to travel back in time, and decides to return to before Yggdrasil fell, thus preventing the death of Veronica and countless other people. After the party defeats Mordegon before he could act his plan, Veronica continues to accompany the Luminary in his quest to destroy the newly-reawakened demon Calasmos.
As a costume
[
edit
]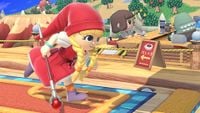 Veronica appears as a DLC Mii Costume for Mii Swordfighter. The sword is replaced by Veronica's Staff, one of her starting weapons in Dragon Quest XI. During the presentation, she is introduced in Temple, referring to her hometown of Arboria. She is later shown fighting Link and Female Robin. Link represents Jasper, a general who uses a sword and has blonde hair. Robin represents Krystalinda, a powerful witch with long white-blonde hair.
Veronica also appears as part of the Hero's Comrades spirit in the Dragon Quest DLC Spirit Board. As part of its battle, Veronica uses a female Tiny Robin puppet fighter and is fought on the Yggdrasil's Altar stage.
| No. | Image | Name | Type | Class | Cost | Ability | Series |
| --- | --- | --- | --- | --- | --- | --- | --- |
| 1,328 | | Hero's Comrades | | ★★★★ | 2 | Team Power Up | DRAGON QUEST Series |
Other allusions
[
edit
]
In Hero's Classic Mode path, the second battle involves fighting the Luminary and a small Robin in her red costume; as in the aforementioned spirit battle, this Robin is an allusion to Veronica.
Names in other languages
[
edit
]
Language
Name
 Japanese

ベロニカ

, Veronica
 English
Veronica
 French
Véronica
 German
Veronika
 Spanish
Verónica
 Italian
Veronica
 Chinese (Simplified)

薇若妮卡

, Veronica
 Chinese (Traditional)

薇若妮卡

, Veronica
 Korean

베로니카의

, Veronica
 Dutch
Veronica
 Russian

Вероники

, Veronica