Felyne
From SmashWiki, the Super Smash Bros. wiki
Jump to navigation
Jump to search
Felyne (アイルー, Airou) are background characters in the Capcom franchise Monster Hunter.
Felyne are a member of the Lynian class, which consist of monsters that resemble cats. Felyne are bipedal and are capable of human language, which allows them to enter a human village and assimilate themselves into the community. Felyne take on a variety of jobs in the village, such as a chef that cooks food for hungry citizens, as well as joining hunters on their journeys as a companion; Felynes who partner with a hunter are known as Palicoes and wear miniature suits of armor.
A specific Felyne with a more cartoonish design, the one in which the Mii headgear is based, is the main character of the Felyne Village series of spin-offs.
As a costume
[
edit
]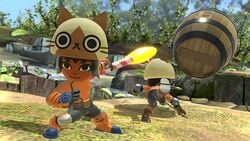 Felyne was announced as a Mii Fighter hat on March 4th, 2021, and was released later that day, alongside Pyra and Mythra. In its reveal trailer, the Felyne Mii can be seen throwing a Boomerang and using Shot Put, referring to the throwables that they will toss at monsters to aid the hunter during quests. Additionally, the Felyne Mii is seen fighting a blue Banjo & Kazooie referencing Arzuros, a large bear-like Fanged Beast originating in Monster Hunter Portable 3rd. They are also seen running from the Peckish Aristocrab, which references the Daimyo Hermitaur, a large crab-like monster known as a Carapaceon introduced in Monster Hunter 2.
A Palico companion, based on its design from Monster Hunter Rise, was added to the game as a spirit as part of the MONSTER HUNTER RISE spirit event.
| No. | Image | Name | Class | Cost | Ability | Series |
| --- | --- | --- | --- | --- | --- | --- |
| 1,468 | | Palico | ★ | 1 | Ramblin' Evil Mushroom Equipped | MONSTER HUNTER Series |
Names in other languages
[
edit
]
| Language | Name |
| --- | --- |
|  Japanese | オトモアイルー |
|  English | Palico |
|  French | Palico |
|  German | Palico |
|  Spanish | Camarada Felyne |
|  Italian | Compagno Felyne |
|  Chinese (Simplified) | 随从艾露猫 |
|  Chinese (Traditional) | 随從艾路 |
|  Korean | 동반자 아이루 |
|  Dutch | Palico |
|  Russian | Палико |
External links
[
edit
]
Article on Monster Hunter Wiki