Tournament:Panda Cup
From SmashWiki, the Super Smash Bros. wiki
Jump to navigation
Jump to search
The Panda Cup is a Super Smash Bros. Melee and Super Smash Bros. Ultimate tournament circuit organized by Panda and is the first North American Super Smash Bros. circuit officially licensed by Nintendo. The circuit began on June 24th, 2022 and was planned to conclude on December 18th, 2022. The championships was planned to be held on December 16th-18th, 2022, with a Last Chance Qualifier held on December 15th, 2022, but it is currently postponed.[1]. There will be a pot prize starting at $100,000.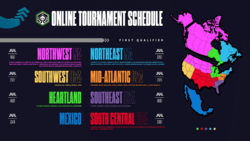 32 players in each game will qualify for the finale through four different ways:
1. Featured Community Stops: 11 offline tournaments featured as community stops had totals of 16 players qualifying for Melee and 18 players qualifying for Ultimate. The number of qualifying spots for each tournament ranged from 1 to 3 players. 6 tournaments were qualifiers for both games, Saving Mr. Lombardi 3 was a qualifier for Melee only, and Almost Pro, Let's Make Moves Miami, and Port Priority 7 were qualifiers for Ultimate only.
2. Panda Cup Online Qualifiers: 8 players qualified through online tournaments for Ultimate only. There were 8 regions, with 4 qualifiers and a regional final for each. Points were distributed to the Top 96 of each qualifier, with the Top 32 of each region's leaderboard invited to the regional finals. Players were removed from Top 32 eligibility based on DQs, meaning the Top 32 indicated by points may not have been final.[2] In the event of a tie in points for the regional finals spots, all of the tied players would be invited into the regional finals, even if it meant more than 32 players would make up the bracket. The regional finals were a double-elimination bracket with all sets Best of 5. The winner of each regional finals qualified for the finale. Players ha dto be 18 years or older to participate in the online tournaments, and registration was region-locked to the players living within each tournament's region.
3. Expert Community Panel: A community panel for each game determined the final players that were invited before the Last Chance Qualifier, inviting 12 players for Melee and 2 players for Ultimate. The panels included trusted members of the community, many of whom helped to create the MPGR and PGRU. Each panelist created a list, and the lists will be combined and averaged to determine the invited players. Only placements, wins, and losses at Panda Cup events counted for the panel.[3]
The panel judged players based on 4 criteria:
Placement at Panda Cup events
Win rate against players who were qualified or with a higher seed at Panda Cup events
Losses against qualified or higher seed players
Win/loss rate against other players who may have been chosen by the panel
4. Last Chance Qualifier: The Panda Cup Last Chance Qualifier will be an offline bracket held the day before the finale, with the top 4 players of each game qualifying.[4]
In the Panda Cup Finale, the 32 qualified players of each game will face off. All finalists will earn complimentary travel and housing.[5]
Online Qualifier scoring
[
edit
]
| Placement | Score |
| --- | --- |
| 1st | 100 |
| 2nd | 70 |
| 3rd | 45 |
| 4th | 30 |
| 5th | 20 |
| 7th | 12 |
| 9th | 8 |
| 13th | 6 |
| 17th | 5 |
| 25th | 4 |
| 33rd | 3 |
| 49th | 2 |
| 65th | 1 |
Game settings
[
edit
]
Stocks: 4
Timer: 8:00
Game Version: NTSC 1.02 and all characters/stages unlocked, using the TO's choice of memory card data
Additional rules
[
edit
]
Game settings
[
edit
]
Options
[
edit
]
Ultimate's stage list is subject to change.
*The only acceptable alternative form of Final Destination (chosen through the Omega Form option on stage select) is Wuhu Island Omega.
Player qualification
[
edit
]
Players could only qualify once. If a player was already qualified, the next highest placing non-qualified player received the spot.[6] If a qualified player declines to participate, the qualifying spot will be transferred to the next highest ranked player in the event in which the declining player competed who is not otherwise qualified, following the tiebreaker rules listed below.
In the event Panda Cup Finale qualifying spots require tiebreakers (for example, because one spot trickles down to 7th place, where there are two players), the following system is in place:
If one spot has two claimants: both tied players face-off in a best-of-five set. The winner of this set claims the Panda Cup Finale spot.
If one spot has three or more claimants: a single-elimination bracket of best-of-five sets is played out, seeded based on initial event seeding. The winner of this bracket claims the Panda Cup Finale spot.
If two spots have three or more claimants: a double-elimination bracket of best-of-five sets is set up. If the number of claimants is not a power of two (2, 4, 8, etc), the players with the lowest initial seedings begin in losers (leaving a power-of-two number of players in Winners). The players who make it to Grand Finals of this bracket claim the Panda Cup Finale spots.
If three spots have four or more claimants: a double-elimination bracket of best-of-five sets is set up. If the number of claimants is not a power of two (4, 8, etc), the players with the lowest initial seedings begin in losers (leaving a power-of-two number of players in Winners). The two players who make it to Winners Finals and the one player who makes it to Losers Finals of this bracket claim the Panda Cup Finale spots.
Controversy
[
edit
]
On November 29th, 2022, Smash World Tour released a document detailing actions behind-the-scene that eventually led to its cancellation. The document had a specific section dedicated to the actions of Panda, specifically Panda's CEO Alan Bunney.
During the first few months of the year, Smash World Tour found that many tournament organizers were unwilling to participate in the Smash World Tour due to the actions of Bunney, who told the organizers that the circuit would either not happen in 2022, or would be quickly shut down if announced. Bunney also pressured tournaments to either not join the SWT or, if they were already in the circuit, to drop out, stating that tournaments in the SWT would not be part of the Panda Cup and also implying that they would not be safe from Nintendo. Notably, Bunney learned that Beyond the Summit had the broadcasting rights to a few tournaments that Panda Cup wanted, so Bunney tried to force BTS to give up their streaming rights, threatening to get Nintendo involved if they didn't. The threat prove unsuccessful, and with many events declining the invitation, Panda eventually lifted their exclusivity rule. This led many tournaments that were in both the Panda Cup and the SWT to receive a license from Nintendo, surprising the SWT organizers, who were initially told by Nintendo that it was not possible.
The accusations in the document was supported by LD, the co-founder of BTS.[7]
The document's release led to an outcry against Bunney and Panda, with many accusing them for causing the cancellation of the Smash World Tour 2022 and hurting the grassroots scene. Many prominent members of the community called for a boycott for the circuit and the Panda Cup Finale,[8][9][10] and within a few hours, many players who had qualified for the finale (such as Lima and Axe) or had planned to attend the Last Chance Qualifier (such as Sparg0 and Spark) announced that they were dropping out.[11] Some players are unable to drop out due to being contractually required to attend (such as Panda-sponsored player Plup).
List of tournaments
[
edit
]
Offline qualifiers
[
edit
]
Ultimate

[

edit

]
Offline qualifiers
[
edit
]
Online qualifiers
[
edit
]
Online finals
[
edit
]
Players qualified
[
edit
]
The following players qualified through offline tournaments in the circuit for Melee:
The following players were invited by panelists for Melee:
Ultimate

[

edit

]
The following players qualified through offline tournaments in the circuit for Ultimate:
The following players qualified through online finals in the circuit for Ultimate:
The following players were invited by panelists for Ultimate:
Regional qualifier players
[
edit
]
References
[
edit
]
External links
[
edit
]