Ledge-canceling
From SmashWiki, the Super Smash Bros. wiki
Jump to navigation
Jump to search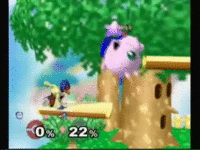 Ledge-canceling (also known as edge canceling) is an advanced technique present in all games in the Super Smash Bros. series. It involves players sliding off a ledge (platform or stage ledge) either during landing lag or during a special move to cancel the animation. Ledge-canceling moves grants players opportunities for more movement options, making moves safer, and for granting followups in situations where a move normally would not have combo potential.
Performing the technique
[
edit
]
Landing lag ledge-cancel
[
edit
]
There are two different types of ledge-canceling. The first type is landing lag ledge-canceling. This involves sliding off a ledge while in landing lag (which can be from a normal landing, an aerial landing, or from a freefall landing). The player must move towards a ledge in a way that they will land close to the ledge while retaining the momentum they had in the air. While fairly simple in concept, this can can be difficult to perform (especially while using characters with high traction or low air speed) due to the tight spacing it requires relative to the ledge of the stage or platform. This variant of the technique can be performed with any landing in Super Smash Bros. and Super Smash Bros. Melee, although in later games it can only be performed with specific actions and moves (such as air dodging when facing towards a ledge in Super Smash Bros. 4), no longer being possible with any aerial or free-fall landing lag.
In Smash 64 and Melee ledge-canceling is most commonly used with aerials. The main advantage of ledge-canceling an aerial is that it reduces the amount of lag the player gets from the aerial, which can make the aerial safer, as well as allow for combos which otherwise would not be possible. When ledge-canceling to combo, players will often try to perform the aerial as close to the ground as possible while still giving it time to produce a hitbox. This results in the minimum number of frames separating the first and second hits, making more follow-ups possible. If set up properly, players will immediately slide off the ledge, removing all lag after the first hit and allowing for an instant follow-up (save for the minimum of three frames it takes to land, slide off the ledge, and to start another attack).
Ledge-canceling can also be useful when recovering, as it can eliminate the landing lag of many recovery based special moves. This can be very difficult to set up however, depending on the special move used and the player will not always have the opportunity to ledge-cancel, especially on stages such as Final Destination.
Different results can be obtained when ledge-canceling from the air, based on factors such as speed, the direction which is held, and the direction that the character is facing during the ledge-cancel. If the character is moving sufficiently slowly and forward is not held, they will simply remain in their teetering animation. Remaining on stage after a ledge-cancel is more difficult than sliding off of it, and it grants the player access to any moves they can use while grounded instead of moves that can be performed while in the air.
Special move ledge-cancel
[
edit
]
Another variant of ledge-canceling involves using a special move on the ground from a certain distance from a ledge to cancel the special move animation. This method exists in every game with specific special moves. There are two ways a special move can be ledge-canceled, depending on the special. Some specials can be canceled by simply sliding off a ledge while using them, such as running at a ledge and then using the special move as close to the ledge as possible (e.g. Peach's Vegetable in Brawl). Other specials can be canceled by spacing them in a way that when the character goes into the special move's ending animation, they are right at the ledge, resulting in them sliding off the ledge and canceling the move (e.g. Ganondorf's Wizard's Foot).
Special move ledge-canceling has similar applications to landing lag ledge-canceling, increasing the safety of using special moves and in some cases, granting additional combo potential.
Jumpsquat ledge cancel
[
edit
]
In Smash 64 and MeleeBy runing towards the ledge, performing a jump, and sliding off of the ledge during jumpsquat, the character can fall of the stage and cancel the jumpsquat. This is a niche tech that still has applications, for example it is needed in order to perform a shinedrop.
Shield pushback ledge cancel
[
edit
]
A niche form of ledge-canceling that involves attacking a shield or idle-shield near a ledge so that the attacker's shield pushback causes them to slip off the edge. Can only be performed by certain attacks as it requires a certain amount of pushback and certain collision box behaviors, mostly powerful smash attacks such as Ganondorf's up smash and forward smash.
Windbox ledge cancel
[
edit
]
Relies on a windbox to push the fighter off a ledge during their attack, with nearly all tilt and smash attacks being cancelable in this way. Mostly seen via Pacman's hydrant.
List of special moves which can be ledge-canceled
[
edit
]
In Ultimate, despite Kirby having access to Sheik's Needle Storm and Zero Suit Samus' Paralyzer via Copy Ability, Kirby cannot ledge cancel with either due to his slower physics.
Though Mr. Game & Watch can ledge-slip during their landing animation after using Fire, it does not actually cancel any lag and the usual seven frame animation will still play out even in midair. Like the other legde cancels, this will still refresh up special and air dodge and give immediate access to typical aerial options.
Aside from Daisy and Ken's addition as echo fighter's and therefore being given the same up special as their counterparts, Steve is the only newcomer (DLC included) to possess a ledge cancelable special move in Ultimate.
See also
[
edit
]