King K. Rool (SSBU)/Neutral aerial
From SmashWiki, the Super Smash Bros. wiki
Jump to navigation
Jump to search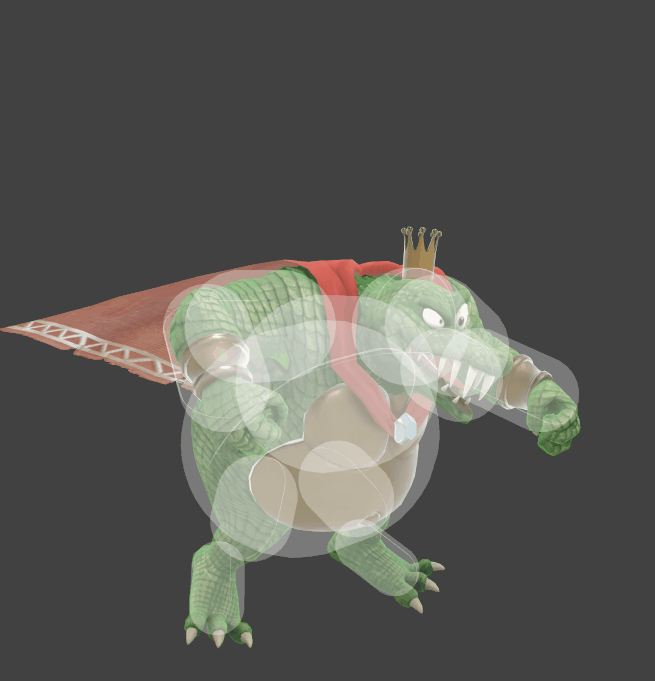 Overview
[
edit
]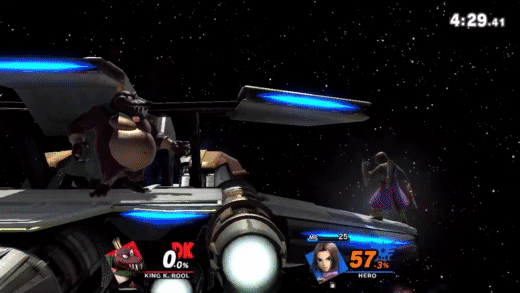 King K. Rool expands his belly to hit the opponent with the armor. This move is considered to be among King K. Rool's best aerials due to its combo ability and ability to create tech situations. It is also his most reliable out of shield option, at frame 9 Belly Super Armor and frame 10 hitbox including jumpsquat.
Neutral aerial is a powerful move for pressuring shields or approaching, as the landing lag reduction in 6.0.0 made it -4 early, and -5 late[1]. This allows King K. Rool to create mixups on shield very easily, being able to use his neutral attack against shieldgrabs. He can also roll, jump, and more, giving the opponent a lot to think about. Given that it is almost impossible to shieldgrab if used correctly, allows dash to be buffered due to 9 frames of landing lag, as well as difficult to challenge due to Belly Super Armor, the move is one of the most safe landing options in K. Rool's kit.
Naturally, neutral aerial is equally good for starting combos, with sizable advantage on hit if landing with the late hit. It almost confirms neutral attack as a frame trap at 0% from +3 hit advantage (tested on Mario[2]) and quickly snowballing from there, going to around +10 at 25% to confirm grabs just prior. At around 65% the late hit begins to send into tumble[3], allowing for powerful tech chases that can even end stocks.
Neutral aerial's armor, low committal nature and aerial properties allows King K. Rool to utilize it in unique ways compared to the rest of his moveset. He can SHFF with it to "flash" the armor and eat a hit, land without hitting an opponent, and then use it as a "counter". This can put opponents into a severe frame disadvantage due to the hitbox deactivating on K. Rool's armor, while he is now free to move thanks to the landing lag. This is most notably useful against projectiles, such as Samus's missiles. However, it can be used against grounded attacks as well with good precision. K. Rool can get anything from a neutral attack to a grab or even a forward smash on something particularly laggy. So long as the Belly Super Armor is healthy, K. Rool can "spend" the HP to force his way in and get a free punish.
Gimping with neutral aerial is incredibly easy due to the armor. Recoveries, with or without hitboxes, can be almost always hit with the move. The high active frames in general means that it doesn't require much spacing either. This allows K. Rool to take stocks against characters like Marth, Luigi and Donkey Kong. The early hitbox also KOs offstage quite early due to its high knockback growth, making it confirm the end of a stock even easier. However, it is quite predictable, with players often saving their jumps or even trying to break the armor for a free stock.
However, the move does have its flaws. Despite being a good out of shield option, it is unsafe on hit at 0, being -10 out of a short hop. This is quickly remedied as soon as 25% when the early hit begins to send into tumble, but regardless, extremely dangerous to use it as an out of shield option against a player who knows the matchup until 25%. Instead, jumping out of shield is recommended. Furthermore, neutral aerial has the most active armor frames in his entire moveset, at 25. While this is a huge advantage in most scenarios, it is possible to break the armor very easily if K. Rool is low. A notable example is Ganondorf's forward smash breaking the armor quite easily if damage has been sustained already, making a jump-in with it potentially fatal. To top it off, the armor also has a blindspot behind K. Rool. This means characters with wide-reaching moves can hit behind him, which can make him much easier to juggle. Moves like Palutena's up aerial can not only do this, but also override the armor due to sheer active frames, forcing K. Rool to fast fall to try and override it.
Update History
[
edit
]
Neutral aerial has less landing lag (13 frames → 9). This makes comboing off of it and pressuring shield far more viable.
Hitboxes
[
edit
]
ID
Part

Rehit rate

Damage

SD

Angle

Angle type

BK

KS

FKV

Set weight

Radius
Bone

Offset

H×

SDI×

T%

Clang

Rebound

Effect
Type

G

A

Sound
Direct

Hit bits

Hit part

Blockable
Reflectable
Absorbable
Flinchless

No GFX

Heedless

Clean hit
0
0
0
12.0%
0

Standard

40
70
0
9.5
top
0.0
9.0
0.0
1.0×
1.0×
0%
Kick
All
All
Late hit
0
0
0
8.0%
0

Standard

13
90
0
8.5
top
0.8
8.0
0.0
1.0×
1.0×
0%
Kick
All
All
| | |
| --- | --- |
| Initial autocancel | 1-3 |
| Belly Super Armor | 6-30 |
| Clean hit | 7-8 |
| Late hit | 9-30 |
| Ending autocancel | 40- |
| Interruptible | 46 |
| Animation length | 53 |
Landing lag
[
edit
]
| | |
| --- | --- |
| Interruptible | 10 |
| Animation length | 24 |
| | | |
| --- | --- | --- |
| | | King K. Rool's moveset |