King K. Rool (SSBU)/Neutral attack/Hit 1
From SmashWiki, the Super Smash Bros. wiki
Jump to navigation
Jump to search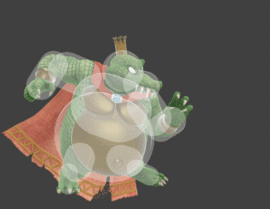 Overview
[
edit
]
King K. Rool does a quick palm strike. Coming out frame 4, this is King K. Rool's fastest move on startup, and also in terms of endlag when transitioning to the second hit. As a result, it has a myriad of uses in all game states, such as out of shield, out-framing opponents up-close, and ending combos. While the move's hitbox doesn't quite match its animation, it is still quite large in terms of horizontal range factoring in K. Rool's size, especially for a neutral attack. It is also slightly disjointed thanks to the hands not being hurtboxes. To make it easier to get the jab combo, Hit 1 is programmed to deal 4 extra frames of hitstun after calculation; however, it does not have any positive side-effects outside of this.
Due to some quirks with King K. Rool's traction, it is possible for him to slide with neutral attack just after a dash is over and the skid begins, once dash attack is no longer possible. This makes for an interesting approach option thanks to the attack's already solid horizontal range and the inherent ability to mix up on shield. In addition, because of K. Rool's height, this can also catch jumps efficiently without much commitment, making it a very valuable tool in neutral.
Because the move is disjointed, jab 1 is able to "cancel out" weak projectiles and similar attacks with minimal lag. While he does face recoil lag, this usually ends extremely quickly and grants enough time for K. Rool to run in and punish. However, because the hitbox duration of jab is relatively low and the hitboxes are a bit iffy, it is difficult to do consistently with just the one hit. On the other hand, because jab 2 has exactly the same properties, it gains an effective two extra frames of activity, making it more reliable. Because it only works against weak attacks like Hero's Frizz and Mario's Fireball, this option is matchup-specific.
Neutral attack Hit 1 has one specific use on its own, in that it allows for regrabs out of bury states. This combats those who don't mash when trying to escape down throw into up smash, acting as the strongest mash deterrent that K. Rool has while allowing him to drag foes to the edge of the stage for closer-range KO confirms later. If at the edge, this can force them to fall off which, due to the lag the foe suffers while doing this, leads to a free meteor smash. However, it is very easy to mash out of down throw to jab while buried if the opponent is actually trying to get out, thus making it extremely unlikely to lead to loops and thus a 50:50 mixup at best. Even if it works, mid-level mashing tends to leave K. Rool with very few frames to follow up, causing for a potential negative on hit punish. Confirming into Hits 2-3 is a reasonable alternative, being one of K. Rool's easiest and highest damage combos to do using this at mid%s, hitting opponents during the 12 frames of popout lag. This also leads to useful ledgetrap situations while helping K. Rool manage stale-move negation. However, up throw tends to be more consistent for damage building.
This move is the safest neutral attack on shield out of Hits 1-3, at -16. As a result, for mixups on shield, this is the optimal choice. However, it isn't as safe as many neutral attacks; for example Terry's is -6. It's very vulnerable to many out of shield options in the game, so spacing is necessary. On hit without cancelling however, it becomes -3 at 100% and continues to reliably increase in safety in 25% intervals. As a result, this can be used for something similar to tick throws: hitting an opponent and mixing up with a grab after, though this is on hit, not block. This is a highly useful option, as it can lead to K. Rool's highly useful grab game.
Neutral attack is also extremely useful for comboing out of down tilt. At mid percentages, hitting neutral attack on down tilt with a punish opportunity is guaranteed, allowing for consistent confirms thereafter. This even goes for lower percentages on bury popout, a grab if they attempt to shield in panic. Dash attack tends to be the preferred followup outside of grab for a combination of consistency and damage. Should this be attempted at low percentages, a player should note the risks of hitting shield. This concept is especially notable against stick mashers, as those who use it have can pop out in an immediate tech situation if they pop out while holding up. This is known as Bury Tech Situation Storage. This happens due to ASDI, as well as the Sakurai angle always resulting in a 0 below 60 knockback units. This provides potential lock combos or tech punishes at any percentage, allowing for explosive damage. Using down aerial after this tends to hit missed techs (for a lock pre-25%, then neutral attack hit 2 for a dash attack) or successful techs for a grounded meteor smash from 50%+, or grab confirm prior to that. A document on who can be hit with Hit 1 out of down throw and down tilt buries can be found here[1].
While Hit 1 can lock, it doesn't hit all opponents after the bounce when they've missed the tech[2]. Ken is a good example of this. Usually, going into Hit 2 is recommended in these cases to try and score the lock, or using down aerial. Note that they can always getup attack in these situations, however.
Hitboxes
[
edit
]
ID
Part

Rehit rate

Damage

SD

Angle

Angle type

BK

KS

FKV

Set weight

Radius
Bone

Offset

H×

SDI×

T%

Clang

Rebound

Effect
Type

G

A

Sound
Direct

Hit bits

Hit part

Blockable
Reflectable
Absorbable
Flinchless

No GFX

Heedless

Hitstun
0
0
0
2.5%
0

Forward

30
30
0
2.0
top
0.0
9.0
10.0
1.8×
1.0×
0%
Kick
All
All
+4 frames
1
0
0
2.5%
0

Forward

30
30
0
2.2
top
0.0
9.0
12.5
1.8×
1.0×
0%
Kick
All
All
+4 frames
3
0
0
2.5%
0

Forward

20
15
0
2.5
top
0.0
9.0
18.5 to 16.5
1.8×
1.0×
0%
Kick
Fighter only
All
+4 frames
4
0
0
2.5%
0

Forward

20
15
0
2.5
top
0.0
9.0
18.5 to 16.5
1.8×
1.0×
0%
Kick
All
All
+4 frames
| | |
| --- | --- |
| Hitboxes | 4-5 |
| Continuability window | 7-30 |
| Consecutive jab frame | 16 |
| Interruptible | 25 |
| Animation length | 47 |
Despite not having an ID 2 hitbox, the scripts have a flag for a hitbox with this ID to have the 4 extra frames of hitstun. This implies there used to be an ID 2 hitbox, but it was removed.
| | | |
| --- | --- | --- |
| | | King K. Rool's moveset |