King K. Rool (SSBU)/Up smash
From SmashWiki, the Super Smash Bros. wiki
Jump to navigation
Jump to search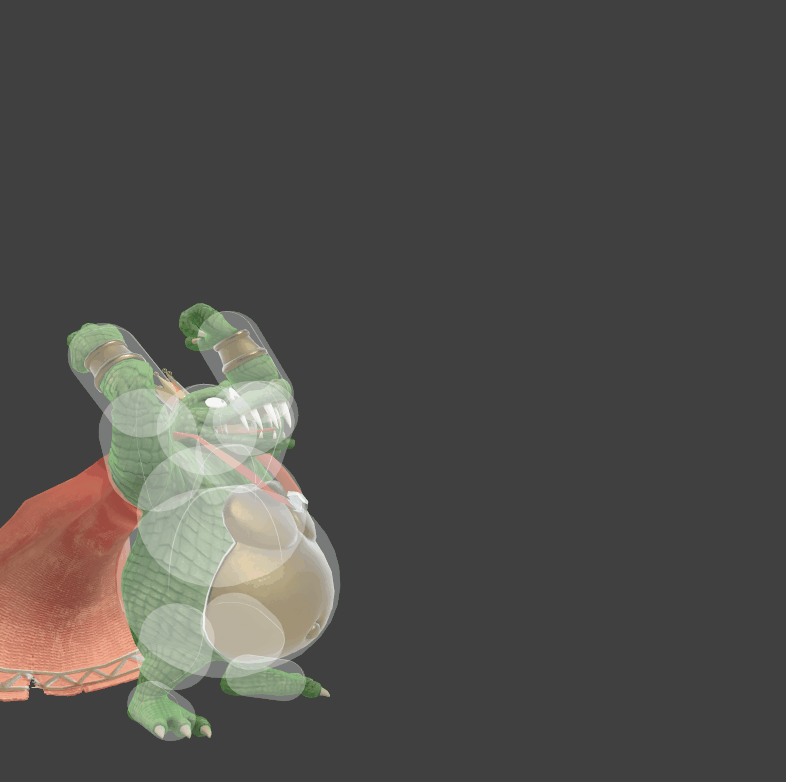 Overview
[
edit
]
A rising headbutt, followed by K. Rool falling on his belly. Up smash is incredibly strong knockback-wise while being reasonably well-protected and coming out on frame 6, with intangibility and Belly Super Armor backing it up, making it near-unchallengable on its own. Up smash has an extremely long-lasting hitbox despite appearances, which combined with amazing kill power makes it among the best ways to punish bury popouts. As a result, the move has a solid place in King K. Rool's kit.
Up smash is an amazing tool for ending stocks from mashing punishes out of down throw, hitting opponents during the 12 frames of popout lag through its impressive active frames. Using a dash into up smash out of down throw[1] is a cornerstone of down throw's mash deterrent game and its power cannot be understated. This was only buffed when the bury time was changed in 2.0.0, making up smash even more consistent against mashing opponents, to the point the so-called nerf has been retroactively seen as a buff by the K. Rool playerbase. The same up smash out of bury concept can be described for down tilt, though the length of time the bury gives tends to make it less favorable.
Being frame 6, up smash can be used as a decent out of shield option to deny aerial crossups on shield. This acts as a very strong deterrent overall, and the lingering hitbox combined with supreme protection makes it surprisingly consistent in this role. Using this after cancelling a run with shield can be a decent commitment, especially when mixing it up with dash cancelled shieldgrabs.
Up smash is relatively consistent at shieldpoking below platforms, which makes it fair game for platform pressure. The damaged shield can then be pressured by K. Rool's stronger attacks while the opponent is likely cornered by the knockback, giving K. Rool an unorthodox way to gain an advantage. However, the overall weak hits make its utility ambiguous. Regardless, it sees play in high-level gameplay.
By far one of the most useful applications of up smash is as a follow-up from an on-stage down aerial sweet spot. It can KO on the ground of stages like Battlefield, Final Destination and Kalos Pokémon League marginally earlier than even up aerial. The movement of the opponent must be accounted for in order to properly connect out of down air, however.
However, the move has many issues. For starters, while the armor is useful, the move's damage can be used against it through counters. Vision with Buster, Tetrakarn and Gut Check can severely damage the armor[2], or even break it if it's taken damage. The move is also monumentally laggy after its first hit, with an FAF of 72. The hits after the first hit are generally quite useless outside of shield poking, with the 2nd hit's mid hit having one of the weakest meteor smashes in the game while being nearly impossible to connect with, and the 3rd hit never landing KOs. As an out of shield option, up smash only works on aerial opponents due to the jostling mechanics, which makes it mediocre in this department overall. Generally, if not used for mash punishes out of down throw or confirming into it out of an on-stage down air, up smash tends to falter.
Update History
[
edit
]
Up smash's first hit deals more damage (15% → 17%) without full compensation on knockback (32 base/95 scaling → 31/90), improving its KO potential.
Hitboxes
[
edit
]
ID
Part

Rehit rate

Damage

SD

Angle

Angle type

BK

KS

FKV

Set weight

Radius
Bone

Offset

H×

SDI×

T%

Clang

Rebound

Effect
Type

G

A

Sound
Direct

Hit bits

Hit part

Blockable
Reflectable
Absorbable
Flinchless

No GFX

Heedless

Clean hit 1
1
1
0

17.0%

0

Forward

31
90
0
8.0
bust
7.5
1.0
0.0
1.2×
1.0×
0%
Kick
All
All
Late hit 1
1
1
0

8.0%

0

Forward

32
84
0
6.5
bust
7.5
1.0
0.0
1.0×
1.0×
0%
Kick
All
All
Early hit 2
0
1
0

8.0%

0

Forward

60
45
0
4.0
bust
7.0
1.0
0.0
0.5×
1.0×
0%
Kick
All
All
Mid hit 2
0
1
0

3.0%

0

Forward

80
5
0
4.0
bust
7.0
1.0
0.0
0.0×
0.0×
0%
Kick
All
All
Late hit 2
0
1
0

3.0%

0

Forward

30
20
0
4.0
bust
7.0
1.0
0.0
0.0×
0.0×
0%
Kick
All
All
Hit 3
0
0
0

10.0%

0

Forward

70
50
0
5.0
top
0.0
5.0
0.0 to 14.0
1.2×
1.0×
0%
Kick
All
All
1
0
0

10.0%

0

Forward

70
50
0
2.0
top
0.0
8.0
6.0 to 15.0
1.2×
1.0×
0%
Kick
All
All
| | |
| --- | --- |
| Charges between | 2-3 |
| Belly Super Armor | 6-21 |
| Head intangible | 6-11 |
| Hit 1 (clean, late) | 6-9, 10-11 |
| Hit 2 (early, mid, late) | 19, 20, 21 |
| Hit 3 | 22-23 |
| Interruptible | 72 |
| Animation length | 85 |
| | | |
| --- | --- | --- |
| | | King K. Rool's moveset |