King K. Rool (SSBU)/Pummel
From SmashWiki, the Super Smash Bros. wiki
Jump to navigation
Jump to search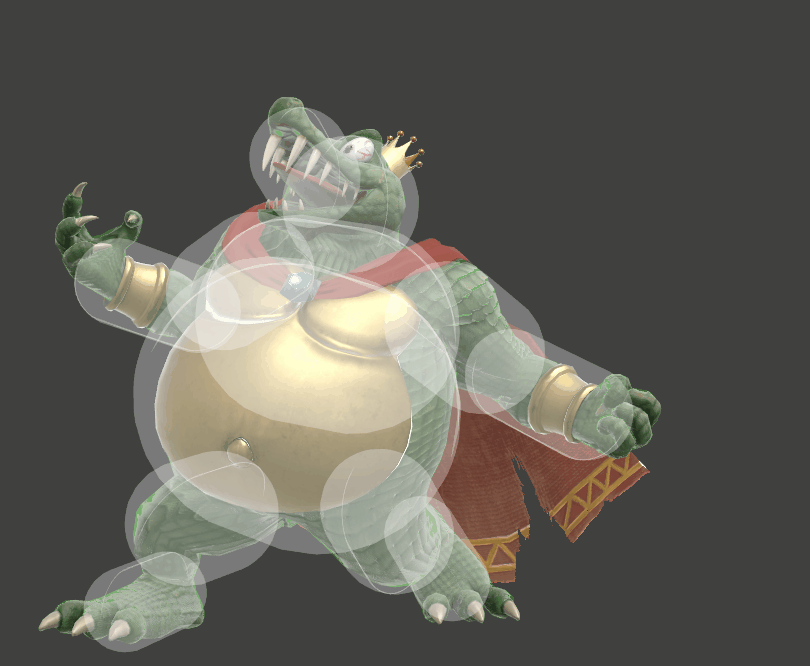 Overview
[
edit
]
A simple headbutt. Pummeling opponents prior to using down throw is especially crucial for King K. Rool's success, as the throw's bury time is based on damage prior to the throw, rather than the grab, thus including pummel damage. It's also essential after a dash grab to make use of the long lunge while still dealing damage. King K. Rool's pummel is also one of the most damaging of its kind, dealing 2% factoring in freshness and the 1v1 multiplier, while also being unusually fast, with an FAF of 8 and 16 frames of hitlag. This allows for an easy down throw into up smash, as it quickly prompts mashing from opponents aiming to avoid taking unnecessary damage.
As pummels remove moves from the stale-move negation queue, this greatly assists K. Rool, as his damage output is heavily affected by the staleness multipliers. Considering its 16 frames of hitlag, a buffered throw from a buffered pummel is guaranteed from around 10%, adding guaranteed damage to his throws very quickly. Thus, buffering pummel into down throw and then using neutral attack will almost completely refresh the staleness queue, greatly assisting K. Rool's damage output between stocks where the player has likely staled forward aerial and other important moves.
To compensate for the sheer damage it can rack up, King K. Rool's pummel is only frame 2. This is something only shared by a few characters, mostly heavyweights. This means it's possible for characters to escape grabs before the pummel comes out, though this is rare.
Update History
[
edit
]
Pummel has a larger hitbox (7u → 8u), allowing it to connect more consistently.
Hitboxes
[
edit
]
ID
Part

Rehit rate

Damage

SD

Angle

Angle type

BK

KS

FKV

Set weight

Radius
Bone

Offset

H×

SDI×

T%

Clang

Rebound

Effect
Type

G

A

Sound
Direct

Hit bits

Hit part

Blockable
Reflectable
Absorbable
Flinchless

No GFX

Heedless

0
0
0
1.6%
0

Forward

0
100
30
8.0
top
0.0
10.0
11.0
2.3×
1.0×
0%
Kick
All
All
| | |
| --- | --- |
| Hitbox | 2 |
| Interruptible | 8 |
| Animation length | 23 |
| | | |
| --- | --- | --- |
| | | King K. Rool's moveset |