King K. Rool (SSBU)/Neutral attack/Hit 3
From SmashWiki, the Super Smash Bros. wiki
Jump to navigation
Jump to search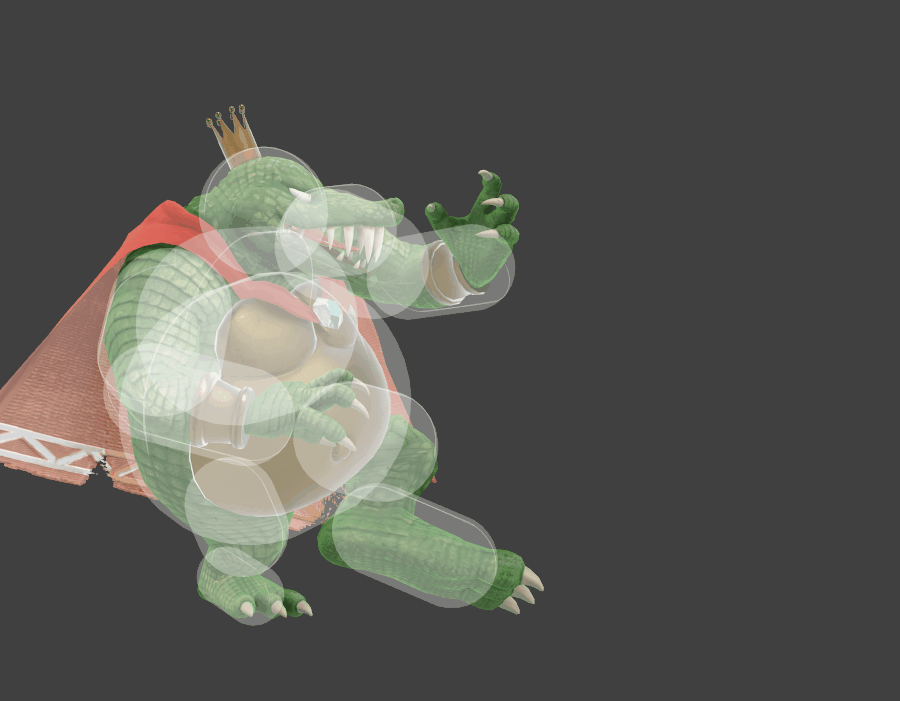 Overview
[
edit
]
King K. Rool does a strong kick, dealing hefty damage - the highest damage of any neutral attack Hit 3 in the game. As a result, this attack is often used for damage. The move is programmed specifically to not have true followups while being safe on hit: +1 at 0 (tested on Mario), eventually becoming +13 at 150%. With 4 active frames, it is also long lasting and will catch opponents just rushing in.
This is usually used out of down throw at mid%s to lead to ledgetrap situations while fixing staling, or set up for Crownerang. The latter, while not a true combo by any means, sets up for a strong advantage state. The move does set up tech situations prior to mid%s as well, which makes Crownerang and Blunderbuss Kannonballs fair options to cover everything except roll in, which can be beaten with neutral attack Hit 1 as well if the opponent lacks good reaction time. This becomes a small vortex situation of sorts.
However, Hit 3 does have small drawbacks. The foot is actually a large hurtbox extension while not having the hitbox cover the whole thing (although horizontally it is disjointed). It is also a bit laggy, meaning it is far less safe to do in neutral unlike Hits 1 and 2. It also doesn't tend to send into tumble at 0% even with Hits 1-2, making use at this percentage questionable[1]. However, Rage mitigates this issue quite easily. Furthermore, it should be noted that King K. Rool's neutral attack is somewhat inconsistent in actually connecting, in part due to the size of Hit 3's hitbox.
Hitboxes
[
edit
]
ID
Part

Rehit rate

Damage

SD

Angle

Angle type

BK

KS

FKV

Set weight

Radius
Bone

Offset

H×

SDI×

T%

Clang

Rebound

Effect
Type

G

A

Sound
Direct

Hit bits

Hit part

Blockable
Reflectable
Absorbable
Flinchless

No GFX

Heedless

0
0
0
7.0%
0

Forward

60
72
0
4.0
top
0.0
9.0
2.0
2.0×
1.0×
0%
Kick
All
All
1
0
0
7.0%
0

Forward

60
72
0
4.0
top
0.0
9.0
6.5
2.0×
1.0×
0%
Kick
All
All
2
0
0
7.0%
0

Forward

60
72
0
5.0
top
0.0
10.0
12.0
2.0×
1.0×
0%
Kick
All
All
| | |
| --- | --- |
| Hitboxes | 5-8 |
| Interruptible | 34 |
| Animation length | 59 |
This is the highest damage Hit 3 of any neutral attack in the game, tied with Terry.
| | | |
| --- | --- | --- |
| | | King K. Rool's moveset |