King K. Rool (SSBU)/Up throw
From SmashWiki, the Super Smash Bros. wiki
Jump to navigation
Jump to search
King K. Rool up throw hurtbox visualization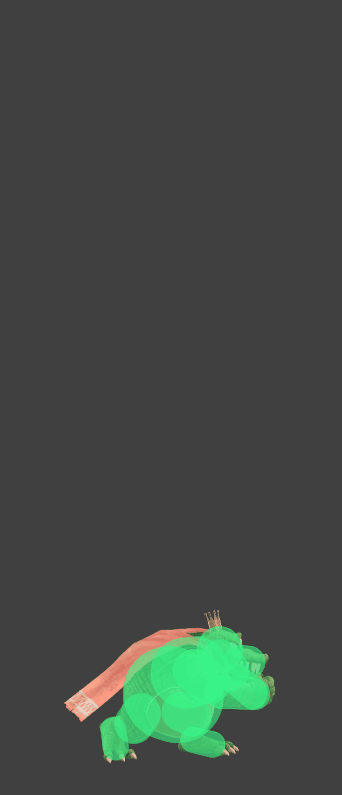 Overview
[
edit
]
King K. Rool's up throw is an attack reminiscent of an Argentine backbreaker. It is the most damaging throw in the game - dealing 16% at base and 20.1% in 1v1 fresh - and as such, is frequently used for building damage. With just a few up throws and pummels, the opponent can very quickly find themselves at KO percentages. This is the heart of K. Rool's damage building at mid%s. Additionally, as of version 13.0.0, up throw has become a respectable kill throw, KOing Mario at around 160% on the base of Final Destination, and with support from platforms, can be even stronger thanks to K. Rool jumping up to them. Thus, on stages such as Battlefield, up throw is significantly more powerful.
Up throw is often used once forward throw to dash attack has been exhausted (which is one use), as there are no further throw combos past that percentage until down throw starts working. At 0%, the hit advantage is just -1[1] with tumble active, meaning K. Rool can take the opportunity to get reads and mindgames in. This is usually done with up tilt to cover jumps, or other grounded options to cover airdodge lag, usually a pivot grab. These interactions can lead to extremely high damage output and large amounts of pressure. Up aerial can also be used for a very early stock while covering jump and slow airdodges. Shielding after a low percentage up throw is a common "option select" used to fish for poor landing aerials, or airdodges, which can both be reacted to with a shieldgrab due to how large K. Rool's shield is, thus worsening the opponent's shield advantage on hit to the point it's viable. It should be noted that because shieldgrabs don't suffer the 4 frame penalty unless the shield is hit, reacting to landing airdodges is viable.
Because up throw moves K. Rool to upper platforms, it makes for a strong positioning and KO tool in one. If it isn't KOing the opponent, it's setting up for up aerial. Up throw on a high platform can also be used to set up for Propellerpack for a sneaky KO, but this often requires a jump read to be of use, as well as a jump or two from K. Rool himself so he can reach the blast zone. Given that Propellerpack deals no hitlag, it requires solid DI from the opponent to escape once caught. Good swerving of Propellerpack is also necessary for it to work. If it does work, however, it's essentially a free stock, making it a decent "knowledge check". This is most effective on stages with low ceilings or those with high platforms, such as Yoshi's Story.
Although up throw is powerful, it isn't always the best option, as K. Rool's other throws also possess very strong KO potential. If he is near the edge of the stage, back throw or down throw followed up by an attack such as up tilt, depending from the direction K. Rool is facing, have better KO potential and leave the opponent in a worse position if they fail to KO. Due to its slow startup, up throw does not work as a DI mixup, as it is always possible to react to it (though, by itself, up throw is barely affected by DI and immune to LSI due to its 90° launch angle). Players should also beware of staling, as up throw is often used through the duration of the match for damage racking and positioning, and will rarely be fresh as a result; as with all throws, pummeling is a good way to alleviate the issue while simultaneously bringing the opponent closer to KO range.
Up throw has a singular flaw in that it has no combo potential, which is mainly owed to the move's considerable ending lag. Ergo, any follow-ups from up throw are strictly mixup situations, which come with natural inconsistency which K. Rool can't always afford. However, this flaw does little to deter the throw from being a strong option in many situations.
Update History
[
edit
]
It is no longer affected by windboxes for the duration of the move.
It has increased knockback scaling (40 → 44), KOing around 15% earlier.
Throw Data
[
edit
]
| Kind | ID | Damage | Angle | Angle type | BK | KS | FKV | H× | Effect | Type | Sound |
| --- | --- | --- | --- | --- | --- | --- | --- | --- | --- | --- | --- |
| Throw | 0 | 16.0% | | Forward | 85 | 44 | 0 | 0.0× | | | Heavy |
| Break | 0 | 3.0% | | Forward | 40 | 100 | 0 | 0.0× | | | Heavy |
During frame 47, the move inflicts 20 frames of hitlag to both King K. Rool and the opponent, during which the opponent is invincible. This section shows its timing without the hitlag.
| | |
| --- | --- |
| Invincibility | 1-48 |
| Air transition | 11 |
| Throw release | 48 |
| Interruptible | 85 |
| Animation length | 95 |
| | | |
| --- | --- | --- |
| | | King K. Rool's moveset |