King K. Rool (SSBU)/Up aerial
From SmashWiki, the Super Smash Bros. wiki
Jump to navigation
Jump to search
King K. Rool up aerial hitbox visualization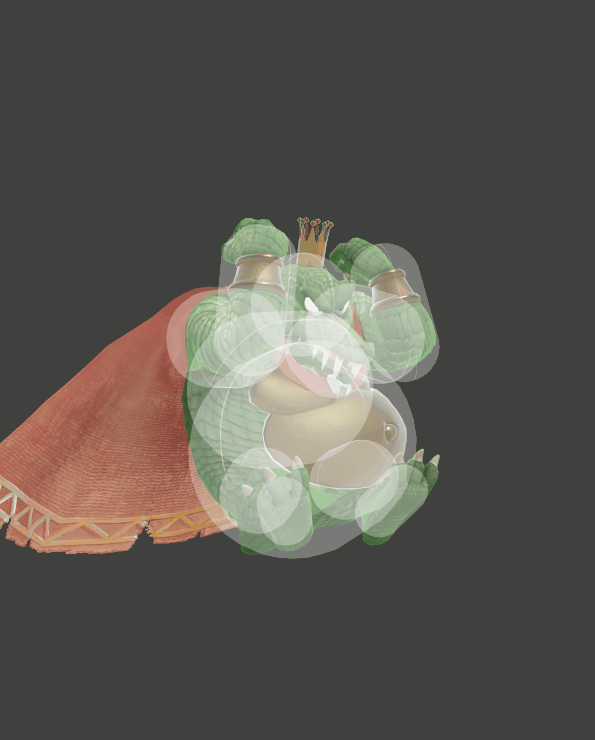 Overview
[
edit
]
A rising headbutt, before K. Rool begins laughing as he falls. Originally considered to be among the worst moves in the game, updates have made the move substantially better. This move is one of the most difficult to challenge up aerials in the game, with intangibility on the head and Belly Super Armor during the initial hit. In addition to this, the move is exceedingly strong, being able to KO as low as 60% with poor DI from a top Battlefield platform.
Hitting with up aerial before cancelling the lag on a platform is a popular technique used by K. Rool players, due to the good situations it provides. Up aerial is a premier platform movement option due to the protection from Belly Super Armor, with a short hop up aerial taking K. Rool to most platforms on legal stages, and a slight delay allows it to take K. Rool to any. Full hop up aerial also takes K. Rool to higher platforms such as the middle one on Battlefield. This is commonly abused by Japanese players. If attempting to steal a platform with it, players can swerve away from opponents if it hits shield to potentially escape a punish. While up aerial can also be drop canceled, the utility is little to none.
Up aerial is one of the only aerials in the game that provide recovery utility, with the only other notable example being Corrin's back aerial. King K. Rool's provides a small amount of vertical drift, which can be influenced with the control stick. While there is high lag, Propellerpack allows K. Rool to recover from just above the blast zone on any legal stage in the game, so long as he doesn't swerve. As a result, K. Rool does not need to burn his double jump unless he is forced into a difficult situation (such as being hit to the "dead zone"). However, unlike stall and fall aerials, up aerial does not give the upward drift directly out of hitstun, requiring delay beforehand. Given the power and difficulty to challenge on startup, this recovery method has received substantial success, with smashers such as Ben Gold actively using the technique. Given the length of time it takes to recover, this also assists with adding ledge intangibility[1], helping K. Rool with ledge camping. However, the lag can easily be punished if used wrongly.
Up aerial is a niche disadvantage tool due to the Frame 7 Belly Super Armor and head intangibility, making it useful for breaking poor combos. This is compounded by the fact that unlike "stall and fall" aerials, up aerial did not receive the change causing them to fall slowly if used out of hitstun. This means up aerial won't move if used out of hitstun, making it a defensive tool if used in such a way that can even combo in niche situations. Due to this, opponents can hit the armor or even get hit by up aerial itself, flipping disadvantage on its head and possibly even landing a surprise KO. It is very committal due to the endlag however, and neutral aerial is usually a better option. It can also be used off the ledge after a ledge release to hit opponents aiming to hit K. Rool's ledgehang, and some tight swerving can land K. Rool on-stage. This is commonly abused by 808.
Up aerial can also be used as a confirm out of down aerial onstage at high percentages where down aerial into up smash doesn't connect reliably anymore. However, outside of these percentages, up smash generally KO's out of an onstage down aerial earlier, outclassing up aerial. The caveat of needed to predict the opponent movement from down aerial still applies to using up air out of down air.
However, despite its power and incredible protection, up aerial has a glaring weakness: it is extremely laggy. The high endlag makes a whiffed up aerial one of the easiest moves to punish in the game, even with K. Rool's amazing fall speed mitigating it. This also makes it very difficult to shark or juggle with, due to K. Rool having to cancel the endlag on a platform, wait for the landing lag to finish, then finally jump up to try again. This gives opponents ample time to try and get down, worsening his air game significantly. As a recovery tool, it is extremely easy for opponents to punish if they plan correctly, which can wind up leaving K. Rool in a worse situation than when he started. Essentially forfeiting a juggle game for a massively powerful kill move with niche recovery potential, up aerial is a mixed bag of a move that requires a lot of consideration to use properly.
Update History
[
edit
]
Up aerial has less ending lag (FAF 82 → 72). This makes it less likely to self-destruct after using it offstage, allowing it to be used as an option to stall recoveries.
Up aerial grabs the ledge more quickly when using the move (Ledge lockout: 102 → 96). As an example of the change, full hop double jump up aerial will now cancel on the ledge during the endlag.
Up aerial has a longer hitbox duration (frames 7-8 (clean)/9-16 (late) → 7-13/14-19), with the clean hit now lasting until the head intangibility ends.
The clean hit also deals more knockback (85 base/56 scaling → 84/60), KOing at around 135% from ground level.
Hitboxes
[
edit
]
ID
Part

Rehit rate

Damage

SD

Angle

Angle type

BK

KS

FKV

Set weight

Radius
Bone

Offset

H×

SDI×

T%

Clang

Rebound

Effect
Type

G

A

Sound
Direct

Hit bits

Hit part

Blockable
Reflectable
Absorbable
Flinchless

No GFX

Heedless

Clean hit
0
0
0
14.0%
0

Standard

84
60
0
8.6
top
0.0
22.0
0.0
1.3×
1.0×
0%
Kick
All
All
Late hit
0
0
0
10.0%
0

Standard

85
52
0
6.2
top
0.0
22.0
0.0
1.0×
1.0×
0%
Kick
All
All
On frame 7, the move resets King K. Rool's horizontal momentum and sets his vertical speed to 2.1. Ledge grabs are enabled from both sides starting on frame 96.
| | |
| --- | --- |
| Initial autocancel | 1-2 |
| Belly Super Armor | 7-20 |
| Head intangible | 7-13 |
| Clean hit | 7-13 |
| Late hit | 14-19 |
| Ending autocancel | 70- |
| Interruptible | 72 |
| Animation length | 100 |
| Hitbox  | | | | | | | | | | | | | | | | | | | | | | | | | | | | | | | | | | | | | | | | | | | | | | | | | | | | | | | | | | | | | | | | | | | | | | | | | | | | | | | | | | | | | | | | | | | | | | | | | | | | |
| --- | --- | --- | --- | --- | --- | --- | --- | --- | --- | --- | --- | --- | --- | --- | --- | --- | --- | --- | --- | --- | --- | --- | --- | --- | --- | --- | --- | --- | --- | --- | --- | --- | --- | --- | --- | --- | --- | --- | --- | --- | --- | --- | --- | --- | --- | --- | --- | --- | --- | --- | --- | --- | --- | --- | --- | --- | --- | --- | --- | --- | --- | --- | --- | --- | --- | --- | --- | --- | --- | --- | --- | --- | --- | --- | --- | --- | --- | --- | --- | --- | --- | --- | --- | --- | --- | --- | --- | --- | --- | --- | --- | --- | --- | --- | --- | --- | --- | --- | --- | --- |
| Belly  | | | | | | | | | | | | | | | | | | | | | | | | | | | | | | | | | | | | | | | | | | | | | | | | | | | | | | | | | | | | | | | | | | | | | | | | | | | | | | | | | | | | | | | | | | | | | | | | | | | | |
| Head  | | | | | | | | | | | | | | | | | | | | | | | | | | | | | | | | | | | | | | | | | | | | | | | | | | | | | | | | | | | | | | | | | | | | | | | | | | | | | | | | | | | | | | | | | | | | | | | | | | | | |
| Autocancel  | | | | | | | | | | | | | | | | | | | | | | | | | | | | | | | | | | | | | | | | | | | | | | | | | | | | | | | | | | | | | | | | | | | | | | | | | | | | | | | | | | | | | | | | | | | | | | | | | | | | |
Landing lag
[
edit
]
| | |
| --- | --- |
| Interruptible | 14 |
| Animation length | 25 |
| | | |
| --- | --- | --- |
| | | King K. Rool's moveset |