King K. Rool (SSBU)/Neutral attack/Hit 2
From SmashWiki, the Super Smash Bros. wiki
Jump to navigation
Jump to search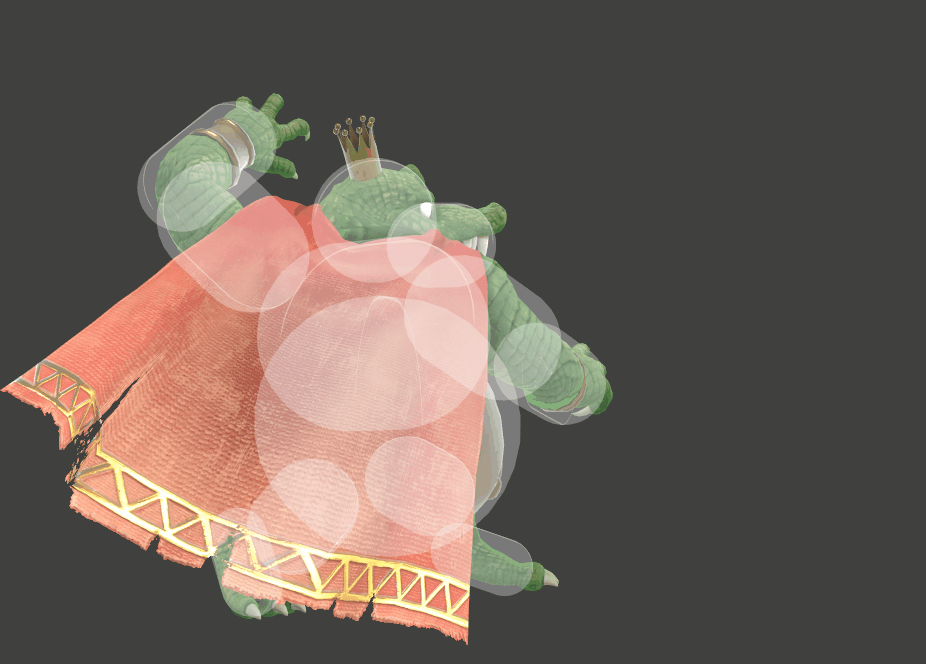 Overview
[
edit
]
King K. Rool does a quick claw swipe. Coming out Frame 3, this is King K. Rool's fastest move in general, although due to Hit 1's transition, it is technically Frame 9. Like Hit 1, this deals 4 extra frames of hitstun in addition to the usual amount. Due to the reasonably quick frame data and good active frames considering Hit 1, it's a niche option for baiting opponents trying to punish Hit 1.
Jab 2 has slightly disjointed hitboxes for the same reason as Hit 1: the lack of hand hurtboxes. This, in tandem with the previous hit, makes it effective for cancelling out weak projectiles like Luigi's Fireballs, but due to the low damage, it is matchup-specific. In the event the cancelling out occurs, K. Rool sustains minimal recoil lag, allowing for a quick punish.
Hitting lower than Hit 1 means Hit 2 is better at locking[1] or hitting buried opponents[2] than the prior; it also assists with projectiles that hit lower to the ground. This is important in some matchups, although it takes time to set up and thus tends to lose to getup attack. Outside of this, the best use of Hit 2 is in niche spacing scenarios where one needs more hitboxes, or is going into Hit 3.
Hitboxes
[
edit
]
ID
Part

Rehit rate

Damage

SD

Angle

Angle type

BK

KS

FKV

Set weight

Radius
Bone

Offset

H×

SDI×

T%

Clang

Rebound

Effect
Type

G

A

Sound
Direct

Hit bits

Hit part

Blockable
Reflectable
Absorbable
Flinchless

No GFX

Heedless

Hitstun
0
0
0
2.5%
0

Forward

25
30
0
2.8
top
0.0
8.5
10.0
1.2×
1.0×
0%
Kick
All
All
+4 frames
1
0
0
2.5%
0

Forward

25
30
0
2.8
top
0.0
8.5
13.0
1.2×
1.0×
0%
Kick
All
All
+4 frames
2
0
0
2.5%
0

Forward

25
30
0
2.8
top
0.0
8.5
16.5
1.2×
1.0×
0%
Kick
All
All
+4 frames
3
0
0
2.5%
0

Forward

20
15
0
3.0
top
0.0
8.5
21.0
1.2×
1.0×
0%
Kick
Fighter only
All
+4 frames
4
0
0
2.5%
0

Forward

20
15
0
3.0
top
0.0
8.5
21.0
1.2×
1.0×
0%
Kick
All
All
+4 frames
| | |
| --- | --- |
| Hitboxes | 3-4 |
| Continuability window | 9-31 |
| Interruptible | 28 |
| Animation length | 51 |
| | | |
| --- | --- | --- |
| | | King K. Rool's moveset |