King K. Rool (SSBU)/Down throw
From SmashWiki, the Super Smash Bros. wiki
Jump to navigation
Jump to search
King K. Rool down throw hurtbox visualization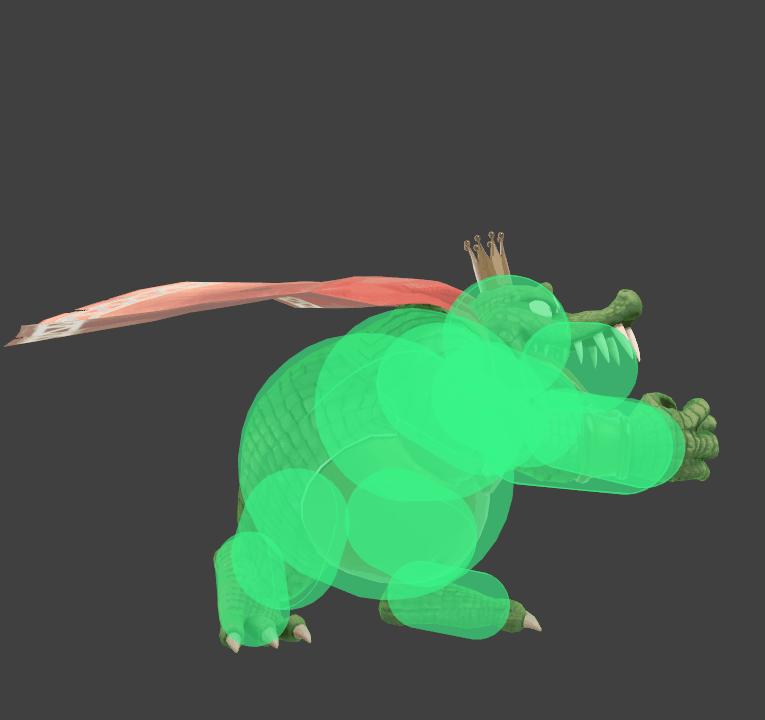 Overview
[
edit
]
King K. Rool's down throw (known in-game as Piledriver) is a particularly notorious throw, for the fact it has a bury effect. While the bury itself is quite weak, it is very exploitable for King K. Rool players due to the 50/50s it enables. As a result, this move is a cornerstone of King K. Rool's metagame and usually how he gets KOs.
Frame Advantage
[
edit
]
Unlike the usual buries in Ultimate, King K. Rool's down throw uses a specific equation to devise the base time for an opponent being buried. This equation goes as follows; 60 + (0.75×Damage before throw). This equation completely erases the opponent's parameters as well as knockback from the result. As a result of this information, the frame advantage can be sorted into a table, against a TAS mashing bot.
Down Throw Bury Advantage Table
% Scale
0%
25%
50%
75%
100%
125%
150%
Base Time (Frames)
60
78.75
97.5
116.25
135
153.75
172.5
TAS Stick Mashing Frame Adv.
-25
-23
-20
-17
-15
-12
-9
TAS Stick Mashing Frame Advantage + 12 Frame Popout Lag
-13
-11
-8
-5
-3
0
+3
Bounce glitch
-22
-22
-22
-22
-22
-22
-22
Confirming Up Smash
[
edit
]
Due to the low frame advantage in King K. Rool's Down Throw, most players go for up smash out of it. This is because in-context, human mashing tends to make it roughly neutral, and the 12 frames of lag when an opponent is unburied tends to get them hit by it. This is a kill setup from around 100%. For some characters, King K. Rool has to dash before using up smash to hit them[1]. One notable example is Joker, due to his small hurtbox. To alleviate this, K. Rool players tend to do a quarter-circle up input to buffer dash and up smash in sequence. Regardless of this, due to this factor, the consistency of this 50/50 varies by character.
Opponents that attempt to avoid this by not mashing tend to get hit by devastating punishes should the K. Rool player react correctly. One would be his forward smash, capable of KOing as early as 50% at the edge. Players also tend to use neutral attack to store knockback, then go for a regrab. This allows King K. Rool to "game" the 50/50 situation and usually confirm the KO as well, as well as other attacks such as forward tilt and dash attack. It is also possible for K. Rool to store his down aerial's meteor smash inside of a bury, and down throw is no exception to this[2]. Out of this, King K. Rool can confirm his up smash, working as an even earlier kill setup from around 75%.
"True" Kill Confirms
[
edit
]
Should the player want to forgo the aforementioned 50/50, however, the player can go for a various "true" confirms instead. Forward tilt, up tilt and dash attack are common followups to achieve this. These followups can technically still be mashed out of until around 130%, but remain strong options due to their kill power, and the lack of human opponents who can escape moves like up tilt entirely.
Forward tilt is a controversial (due to being frame 12) albeit often used followup, for its kill power. However, the kill power exclusively comes from whether it sweetspots opponents. This varies by matchup[3], but can pay off greatly if the opponent cannot mash out of it. Many players angle forward tilt up in matchups where it connects, with the aim of catching opponents as they mash out, effectively making the move a true combo at some percents.
Up tilt is considered to be the most consistent option out of down throw, due to it being frame 5 and having a high vertical hitbox. This allows it to almost always connect on opponents at around 130%, although TAS mashing will just barely get them out of the sweetspot's range. Due to the consistency, this is occasionally used as a mixup at lower percentages to build up damage.
Dash attack is usually used through the Instant Dash Attack advanced technique, due to it having higher kill power than up tilt while being frame 7. It also tends to have an easier time connecting on opponents more easily as they mash out, due to the longer lasting hitbox. This is most notable at the ledge due to the stage stopping K. Rool from moving forward, effectively placing a 21-frame long hitbox above the opponent. As a result, there is almost always a reward from using dash attack out of down throw.
Update History
[
edit
]
Down throw has a different buried time formula (90 frames + 0.5*damage → 60 + 0.75*damage). This allows buried opponents to easily escape at low percents, but more difficult at high percents. Specifically, it is worse below 125%, and better above 125%.

These changes improve K. Rool's mixup options at low percents, while making his KO confirms more varied and consistent at high percents.
With these changes, down throw now has 50/50 setup options, which can catch opponents with up smash or up aerial if they mash out of the bury at ~90%, or setup into forward smash if they are conditioned to wait out the bury.
Down throw's changes make up tilt a consistent KO option out of down throw on middleweight characters from around 125%; previously, opponents could mash out even at 130%.
Down throw's changes make dash attack significantly less effective compared to up tilt at 125%.
Down throw's followup into forward tilt now has to be angled up from 110% onwards to hit most of the cast as opposed to 100%.
The infinite jab combo (down throw to jab, repeat) that worked at 200%+ has been removed, now having the opponent "bounce" on the third loop.
Throw Data
[
edit
]
The move buries the opponent upside down. The bury duration is determined by the formula 60 + 0.75p, where p is the target's percent before damage from the throw. As such, its duration is not affected by stock difference or rage. Bury Tech Situation Storage does not affect this move due to ASDI not working on throws[4].
| Kind | ID | Damage | Angle | Angle type | BK | KS | FKV | H× | Effect | Type | Sound |
| --- | --- | --- | --- | --- | --- | --- | --- | --- | --- | --- | --- |
| Throw | 0 | 5.0% | | Forward | 30 | 90 | 0 | 0.0× | | | None |
| Break | 0 | 2.0% | | Forward | 40 | 100 | 0 | 0.0× | | | None |
| | |
| --- | --- |
| Invincibility | 1-40 |
| Throw release | 40 |
| Interruptible | 74 |
| Animation length | 79 |
Similar moves
[
edit
]
| | | |
| --- | --- | --- |
| | | King K. Rool's moveset |