Multi-hit throw
From SmashWiki, the Super Smash Bros. wiki
Jump to navigation
Jump to search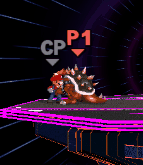 A multi-hit throw is a throw that does damage in multiple parts. Typically, this is accomplished with a hitbox that strikes the grabbed opponent before they are released. An obvious example is Bowser's up throw, where the opponent is slashed multiple times with Bowser's shell before they are actually thrown. Multi-hit throws typically result in a throw dealing less knockback for the same amount of damage (due to how the knockback formula operates), but have the advantage of still slightly damaging the opponent even if the user is interrupted by something else. Several multi-hit throws cannot be distinguished as being multi-hit without reducing the game speed, as their hitbox strikes a frame or two before the throw occurs, such as Captain Falcon's forward, back, and up throws in Melee.
As the first hits of a multi-hit throw are generally regular hitboxes, they are capable of hitting bystanders. Some throws are partially designed for this purpose; Bowser's down throw does all of its damage with a hitbox and none with the throw itself, meaning both the grabbed opponent and any bystanders take the same damage.
Certain special moves can be considered multi-hit throws, an example being Dark Dive. On the other hand, moves such as Chomp or Koopa Klaw are not, instead acting as throws with pummels.
Multi-hit throws whose animation speed is based on the opponent's weight run the risk of rounding causing one-frame hitboxes to appear and disappear without the game checking to see if anyone has been hit. As a result, some throws do not deal as much damage as they should on opponents of a specific weight. Examples include Bowser's down throw in NTSC Melee and Link's down throw in Brawl, the former of which misses its first hit when throwing Jigglypuff or Mr. Game & Watch, and the latter of which misses its first hit when throwing Jigglypuff.
Character
Throw
Description
Damage
Bowser
Up throw
Throws the opponent on his shell, doing damage to them while spinning. Has set knockback and can chain grab fastfallers.
1% (hits 1-8), 2% (throw)
Down throw
Throws the opponent on the ground and lands on them with tremendous force. In the NTSC version of the game, the throw will not hit Jigglypuff or Mr. Game & Watch, but it will hit them in the PAL version.
12% (hit 1), 0% (throw)
Captain Falcon
Forward throw
Punches the opponent forward.
5% (hit 1), 4% (throw)
Back throw
Kicks the opponent behind him. Knockback is usually too high to follow-up on unless over a ledge.
5% (hit 1), 4% (throw)
Up throw
Punches the opponent upward. Can be used to either tech-chase or lead into various moves at low percentages, as the opponent usually falls straight down. At higher percentages, aerial follow-ups are easier to land.
4% (hit 1), 3% (throw)
Falco
Forward throw
Punches the opponent forward. Can chain grab heavy or floaty characters and is useful for edgeguarding.
4% (hit 1), 3% (throw)
Down throw
Throws the opponent into the ground and shoots them with his Blaster. Almost identical to Fox's, but with weaker knockback.
1% (shots), 1% (throw)
Fox
Forward throw
Punches the opponent forward. Despite its generally poor combo ability, it can chain grab some heavy characters. It is best used for forcing opponents offstage, setting up an edgeguard.
4% (hit 1), 3% (throw)
Down throw
Throws the opponent into the ground and shoots them with his Blaster. This throw does not make opponents bounce off the ground like most other down throws because it sends them straight down, meaning that it can meteor smash over the ledge if Fox's body is partially overlapping it. Useful for tech-chasing. Can lead into up tilt or Reflector.
1% (shots), 1% (throw)
Ganondorf
Forward throw
Punches the opponent forward. It is only useful for setting up edgeguards at high percentages.
5% (hit 1), 4% (throw)
Back throw
Brings the opponent behind him and kicks them. Same usefulness as his forward throw.
5% (hit 1), 4% (throw)
Up throw
Knocks the opponent above him. Can chain grab fastfallers until high percentages. It can also be useful for juggling.
4% (hit 1), 3% (throw)
Ice Climbers
Forward throw
Hits the opponent forward with their hammer.
6% (hit 1), 5% (throw)
Up throw
Throws the opponent upwards, then hits them with their hammer. One of the strongest throws in the game, though unable to combo because of that.
6% (hit 1), 5% (throw)
Jigglypuff
Forward throw
Puffs itself up and launches the opponent forward. Surprisingly high knockback compared to most throws, it can be used to edgeguard, though not as reliably as its back throw. Second strongest forward throw in the game. The throw can KO opponents above 130% when used next to the ledge.
5% (hit 1), 7% (throw)
Down throw
Grinds the opponent with itself on the floor. Can combo into Rest against floaty characters.
1% (hits 1-4), 3% (hit 5), 2% (throw)
Link
Forward throw
Kicks the opponent a short distance in front of him. Low knockback.
3% (hit 1), 3% (throw)
Back throw
Throws the opponent behind him and kicks them away.
3% (hit 1), 3% (throw)
Up throw
Raises the opponent above him and slashes upward. Has below average knockback, allowing it to potentially combo into up tilt or up aerial.
4% (hit 1), 2% (throw)
Down throw
Takes the opponent onto the ground and elbow drops them. Leaves foes wide open for a combo with Spin Attack or up tilt.
2% (hit 1), 4% (throw)
Mewtwo
Down throw
Mewtwo throws the opponent down and strikes them with its tail. Can be used to chain grab or combo into forward aerial.
5% (hit 1), 6% (throw)
Ness
Down throw
Slams the opponent on the ground and hits them with fire. Its low knockback allows a decent amount of follow-ups, including up aerial to KO.
1% (hits 1-5), 4% (throw)
Peach
Forward throw
Slaps the foe in front of her. Strongest forward throw in the game.
2% (hit 1), 8% (throw)
Back throw
Puts opponent behind her and hits them with her rear. Can KO after 170% if used near the edge.
2% (hit 1), 9% (throw)
Up throw
Puts the opponent above her and volleys them upward. Can chain grab characters with up to moderate falling speed at 0%. Fastfallers must be at around 40% in order to be chain grabbed chain grab this way. Combos into up smash or any aerial.
2% (hit 1), 6% (throw)
Down throw
Puts the opponent down and sits on them. Can chain grab at high percentages. Can lead into forward tilt, depending on the opponent's weight, falling speed and DI.
0% (hit 1), 7% (throw)
Pichu
Forward throw
Places the opponent on its back and shocks them, sending them forward. Low knockback.
2% (hits 1-4), 2% (throw), 1% (recoil)
Up throw
Places the opponent on its head, then headbutts them with electricity. Despite dealing electric damage, this move doesn't cause recoil.
5% (hit 1), 5% (throw)
Down throw
Places the opponent on the ground, then jumps on them. Despite dealing electric damage, this move doesn't cause recoil.
5% (hit 1), 5% (throw)
Pikachu
Forward throw
Places the opponent on its back and shocks them, sending them forward. Low knockback. The only use for this throw is to build damage if no other throw set-ups are available, which is a rare situation.
2% (hits 1-4), 2% (throw)
Up throw
Places the opponent on its head, then headbutts them upward. This throw can chain grab fastfallers. It is a useful combo move at high percentages, as it can easily lead into up smash or up aerial.
5% (hit 1), 5% (throw)
Down throw
Places the opponent on the ground, then jumps on them. This is a good move against lightweights at low percentages, as it can lead into up smash for a low percent KO. Easier to DI than its up throw.
5% (hit 1), 5% (throw)
Sheik
Forward throw
Launches the opponent forward with low hitstun and horizontal knockback.
6% (hit 1), 2% (throw)
Back throw
Throws the opponent behind her and kicks them away. Higher knockback and hitstun than her forward throw, but still weak. It can force opponents offstage to set up edgeguards.
5% (hit 1), 2% (throw)
Up throw
Launches the opponent above her. Very difficult to follow up on.
6% (hit 1), 2% (throw)
Down throw
Throws the opponent on the ground and axe kicks them, sending them upwards. In the NTSC version, it can combo into up smash or forward aerial. It can also tech-chase many characters, with a proper read usually netting another grab. In the PAL version, it deals more horizontal knockback, drastically limiting its follow-up options.
5% (hit 1), 3% (throw)
Young Link
Forward throw
Kicks the opponent a short distance in front of him. Can be used to chain grab.
3% (hit 1), 3% (throw)
Back throw
Throws the opponent behind him and kicks them away.
3% (hit 1), 3% (throw)
Up throw
Raises the opponent above him and slashes upward. Very useful for comboing.
4% (hit 1), 2% (throw)
Down throw
Takes the opponent onto the ground and tackles them. Useful for comboing, but easily DIed.
2% (hit 1), 4% (throw)
Zelda
Down throw
Drops the opponent and zaps them, sending them behind her with weak knockback.
2% (hits 1-4), 2% (throw)
Character
Throw
Description
Damage
Bowser
Up throw
Throws the opponent on his shell, doing damage to them while spinning. Has set knockback.
1% (hits 1-8), 2% (throw)
Down throw
Sets the opponent on the ground and body slams them. Low knockback.
12% (hit 1), 0% (throw)
Captain Falcon
Forward throw
Punches the opponent forward.
5% (hit 1), 4% (throw)
Back throw
Kicks the opponent behind him.
5% (hit 1), 4% (throw)
Up throw
Punches the opponent upward.
4% (hit 1), 3% (throw)
Diddy Kong
Up throw
Throws the opponent upwards and handstand kicks them.
4% (hit 1), 5% (throw)
Falco
Forward throw
Bashes the opponent forward.
4% (hit 1), 3% (throw)
Down throw
Tosses the opponent upward, then fires four very quick Blaster shots. It can chain grab most characters at low percentages, and may be finished with down aerial or a DACUS. It can also tech-chase effectively once the opponent is past chain grab percentage.
2% (shots), 1% (throw)
Fox
Forward throw
Punches the opponent forward.
4% (hit 1), 3% (throw)
Down throw
Tosses the opponent upward, then fires four very quick Blaster shots. At low percentages, it can be followed up with either forward aerial on certain characters or up aerial on all characters.
2% (shots), 1% (throw)
Ganondorf
Forward throw
Punches the opponent forward.
5% (hit 1), 8% (throw)
Back throw
Brings the opponent behind him and kicks them. Can be used to set up edgeguards or KO at high percentages near the edge.
5% (hit 1), 5% (throw)
Up throw
Knocks the opponent above him. Too strong too follow up on, yet too weak to KO before 200%.
4% (hit 1), 3% (throw)
Ice Climbers
Forward throw
Hits the opponent forward with their hammer. If the player moves the partner before the throw, the partner can re-grab the opponent right after the throw.
3% (hit 1), 5% (throw)
Up throw
Throws the opponent upwards, then hits them with their hammer.
2% (hit 1), 4% (throw)
Jigglypuff
Forward throw
Puffs itself up and launches the opponent forward. Low knockback and high ending lag.
5% (hit 1), 5% (throw)
Down throw
Rolls back and forth on the opponent.
4% (hit 1), 6% (throw)
Kirby
Down throw
Throws the opponent onto the ground, stomps on them several times quickly, then finishes with a two-footed jumping stomp. Based on the Fury Stomp from the Suplex ability.
1% (hits 1-10), 2% (throw)
Link
Forward throw
Kicks the opponent in front of him.
3% (hit 1), 4% (throw)
Back throw
Throws the opponent behind him and kicks them away.
3% (hit 1), 4% (throw)
Up throw
Raises the opponent above him and slashes upward.
5% (hit 1), 2% (throw)
Down throw
Takes the opponent onto the ground and elbow drops them.
3% (hit 1), 4% (throw)
Lucario
Up throw
Performs an uppercut, throwing the opponent upwards. Can chain grab fastfallers and heavy characters at very low percentages.

1%

(hit 1),

5%

(throw)
Meta Knight
Forward throw
Attacks the opponent with a backflip kick.
6% (hit 1), 3% (throw)
Back throw
Warps behing the opponent and slashes them. Can be used to set up an edgeguard or KO at very high percentages.
7% (hit 1), 3% (throw)
Down throw
Throws the opponent onto the ground, stomps on them several times quickly, then finishes with a jumping stomp. Aside from its horizontal knockback, it is very similar to Kirby's. Depending on the opponent's DI, it can be followed up reliably with a dash attack, a neutral aerial, an up aerial or another grab.
1% (hits 1-10), 1% (throw)
Ness
Down throw
Throws the opponent onto the ground and scorches them with fire. Combined with pummelling and PK Fire, it can be used to rack up large amounts of damage quickly.
1% (hits 1-5), 4% (throw)
Olimar
Down throw
The Pikmin slams the opponent on the ground, then jumps on top of them. Can chain grab fastfallers and heavy characters (best done with Blue Pikmin).
All Pikmin: 1% (hit 1)
R: 8% (throw)
Y&P: 7% (throw)
B: 11% (throw)
W: 5% (throw)
Peach
Forward throw
Winds up and slaps the opponent away. Her strongest throw, but it can't KO until 200%.
2% (hit 1), 8% (throw)
Back throw
Places the opponent behind her and bumps them away with her rear. Decent horizontal knockback, but not enough to KO.
2% (hit 1), 9% (throw)
Up throw
Puts the opponent above her and volleys them upward. Can lead into sweetspotted up smash at high percentages.
2% (hit 1), 6% (throw)
Down throw
Puts the opponent down and sits on them. Great for combos and can chain grab fastfallers and heavy characters at low percentages. The first hit will weakly meteor smash bystanders.
0% (hit 1), 7% (throw)
Pikachu
Forward throw
Places the opponent on its back and shocks them, sending them forward. Can chain grab almost all characters.
2% (hits 1-4), 2% (throw)
Up throw
Places the opponent on its head, then headbutts them upward. Not many follow-up options, usually forgone in favour of down throw.
5% (hit 1), 5% (throw)
Down throw
Places the opponent on the ground, then jumps on them. Can chain grab certain characters, most notably fastfallers.
5% (hit 1), 5% (throw)
Samus
Up throw
Holds the opponent above her, then blasts them upwards with the Grapple Beam.
1% (hits 1-5), 4% (throw)
Sheik
Forward throw
Launches the opponent forward.
5% (hit 1), 2% (throw)
Back throw
Throws the opponent behind her and kicks them away.
5% (hit 1), 2% (throw)
Up throw
Flips upside-down and kicks the opponent with both feet.
3% (hit 1), 2% (throw)
Down throw
Throws the opponent on the ground and axe kicks them, sending them upwards.
3% (hit 1), 3% (throw)
Sonic
Forward throw
Attacks the opponent with a high kick. The attack resembles the Top Kick from Sonic Battle.
3% (hit 1), 6% (throw)
Up throw
Throws the opponent up and sharpens his spikes, which then prick the opponent.
3% (hit 1), 9% (throw)
Down throw
Pins the opponent down, then Spin Dashes into them. Great for tech-chasing. The attack originates from Sonic the Fighters.
1% (hits 1-3), 5% (throw)
Toon Link
Forward throw
Shoulder tackles the opponent forward. Due to a coding error, the first hit of the move is read as a foot attack.
3% (hit 1), 4% (throw)
Back throw
Falls on his back and throws the opponent backwards. Based on the tomoe nage.
3% (hit 1), 4% (throw)
Up throw
Throws the opponent upwards and slashes them. Good for combos.
5% (hit 1), 2% (throw)
Down throw
Sets the opponent on the ground and shoulder tackles them.
3% (hit 1), 4% (throw)
Zelda
Down throw
Drops the opponent and burns them, sending them behind her with weak knockback.
2% (hits 1-4), 2% (throw)
Zero Suit Samus
Forward throw
Sets the opponent in front of her and zaps them with her pistol. Can chaing grab most characters at low percentages.
2% (hit 1), 7% (throw)
Back throw
Sets the opponent behind her and kicks them. Usually considered her least useful throw due to its very low utility.
2% (hit 1), 4% (throw)
Up throw
Flip kicks the opponent upwards. This is her strongest throw, as well as the only one that can KO in Sudden Death, but its high ending lag prevents any follow-ups.
2% (hit 1), 8% (throw)
Down throw
Sets the opponent on the ground and axe kicks them. Can be followed up a forward aerial, a back aerial or an up aerial, depending on the opponent's DI.
2% (hit 1), 5% (throw)
Character
Throw
Description
Damage
Bowser
Up throw
Bowser throws the opponent slightly up, withdraws into his shell, and spins, damaging them against his spikes. Bowser's only real follow-up throw; it can true combo into a forward air at low percentages, though it is difficult to do so.
1% (hits 1-8), 2% (throw)
Charizard
Down throw
Charizard pins its opponent on the floor, and then breathes fire on them. Does poor damage, but has high knockback and can KO enemies at high percents. Deals severely reduced knockback as of the 1.0.8 update, which is a buff overall due to it becoming a combo starter.
1% (hits 1-5), 1% (throw)
Fox
Back throw
Fox throws his foe backwards and shoots them with three rapid shots from his Blaster.
2% (throw), 2% (hits 1-3)
Up throw
Fox throws his foe upwards and fires three rapid shots from his blaster. Can occasionally follow up into up aerial if the opponent's reaction is read.
2% (throw), 2% (hits 1-3)
Down throw
Fox forces his foe onto the floor and fires four point-blank shots at them with his blaster. Can link into a neutral or forward air.
1.5% (Hits 1-4), 1% (throw)
Kirby
Down throw
Fury Stomp from the Suplex ability in Kirby Super Star. Throws the opponent onto the ground, then rapidly stomps on them several times, and then finishes with a jumping double foot stomp.
0.8% (hits 1-9), 1% (hit 10), 2% (throw)
Meta Knight
Down throw
Like Kirby's down throw, but slower: stomps on opponent multiple times, then ends by fall-crush-stomping down on them, excellent follow-up potential. Can link into an up smash, forward aerial, and occasionally even into a KO combo with Shuttle Loop if opponent DIs poorly.
0.5% (hits 1-9), 1% (hit 10), 2% (throw)
Mewtwo
Forward throw
Mewtwo telekinetically throws the opponent diagonally in the air before firing five small Shadow Balls at them. As of update 1.1.0, it is tied with Ganondorf's and max aura Lucario's forward throws as the most damaging forward throws in the game. However, the Shadow Balls can be reflected if the opponent wears a Franklin Badge.
3% (throw), 2% (hits 1-5)
Ness
Down throw
Ness throws his opponent onto the ground and scorches them with PK Fire. A good combo starter, with the most notable being his down throw to forward air.
0.6% (hits 1-5), 4% (throw)
Pac-Man
Down throw
Transforms into his ball form and chomps on the grounded enemy. It has combo potential, most notably being able to combo into a dash attack at low percentages.
1.5% (hits 1-3), 6% (throw)
Pikachu
Forward throw
Places the opponent on its back and shocks them, sending them forward. A multi-hit move. Can set up running up smashes and neutral aerials at very low percents.
2% (hits 1-4), 2% (throw)
Samus
Up throw
Samus holds the foe above her, then blasts them upwards with the Grapple Beam. Can combo into a Screw Attack at 0% against heavyweights, but otherwise sends opponents too high for followups.
1% (hits 1-5), 4% (throw)
Sonic
Down throw
Pins the enemy down, then Spin Dashes into them. Great for tech-chasing. Originates from Sonic the Fighters.
1% (hits 1-3), 4% (throw)
Zelda
Down throw
Forces her opponent under her and blasts it with fiery magic enegy from her hands, which launches them above her. A reliable combo starter, it can be followed up with a neutral aerial and, if timed precisely, an up aerial or a back aerial. At high percents, Zelda can follow it up with an up aerial or back aerial for a relatively secure KO.
1% (hits 1-4), 2% (throw)
Character
Throw
Description
Damage
Samus
Up throw
Samus holds the foe above her, then blasts them upwards with the Grapple Beam. Can combo into a Screw Attack at 0% against heavyweights, but otherwise sends opponents too high for followups.
5% (hit 1), 7% (throw)
Dark Samus
Up throw
Dark Samus holds the foe above her, then blasts them upwards with the Grapple Beam. Can combo into a Screw Attack at 0% against heavyweights, but otherwise sends opponents too high for followups.
5% (hit 1), 7% (throw)
Kirby
Down throw
Fury Stomp from the Suplex ability in Kirby Super Star. Throws the opponent onto the ground, then rapidly stomps on them several times, and then finishes with a jumping double foot stomp.
1.2% (Hits 1-10), 2.4% (throw)
Fox
Forward throw
Releases the opponent and quickly performs a cross, launching them forward. It can be used for tech chasing at mid percentages or putting the opponents offstage. Fox's strongest throw, but fails to KO Mario until around 212% at the very edge of Final Destination.
4% (hit), 3% (throw)
Back throw
Fox throws his foe backwards and shoots them with three rapid shots from his Blaster.
2% (throw), 2% (Blaster shots)
Up throw
Fox throws his foe upwards and fires three rapid shots from his blaster. Can occasionally follow up into up aerial if the opponent's reaction is read.
2% (throw), 2% (Blaster shots)
Down throw
Fox forces his foe onto the floor and fires four point-blank shots at them with his blaster. Can link into a neutral or forward air.
2% (Blaster shots), 1% (throw)
Pikachu
Forward throw
Lays the opponent on its tail and shocks them.
3% (hit 1), 5% (throw)
Ness
Down throw
Throws the opponent onto the ground and scorches them with PK Fire.
0.5% (hits 1-3), 1.5% (hit 4), 4% (throw)
Bowser
Up throw
Bowser throws the opponent slightly up, withdraws into his shell, and spins, damaging them against his spikes. Bowser's only real follow-up throw; it can true combo into a forward air at low percentages, though it is difficult to do so.
0.5% (hits 1-7), 2% (hit 8), 4% (hit 9), 2% (throw)
Down throw
Places the opponent on the ground and body slams them. It deals 14%, making it among the most damaging throws in the game. Its high base knockback, low knockback scaling, and high ending lag prevent it from having any follow-ups. However, the very high damage and base knockback make it a good mix up and an option to send opponents offstage.
10% (hit 1), 4% (throw)
Zelda
Down throw
Forces her opponent under her and blasts it with fiery magic enegy from her hands, which launches them above her. A reliable combo starter, it can be followed up with a neutral aerial and, if timed precisely, an up aerial or a back aerial. At high percents, Zelda can follow it up with an up aerial or back aerial for a relatively secure KO.
1.5% (hits 1-4), 2% (throw)
Mewtwo
Forward throw
Telekinetically lifts the opponent diagonally in the air before firing five shadow balls at them. It deals 13% if all hits connect, making it among the most damaging throws in the game. However, the Shadow Balls can be reflected by a Hero with Bounce or any opponent wearing a Franklin Badge, and other nearby opponents with reflectors and/or absorption moves can choose to intercept it, while opponents can also DI to avoid some of the projectiles at higher percentages and mitigate the throw's damage. While it does not possess any true follow-ups, it has relatively low endlag and leaves the opponent in a favorable position to cover their options with a running up tilt, dash attack, back aerial, etc.
3% (throw), 2% (Shadow Balls)
Down throw
Telekinetically slams the opponent to the ground, and then somersaults in order to strike them with its tail. It can combo into up tilt at low percentages, and forward aerial at mid-high percentages, which can KO reliably at around 80%-130% depending on the opponent's weight and size. The aforementioned follow-ups are susceptible to DI, although its quick startup is difficult to react to, and it can be used as a mixup to forward throw. At mid to high percentages, it can force the opponent onto a platform if used below one, leading to a tech-chase situation where Mewtwo can potentially follow up with an aerial, up smash, or even Disable with the right read.
4% (hit 1), 5% (throw)
Meta Knight
Forward throw
A bicycle kick. Unlike in SSB4, it can no longer combo due to changes to traction.
6% (hit), 3% (throw)
Back throw
Teleports behind the opponent and then slashes their back, launching them away.
7% (hit), 3% (throw)
Up throw
The Air Drop from Kirby's Ninja ability. Unlike Kirby's up throw, the impact does not have an aesthetic explosion.
10% (throw), 7% (collateral)
Down throw
Like Kirby's down throw, but slower: stomps on opponent multiple times, then ends by fall-crush-stomping down on them, excellent follow-up potential. Can link into an up smash, forward aerial, and occasionally even into a KO combo with Shuttle Loop if opponent DIs poorly.
0.5% (hits 1-9), 1% (hit 10), 2% (throw)
Charizard
Up throw
Jumps up before doing a powerful suplex, akin to Kirby and Meta Knight's up throws. It is one of the strongest throws in the game without DI, but its mostly vertical, yet more horizontal angle than other up throws allows for the victim to apply both optimal DI and LSI against the move. This weakens it to an extent where middleweights can survive it up to around 160% without rage. The throw's poor knockback for its archetype can be alleviated by being used under a high platform. Resembles the Pokémon move Seismic Toss.
8% (hit 1), 3% (throw)
Down throw
Charizard pins its opponent on the floor, and then breathes fire on them. Does poor damage, but has high knockback and can KO enemies at high percents.
1% (hits 1-5), 1% (throw)
Sonic
Down throw
Pins the enemy down, then Spin Dashes into them. Great for tech-chasing. Originates from Sonic the Fighters.
1% (hits 1-5), 1% (throw)
Pac-Man
Down throw
Changes into his Classic Form and chomps the opponent four times, with the last hit dealing low knockback. Sends at a low angle for techchases, but has very high ending lag. Sends at a good angle for Key if it was charged prior.
1.5% (hits 1-3), 6% (hit 4)
Kazuya
Forward throw
Kicks the opponent in the face before striking them with his heel, throwing them in the process. It deals decent knockback for a throw, although it doesn't KO middleweights until around 170%.
2% (throw), 10% (beam)
Back throw
Grabs his opponent by the leg and slams them on the floor behind him. Deals high damage, but lacks KO potential until about 190%.
14% (hit 1), 0% (throw)
Up throw
Throws the opponent upwards, then transforms into his devil form and shoots a beam diagonally upwards at them. Does not cause a camera angle change in 1v1s unlike his other throws. The beam can hit other opponents in addition to the one being thrown. However, but can be reflected if the opponent wears a Franklin Badge or by Hero if bounce is active. It is Kazuya's strongest throw, reliably KOing middleweights at the ledge at around 145% (or around 170% anywhere else) due to its knockback and angle, and making it one of the strongest up throws in the game.
2% (throw), 10% (beam)
Down throw
A headbutt. Kazuya's only combo throw, having followups into Flash Tornado, both variants of Wind God Fist, and Tsunami Kick. It has low hitstun, so other followups usually require a read or reaction.
7% (hit 1), 1% (throw)
Gates of Hell
Bends the opponent's back, then kicks them away. Done by inputting ↘ ↓ ↘ before pressing the grab button. It sends opponents behind Kazuya and it is extremely damaging for a throw (24% total), and is technically the strongest throw in the game that isn't a special move. In addition to its high damage, it sends the opponent at a deep semi-spike angle with good knockback, making it excellent against foes with poor recoveries. However, as it sends behind Kazuya, this requires him to face away from a ledge to send his opponent offstage. Based on Kazuya's command grab from Tekken 5 onwards.
10% (hit 1), 13% (hit 2), 1% (throw)