Tournament
:
MELEE-FC3
From SmashWiki, the Super Smash Bros. wiki
Jump to navigation
Jump to search
MELEE-FC3
Dates
July 10th-12th, 2005
Venue
Trinity Evangelical Free Church
Address/City
61770 Miami Road
South Bend, Indiana
Attendance
186
Results
winners
 Ken 1v1
 Ken &  Isai 2v2
Staff
Organizer(s)
Ship of Fools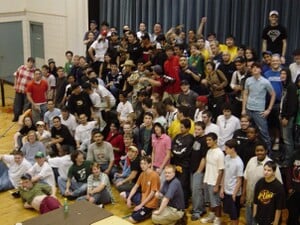 MELEE-FC3, or just FC3, was a Super Smash Bros. Melee national tournament held by the Ship of Fools group during July 10th-12th, 2005, in South Bend, Indiana. With a total of 186 entrants for singles, it was the largest Melee tournament in 2005, and the largest Melee tournament of all time before it was surpassed by MELEE-FC6.
Ruleset
[
edit
]
4 stocks, 15 minutes.[1]
All items are off.
Starter stages (9): Final Destination, Battlefield, Yoshi's Story, Fountain of Dreams, Dream Land, Pokémon Stadium, Mute City, Rainbow Cruise, Poké Floats. The starter stage was chosen at random.
Counterpick stages (15): Icicle Mountain, Princess Peach's Castle, Kongo Jungle, Jungle Japes, Yoshi's Island, Green Greens, Corneria, Venom, Flat Zone, Brinstar, Onett, Big Blue, Mushroom Kingdom, Mushroom Kingdom II, Kongo Jungle N64
Banned stages (5): Hyrule Temple, Fourside, Brinstar Depths, Great Bay, Yoshi's Island N64
Prior to selecting the starter stage, each side could ban one stage. In the ruleset, it is not obvious whether the stage remains banned for the duration of the set or not.
Results
[
edit
]
(186 entrants)
(87 teams)
Crew battles
[
edit
]
West Coast vs. Midwest
[
edit
]
East Coast vs. West Coast
[
edit
]
External links
[
edit
]
References
[
edit
]