Smasher
:
Ken
From SmashWiki, the Super Smash Bros. wiki
Jump to navigation
Jump to search
"The King of Smash" redirects here. For the Chilean tournament, see Tournament:The King of Smash.
Ken Hoang, also referred to as just Ken, SephirothKen, or The King of Smash, is an American professional smasher of Vietnamese descent who mains Marth, ever since his debut in Tournament Go 4. He is Manacloud's younger brother. Well known for being the World Champion of Super Smash Bros. Melee during his prime, Ken was officially ranked the best Super Smash Bros. Melee player in America during his heyday, being a two-time national champion of Major League Gaming, two-time winner of Tournament Go and winning many other notable tournaments, and was also widely regarded as the best player in the world, having defeated reputable players from around the globe, including top Japanese players such as Captain Jack, Masashi, Aniki, Bombsoldier, and Korius in the summer of 2005.
Ken was considered the most consistent player during his prime, earning over $50,000 USD throughout his entire career, and had the most impressive tournament track record earning him the nickname "The King of Smash" within the community. Aside from his personal achievements, Ken is a former member of El Chocolate Diablo, which was the top-ranking doubles team, and a member of the Socal Elite 4. Ken is also notable for innovating a highly influential combo named after him.
Ken is also notable for having fame outside of the Smash games. In September 2006, Ken was nominated as one of five members of "The Dangerous Five" by Electronic Gaming Monthly; he was notable as being one of only two gamers on the list who did not specialize in the Halo games, alongside Michael Brandt, who played Tekken. Ken was referred to as "The Duper", due to his quick, smart, and aggressive playstyle. Additionally, Ken managed to land a spot as a contestant on the 17th season of Survivor[1]; in the final standings, he won fifth place.
Ken is currently inactive in Melee and has been since GENESIS 5 in January 2018. At that event, he placed 65th in singles and 13th in doubles.
Biography
[
edit
]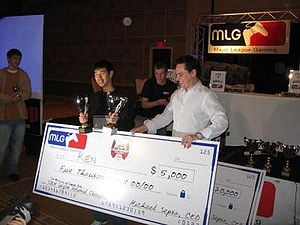 Ken started playing Super Smash Bros. when it was released for the Nintendo 64. He made his gamertag "sephirothken" after the main villain of Final Fantasy VII. He was able to learn the ropes of Smash quickly and became fluent in its gameplay. However, he was never able to compete in major tournaments for it due to the lack of a competitive scene. When Melee was released for the Gamecube, Ken initially did not enjoy it, but the game grew on him after a period of a few months. By the time he attended his first tournament, he had already built up an impressive reputation in his town as the best Smash player. This tournament, hosted at a local gaming store known as Game Square, employed completely different rules from today's standardized rules. It was a free-for-all tournament, and everybody else teamed up against Ken because he was considered the best. Despite the combined efforts of the other participants, however, Ken still ended up winning the tournament.
In 2002, a moderator on SmashBoards by the handle of Matt Deezie hosted the Tournament Go (TG series), which was one of the first lines of major tournaments. Up to that point, there had been three installments in the TG series, with each new incarnation being more popular than the last. Recipherus, a Sheik main, was the favorite to win the fourth installment that would come in early 2003. However, interests turned as Matt Deezie read posts by Ken, who boasted that he was unbeatable at Melee due to his tournament win at Game Square. Matt Deezie and Recipherus challenged Ken to a $200 money match, and while the two competitive smashers were more versed in advanced, technical aspects of the game, Ken was more adept in adaptation, and defeated the duo. After the money match, Ken learned of the Tournament Go series, and planned to travel to Northern California to claim his first major tournament win.
Ken later attended Tournament Go 4, where even with his lack of experience in any strong competitive scene, he managed to defeat players who had attended previous TGs and take first out of a record 89 players at that time. He also placed second in teams with his brother Manacloud, losing to TG1 and TG2 singles winners J.R. Castillo and Justin Junio.
Seven months later, in August 2003, Ken attended and won TG5. This was the first tournament where he teamed with Isai for doubles (otherwise known as "Malva00"), who was considered one of the best Super Smash Bros. players in the country in his prime. Their victory in the doubles tournament started a two-and-a-half year winning streak. They won every doubles tournament they entered until MLG Chicago 2006 in July, where they were defeated by Azen and Chillindude829 in the finals and received second place. However, they reclaimed their title later that year in August at MLG Orlando 2006 where they defeated Azen and Chillindude829 6-3 in the finals.
For the next two years, Ken continued to win nearly every competition he entered. The worst loss he ever garnered in this timespan was in August 2004 at TG6 where he placed 9th out of approximately 128 competitors. After that, he did not place below 2nd until MLG Orlando 2006 in August where he placed 5th and then MLG New York Playoffs 2006 where he placed 7th, and in teams he got 3rd teaming with Isai making it his all-time low in singles and doubles at MLG events.
Ken briefly joined the tournament scene for Brawl, with respectable standings, including a second place finish at EVO 2008. EVO 2008, however, proved to be his last Brawl tournament; his AllisBrawl profile listed him as inactive, and in a Q&A session with ESPN, Ken stated that he needed "a big break from gaming", and that he needed to pursue his career in illustration. Ken, however, also suggested that there existed a potential for him in joining the Brawl tournament scene if it got picked up by the MLG again. Several years later in 2010 MLG did have Brawl on its Pro Circuit, though Ken did not participate.
After five years away from competitive Smash, Ken temporarily chose to rejoin the scene in the 2012 tournament of Kings of Cali. In his return to Melee, however, Ken underperformed in singles, getting a 33rd place finish. His doubles run, however, ended in a third place finish with Dr. Peepee, and he provided the deciding KO in the NorCal - Socal 8 on 8 battle against PewPewU; Ken was initially not supposed to appear in the battle for SoCal, but a six stock lead by his team caused team captain Mango to switch out Lucky for him.
Although still no longer as active in the Melee scene as before, Ken has made a handful of appearances since Kings of Cali; while unable to continue his previously dominant standings from the past, Ken continues to be seen in the top 64 of finalists in singles sets, along with solid doubles standings.
On March 18th, 2014, Team Liquid, an eSports team in the Netherlands famous for its StarCraft II and Dota 2 teams, opened a Melee team and signed Ken and KoreanDJ as its first members, with The Smash Brothers director Samox producing Team Liquid's official announcement video.[2][3]
He was also invited to participate in the E3 2014-held Super Smash Bros. Invitational tournament to play Super Smash Bros. for Wii U. He used Marth in the tournament.
In 2014, Ken made a resurgence in many tournaments, including EVO 2014, MLG Anaheim 2014, SSS Lock-In, SKTAR 3, CEO 2014 and Kings of Cali 4. In each, he has finished with decent placing, as well as holding set wins over the likes of MacD, Lucky, Westballz, DEHF, Bizzarro Flame, Fly Amanita and more, with close set losses and game wins against the likes of S2J, fellow top Marth mains The Moon and PewPewU, and even one of the world's best Armada at CEO. He also regularly attended Super Smash Sundays throughout the year, consistently placing top 8 or 9th place in singles and Top 8 in doubles. At EVO 2015, Ken unexpectedly placed 13th, marking his highest placement at a major tournament since Super Champ Combo in 2007.
Tournament placings
[
edit
]
Tournament
Date
1v1 placement
2v2 placement
Partner
Earnings
Tournament Go 4
January 19th, 2003
1st
2nd
Manacloud
$900
SoCal Inland Empire SSB:M
1st
—
—
Tournament Go 5
August 2nd-3rd, 2003
1st
1st
Isai
$1,000
Game Over
January 10th, 2004
1st
1st
Isai
$765
Zero Challenge 1
January 17th-18th, 2004
1st
1st
Manacloud
$650
MLG Chicago 2004
June 19th-20th, 2004
1st
1st
Isai
MELEE-FC1
July 9th-10th, 2004
1st
1st
Isai
$500
Tournament Go 6
August 21st-22nd, 2004
9th
1st
Isai
MLG San Francisco 2004
September 11th-12th, 2004
3rd
—
—
$200
MLG Los Angeles 2004
September 25th-26th, 2004
1st
1st
Isai
MLG New York 2004
October 24th, 2004
1st
1st
Isai
$2,000
MOAST 3
January 16th, 2005
2nd
1st
Isai
$360
MLG DC 2005
January 29th-30th, 2005
1st
1st
Isai
$1,000
MLG San Francisco 2005
February 26th-27th, 2005
1st
1st
Isai
$500
Gettin' Schooled 2
June 25th-26th, 2005
1st
1st
Isai
MELEE-FC3
July 10th-12th, 2005
1st
1st
Isai
Jack Garden Tournament
August 20th, 2005
1st
—
—
MLG Los Angeles 2005
October 14th-16th, 2005
2nd
1st
Isai
$1,000
MLG Atlanta 2005
November 25th-27th, 2005
1st
1st
Isai
$2,000
MLG Chicago 2005
December 16th-18th, 2005
1st
2nd
ChuDat
$2,000
MLG New York 2005
February 24th-26th, 2006
1st
1st
Isai
$5,000
Champ Combo: Yayuhzzz Edition
March 25th, 2006
1st
1st
Isai
Champ Combo: NorCal Edition
April 8th, 2006
1st
1st
Isai
MLG New York Opener 2006
April 21st-23rd, 2006
2nd
1st
Isai
$1,200
MLG Dallas 2006
May 19th-21st, 2006
1st
1st
Isai
$2,000
MLG Anaheim 2006
June 23rd-25th, 2006
1st
1st
Isai
$2,000
MLG Chicago 2006
July 21st-23rd, 2006
1st
2nd
Isai
$2,000
Zero Challenge 2
August 15th-17th, 2006
1st
7th
Rob$
$1,200
MLG Orlando 2006
August 25th-27th, 2006
5th
1st
Isai
$300
SoCal BiWeekly 9/16
September 19th, 2006
1st
1st
Manacloud
MLG New York Playoffs 2006
October 13th-15th, 2006
7th
3rd
Isai
$1,375
Super Smash Royale 2
October 21st, 2006
1st
1st
Arash
NCT2: The Big One
October 28th, 2006
1st
1st
Isai
$1,161
San Diego TriWeekly X
November 3rd, 2006
1st
1st
Arash
MLG Las Vegas 2006
November 17th-19th, 2006
3rd
1st
Isai
$8,000
CAOTIC's Farewell BiWeekly
December 9th, 2006
1st
2nd
CAOTIC
SoCal BiWeekly 12/30
December 30th, 2006
2nd
1st
Arash
SoCal BiWeekly 1/13
January 13th, 2007
1st
1st
Arash
ThomaSexy's Low Tier Tourney
January 27th, 2007
1st
—
—
SoCal BiWeekly 2/3
February 3rd, 2007
1st
1st
Arash
San Diego TriWeekly XI
February 10th, 2007
1st
1st
Arash
Westminster Biweekly 2/17
February 17th, 2007
1st
1st
Arash
SoCal BiWeekly 3/3
March 3rd, 2007
1st
1st
Arash
San Diego TriWeekly XII
March 10th, 2007
1st
1st
Arash
Buy.com LAN 2007
March 30th, 2007
1st
—
—
SoCal BiWeekly 4/14
April 14th-15th, 2007
1st
—
—
Super Smash Royale III
April 28th, 2007
1st
1st
Isai
$324
UCLA Monthlies III
May 26th, 2007
1st
1st
Arash
Comrades 2
June 9th, 2007
1st
1st
CAOTIC
$208
Sushiman's Westminster Tournament
July 14th, 2007
1st
1st
Manacloud
Zero Challenge 3
July 20th-22nd, 2007
4th
2nd
Bombsoldier
EVO World 2007
August 24th-26th, 2007
1st
—
—
$5,000
Super Champ Combo
September 29th-30th, 2007
7th
7th
Isai
Newegg LANfest 2007
October 6th, 2007
1st
—
—
Kings of Cali
November 10th, 2012
33rd
3rd
Dr. PeePee
$32
Kings of Cali 2
April 13th-14th, 2013
—
17th
Hairynipples
EVO 2013
July 12th-14th, 2013
49th
—
—
Kings of Cali 3
December 14th-15th, 2013
25th
5th
HugS
$93
SoCal Regionals 2014
February 28th-March 2nd, 2014
9th
9th
Santiago
Super Smash Sundays 5-18-2014
May 18th, 2014
9th
1st
Fiction
Pat's House 2
May 24th-25th, 2014
17th
9th
HugS
SKTAR 3
May 31st-June 1st, 2014
25th
9th
KoreanDJ
SSS Lock-In
June 14th-15th, 2014
9th
5th
KoreanDJ
MLG Anaheim 2014
June 20th-22nd, 2014
21st
9th
KoreanDJ
CEO 2014
June 27th-29th, 2014
33rd
7th
KoreanDJ
Kings of Cali 4
July 5th-6th, 2014
13th
4th
Larry Lurr—
$19
EVO 2014
July 11th-13th, 2014
33rd
—
—
Super Smash Sundays 29
December 7th, 2014
9th
5th
Larry Lurr
Apex 2015
January 30th-February 1st, 2015
81st
25th
KoreanDJ
I'm Not Yelling!
April 11th-12th, 2015
25th
5th
Santiago
MVG Sandstorm
April 18th-19th, 2015
17th
9th
OkamiBW
Press Start
May 9th-10th, 2015
25th
7th
Kira
CEO 2015
June 26th-28th, 2015
33rd
7th
ChuDat
Mayhem July 2015
July 11th, 2015
5th
3rd
Kira
$41
EVO 2015
July 17th-19th, 2015
13th
17th
Santiago
Paragon Los Angeles 2015
September 4-6, 2015
33rd
—
—
HTC Throwdown
September 19th, 2015
17th
5th
Axe
Super Smash Sundays 39
January 10th, 2016
17th
7th
Santiago
GENESIS 3
January 15th-17th, 2016
33rd
17th
Santiago
Super Smash Sundays 40
January 24th, 2016
7th
5th
HugS
Super Smash Sundays 43
April 17th, 2016
7th
1st
Santiago
DreamHack Austin 2016
May 6th-8th, 2016
17th
—
—
Super Smash Sundays 48
July 10th, 2016
9th
2nd
Santiago
EVO 2016
July 15th-17th, 2016
49th
—
—
Super Smash Sundays 52
September 11th, 2016
9th
3rd
Lobo
UCI Quarterly 1
November 12th, 2016
5th
1st
Santiago
$70
GENESIS 4
January 20th-22nd, 2017
97th
7th
Santiago
$95
Zotcade 17
April 15th, 2017
9th
1st
Santiago
$84
DreamHack Austin 2017
April 28th-30th, 2017
25th
9th
Santiago
EVO 2017
July 14th-16th, 2017
49th
—
—
GENESIS 5
January 19th-21st, 2018
65th
13th
Santiago
| Tournament | Date | 1v1 placement | 2v2 placement | Partner |
| --- | --- | --- | --- | --- |
| EVO 2008 | August 8th-10th, 2008 | 2nd | — | — |
| Tournament | Date | 1v1 placement | 2v2 placement | Partner |
| --- | --- | --- | --- | --- |
| CEO 2014 | June 27th-29th, 2014 | 25th | 7th | KoreanDJ |
| Tournament | Date | 1v1 placement | 2v2 placement | Partner |
| --- | --- | --- | --- | --- |
| GENESIS 4 | January 20th-22nd, 2017 | 65th | — | — |
References
[
edit
]
External links
[
edit
]