Smasher
:
Azen
From SmashWiki, the Super Smash Bros. wiki
Jump to navigation
Jump to search
Azen Zagenite "Azen"
SSB4 main
Lucario
Brawl main
Lucario
Brawl doubles mains
Marth
Other Brawl
characters
Diddy Kong, Meta Knight, Peach, Luigi, King Dedede
Melee main
Marth
Other Melee
characters
Falco, Sheik, Captain Falcon, Fox, Peach, Mr. Game & Watch, Luigi
Project M mains
Marth, Roy
Other Project M
character
Falco
Former crews
H2YL, The Godfathers
Skill
Top level (retired)
Top level (retired)
High level (retired)

Winnings
~$20,751.55

Additional info
Real name
Christopher McMullen
Birth date
Location
Alexandria, Virginia 
Azen Zagenite ("AH"-Zen- ZAYG-night) or just Azen, is an American professional smasher who mains Marth (and formerly Sheik) in Melee and Lucario in both Brawl and SSB4. Azen was considered one of the best players in the world, as well as the best player on the East Coast in the early years of competitive Melee from around 2002 to his initial retirement in 2007. Although he primarily used Marth and Sheik in Melee tournaments, Azen was known for his ability to use multiple characters at the competitive level, leading some to call him The Master of Diversity and similar nicknames. He was formerly ranked 18th on the MD/VA/DE Melee Power Rankings.
Tournament history
[
edit
]
2002-2006: Rise to fame
[
edit
]
Before Azen attended TG5, he won events like DCSS and Smashfests hosted by JTanic. Azen and Anden were the best players around MD/VA in 2002, as Chillin, Mild, and ChuDat reached Azen and Anden's level in 2003.
Azen legitimized himself to the community at large by placing fourth at Tournament Go 5 in August 2003. Shortly after, Azen placed 2nd at Game Over, defeating Chillin and Isai to make it to grand finals before losing to Ken in both sets of grand finals, and 2nd at MELEE-FC1, where he once again lost to Ken in grand finals. Azen's first national victory occurred in August 2004 at Tournament Go 6, where he defeated Captain Jack twice to claim victory. Throughout 2005, he placed 3rd at Gettin' Schooled 2, 9th at MELEE-FC3, 2nd at BOMB 4, and 2nd at MLG Atlanta 2005.
Azen placed 4th in singles at MLG Chicago 2006, and managed to win doubles with Chillin, defeating Mew2King and KoreanDJ in winners' finals and then shocking the community by taking out the largely dominant team of Ken and Isai in grand finals. Later, Azen was then victorious at MLG Orlando 2006, where he defeated PC Chris, Drephen, ChuDat, KoreanDJ, and ChuDat again in grand finals to take the tournament without dropping a set. Azen then proceeded to win MLG New York Playoffs 2006, defeating Ken, KoreanDJ, and PC Chris twice, successfully qualifying for the MLG 2006 Championships. He eventually placed 5th at MLG Las Vegas 2006, where he defeated ChuDat in a rematch from MLG Orlando in losers' top 8, but lost to PC Chris in winners' bracket and then to Ken in losers' quarters.
2007-2011: Brawl career and retirement

[

edit

]
Throughout 2007-early 2008, Azen continued to place highly at Melee nationals, placing 9th at Super Champ Combo, 1st at Viva La Smashtaclysm, where he defeated KoreanDJ, PC Chris, and ChuDat twice, and 7th at Pound 3. In March 2009, he attended Revival of Melee, and placed 7th.
Azen picked up Brawl on its release and attended several early nationals. He played numerous characters at a high level, but was most well-known for his Lucario. He was considered the top Lucario player in Brawl's early metagame, and it is largely a result of Azen's dominance that Lucario was considered a high tier character in Brawl's early metagame. During his time in Brawl, Azen placed 2nd at Critical Hit 3, defeating DieSuperFly 2-0 before losing to Mew2King in grand finals, 2nd at Cataclysm 4, where he became the first player to knock Ally out of losers' bracket, and 17th at Clash of the Titans IV. He is also the first player to have won a large tournament with Lucario (C3 tournament), where he defeated Korn 3-1 in grand finals.
Azen temporarily retired from competitive Smash in August 2009, claiming that he lost interest due to most of his friends no longer playing the game. He then made his first Smash tournament appearance in over a year at Pound V in February 2011, where he reached 49th place in Melee singles and 9th place in Melee doubles with longtime doubles partner Chillin. Around this time, both Azen and Chillin stated that they had become active in the Melee scene again, though neither was as prolific as prior to their retirements.
2014-2015: Return to the Smash scene and SSB4 career

[

edit

]
In April 2014, the trailer for the Melee and Project M event Bar Wars: The Region Strikes Back featured clips of Azen towards the end, with Chillin claiming that Azen would return to the Melee scene at the event. However, Azen did not actually show up at the event. Two months later, Chillin once again stated that Azen would be returning to the Melee scene at the 6/3 weekly edition of the event Smash @ Xanadu. Azen indeed showed up at this event, and won Melee singles in a dominant fashion, defeating Chillin, ChuDat, and DP. He also placed 9th in Project M singles. Azen has since attended a handful of local tournaments in his area, and also placed 5th in Melee singles at the 8/19 weekly edition of Smash @ Xanadu.
On May 28, 2015 Azen announced on Chillindude's Twitch stream that he would make another return to the Melee scene. On the stream, it was confirmed that Azen would go to EVO 2015 if a donation goal was met. The following day Azen confirmed with his first post on his Twitter account that the goal had been met. Another donation goal was set for Azen to attend CEO 2015, and that donation goal was met as well.
Azen has also entered some SSB4 tournaments as well, where he mains Lucario like in Brawl. His most notable result is Super Smash Con, where he placed 17th out of 744 entrants.
Ever since then, Azen often travels to major tournaments, still making a good impression.
Playing style
[
edit
]
In Melee, Azen mains Marth, and formerly mained Sheik as well; despite this, he can play nearly every character in the game at a high level. In some tournaments, Azen has used Samus, Link, and Pikachu in order to place high, while other characters have been used in lower-stakes matches. In doubles, Azen still often uses Marth and Sheik, though he had been known to use Peach and Falco in some doubles matches.
In Brawl and SSB4, Azen mains Lucario.
The "Azendash"
[
edit
]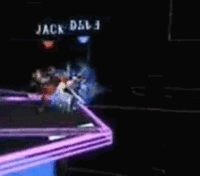 The act of airdodging off an edge in an attempt to ledgedash is sometimes referred to as an "Azendash," after Azen infamously committed a critical technical error in a tournament match against Captain Jack. Azen (as Marth) held a slight advantage over Captain Jack (as Sheik); both had three stocks, but Azen had a percent lead of over 60%. After Azen was thrown off the stage, he recovered with Dolphin Slash, then immediately tried to ledgedash backwards to grab the ledge again, presumably with the intention of playing defensively and keeping his lead; however, he ended up airdodging down and away from the ledge instead, causing him to self-destruct. After this error, Azen lost to Jack by two stocks; this was especially significant because it was the last game of their set, so this mistake was seen as Azen essentially throwing away his chances at advancing further in the tournament.
This maneuver has also been associated with Mew2King in recent times, due to his tendency to also commit this error while attempting to ledge stall in high-pressure situations.
Tournament placings
[
edit
]
| Tournament | Date | 1v1 placement | 2v2 placement | Partner |
| --- | --- | --- | --- | --- |
| American Legion Tournament | August 17th, 2002 | 1st | — | — |
| DCSS #1 | July 12th, 2003 | 1st | — | — |
| Tournament Go 5 | August 2nd-3rd, 2003 | 4th | — | — |
| Live or Die | August 23rd, 2003 | 1st | — | — |
| DCSS #2 | September 20th, 2003 | 1st | 1st | Anden |
| Game Over | January 10th, 2004 | 2nd | 2nd | Anden |
| MELEE-FC1 | July 10th-11th, 2004 | 2nd | 2nd | Dave |
| MLG Atlanta 2004 | July 24th-25th, 2004 | 1st | 1st | Chillin |
| Tournament Go 6 | August 21st-22nd, 2004 | 1st | 2nd | Wes |
| DCSS #3 | September 25th, 2004 | 1st | 1st | Mild |
| MLG Boston 2004 | October 9th-10th, 2004 | 1st | 1st | Wes |
| Gettin' Schooled | October 14th, 2004 | 1st (tie) | 1st | Wes |
| MLG New York 2004 | October 24th, 2004 | 4th | 2nd | Wes |
| Gettin' Schooled 2 | June 25th-26th, 2005 | 3rd | 5th | Wes |
| MELEE-FC3 | July 10th-12th, 2005 | 9th | 7th | Caveman |
| MLG Philadelphia 2005 | July 28th-30th, 2005 | 4th | 2nd | Husband |
| MLG Nashville 2005 | August 27th-28th, 2005 | 4th | 1st | Husband |
| MLG Seattle 2005 | September 10th-11th, 2005 | 1st | 2nd | Husband |
| SMYM 4 | September 24th, 2005 | 1st | — | — |
| MLG Los Angeles 2005 | October 14th-16th, 2005 | 5th | 2nd | ChuDat |
| BOMB 4 | November 12th, 2005 | 2nd | 9th | Anden |
| MLG Atlanta 2005 | November 26th-27th, 2005 | 2nd | 3rd | Oro |
| MLG New York 2005 | February 25th-26th, 2006 | 9th | 2nd | Chillin |
| MELEE-FC6 | July 13th-15th, 2006 | 13th | 2nd | Chillin |
| MLG Chicago 2006 | July 21st-23rd, 2006 | 4th | 1st | Chillin |
| MLG Orlando 2006 | August 25th-27th, 2006 | 1st | 2nd | Chillin |
| C3 September 2006 | September 2nd, 2006 | 1st | 1st | Chillin |
| MLG New York Playoffs 2006 | October 13th-15th, 2006 | 1st | 1st | Chillin |
| MLG Las Vegas 2006 | November 17th-19th, 2006 | 5th | 5th | Chillin |
| EGL DC | January 20th, 2007 | 1st | 4th | Kaiser GL |
| ChuDat Birthday Biweekly 1/27 | January 27th, 2007 | 2nd | 2nd | Plank |
| C3 Smash Battle | February 3rd, 2007 | 2nd | 1st | ChuDat |
| C3 August Adios | August 18th, 2007 | 2nd | 4th | Anden |
| C3 Smash Attack | September 22nd, 2007 | 2nd | 1st | ChuDat |
| Super Champ Combo | September 29th-30th, 2007 | 9th | 1st | Chillin |
| C3 A Tournament In October | October 20th, 2007 | 5th | 1st | ChuDat |
| UMBC VI | October 27th, 2007 | 1st | 2nd | ChuDat |
| Viva La Smashtaclysm | November 10th-11th, 2007 | 1st | 1st | Chillin |
| Shell Shocked | November 17th, 2007 | 1st | 1st | Chillin |
| C3 December | December 22nd, 2007 | 1st | 3rd | Chillin |
| C3 January 2008 | January 12th, 2008 | 1st | 1st | Chillin |
| Pound 3 | February 2nd-3rd, 2008 | 7th | 1st | Mew2King |
| C3 February 2008 | February 23rd, 2008 | 1st | — | — |
| ChuDatz Final Biweekly | August 3rd, 2008 | 2nd | 1st | Cactuar |
| ChuDat's Special Haunted Halloween Biweekly | November 1st, 2008 | 1st (split) | — | — |
| Shell Shocked III: Balboa | December 6th, 2008 | 1st | 1st | Chillin |
| Revival of Melee | March 7th-8th, 2009 | 7th | 7th | ChuDat |
| Shell Shocked IV | October 10th, 2009 | 7th | 2nd | Chillin |
| Zenith 2011 | May 28th-29th, 2011 | 9th | 5th | Chillin |
| Pound V | February 19th-21st, 2011 | 49th | 9th | Chillin |
| Revival of Melee 4 | November 19th-20th, 2011 | 7th | 7th | Chillin |
| Apex 2012 | January 6th-8th, 2012 | 49th | 13th | Tope |
| Smash @ Xanadu Tuesday 6/3 | June 3rd, 2014 | 1st | — | — |
| Thanks For Playing 7 | June 7th, 2014 | 9th | 3rd | Chillin |
| Smash @ Xanadu Tuesday 8/19 | August 19th, 2014 | 5th | — | — |
| Smash @ Clarendon 8/29/14 | August 29th, 2014 | 5th | — | — |
| Smash @ Xanadu Tuesday 9/2 | September 2nd, 2014 | 7th | — | — |
| Defend This House | June 13th, 2015 | 9th | 1st | Chillin |
| CEO 2015 | June 26th-28th, 2015 | 65th | 9th | Chillin |
| EVO 2015 | July 17th-19th, 2015 | 33rd | 5th | Chillin |
| Super Smash Con 2015 | August 6th-9th, 2015 | 49th | 9th | Chillin |
| Paragon Los Angeles 2015 | September 5th-6th, 2015 | 49th | — | — |
| GENESIS 3 | January 15th-17th, 2016 | 97th | 17th | Chillin |
| EVO 2016 | July 15th-17th, 2016 | 129th | 13th | Nintendude |
| Tournament | Date | 1v1 placement | 2v2 placement | Partner |
| --- | --- | --- | --- | --- |
| ChuDat's Birthday Biweekly | January 19th, 2008 | 2nd | — | — |
| Critical Hit 3 | July 5th, 2008 | 2nd | 1st | Chillin |
| ChuDatz Final Biweekly | August 3rd, 2008 | 2nd | 1st | Mew2King |
| XII.E.S.T.I.C.L.E | August 10th, 2008 | 1st | 5th | Cort |
| Critical Hit 4 | September 6th, 2008 | 1st | 1st | Mew2King |
| HOBO 11 | October 4th, 2008 | 2nd | 1st | Mew2King |
| C3 ECRC | November 22nd, 2008 | 4th | 3rd | Chillin |
| Critical Hit 4.5 | December 13th, 2008 | 1st | 4th | Chillin |
| Cataclysm 4 | January 9th-11th, 2009 | 2nd | 1st | Mew2King |
| Clash of the Titans IV | February 7th-8th, 2009 | 17th | 4th | ChuDat |
| C3 August Assault | August 15th, 2009 | 1st | 1st | ChuDat |
External links
[
edit
]