Smasher
:
PC Chris
From SmashWiki, the Super Smash Bros. wiki
Jump to navigation
Jump to search
Not to be confused with PkChris.
PC Chris is a smasher from New York. He was considered to be among the best Fox and Falco players in the world during the 2006-2009 era. He was ranked fourth on the Smash Panel Power Rankings when it was active and 3rd on the North Atlantic Regional Power Rankings. The "PC" part of his name comes from his hometown, Port Chester. He made an appearance in an episode of the MTV documentary series, "True Life: I'm A Professional Gamer".
Tournament history
[
edit
]
Golden Age of Melee

[

edit

]
PC Chris started his MLG career by winning MLG New York Opener 2006, the first tournament in the MLG 2006 Pro Circuit, defeating Ken twice. However, at MLG Dallas 2006, he lost to Ken in winners' finals and then to ChuDat in losers' finals, placing 3rd. At MLG Anaheim 2006, he lost to ChuDat again in winners' semis, then defeated KoreanDJ, Isai, and ChuDat in losers' bracket, and won the first set of grand finals against Ken, but still lost the second set, placing 2nd. He lost to ChuDat and Azen at MLG Chicago 2006, placing 5th. PC Chris also won MELEE-FC6, defeating Mew2King in two consecutive sets during grand finals.
MLG Orlando 2006 proved to be his worst tournament in the season, as he lost to Azen and then to HugS early in losers' bracket, finishing at a disappointing 13th place. Despite this, his placement of 2nd at MLG New York Playoffs 2006, where he defeated ChuDat twice but lost to Azen twice, allowed him to successfully qualify for the MLG 2006 championship. PC Chris eventually went on to win MLG Las Vegas 2006 and take the MLG 2006 championship, defeating Azen, Isai, and KoreanDJ twice.
In 2007, PC Chris placed 4th at Cataclysm 3, losing to Mew2King and KoreanDJ, 3rd at MLG Long Island 2007, losing to Mew2King twice, 5th at Pound 2, losing to ChuDat and Mew2King, and 2nd at MELEE-FC Diamond, losing to Mew2King in two sets of grand finals. He did, however, win Zero Challenge 3, sweeping through losers' bracket and defeating Mew2King in two sets of grand finals after losing to Mew2King in winners' quarters.
PC Chris qualified for the EVO 2007 championship by placing 2nd at EVO East 2007 and 2nd at EVO West 2007. He eventually placed 4th at EVO World 2007. PC Chris's final three top performances were 5th at Viva La Smashtaclysm, losing to Azen and Mew2King, 3rd at Pound 3, losing to Mew2King and Mango, and 4th at Revival of Melee, losing to Mango and DaShizWiz.
Post-2013
[
edit
]
PC Chris spent years in a semi-retired state; while he still participated in several national tournaments and usually made it into the bracket, his results were not nearly as notable as they once were. PC Chris returned to the Melee scene in May 2014 at the event Justice 3, with this being confirmed towards the end of said event's trailer. He placed 17th in Melee singles at the event. However, he has not made any notable appearances at tournaments since.
On January 9th 2015, PC Chris posted a tweet reading "This amazing year of Smash has opened my eyes. Needless to say, this old dog is eager to learn some new tricks. I've missed you, Brothers." Shortly after, he announced his interest in returning to Melee in hopes to compete consistently at high level play once again. He also appeared on Chillin's Twitch stream series Nostalgia Nights detailing his return to Smash and his history in Smash over the past decade. PC Chris shortly after attended the tourney Neo Nebulous Beta 2, where he played 13th, though he wouldn't make an impact until Super Nebulous 2 on January 24th, 2015, where he made it into pro bracket in 2nd seed of his pool. He lost to Ice first round, but was able to take Game 1, much to the shock of many. He then defeated Eikelmann in loser's before being defeated by Lord HDL 2-0 to get 17th.
PC Chris attended Apex 2015, where he nearly made bracket, placing 49th of 1,037 competitors. In it, he placed 2nd in his 1st round pool, losing only to Fuzzyness, a top level European smasher. In 2nd round pools, he defeated Velocity and ROFL, and had a close set with Kalamazhu, zero to death-ing him in the opening of Game 1 and bringing the set to last stock on Game 3. He was eventually defeated, but received a huge cheer from the crowd on his exit. He later fought Ken in the Salty Suite, where he lost the first game as Fox, but switched to Falco starting with game 2. The match went to Game 5 last stock, but PC Chris won it out 3-2 with a JV2 last game. He then proceeded to surf the crowd as celebration.
After Apex 2015, PC Chris made a few more appearances at tournaments, placing 13th at MVG Sandstorm. Around this time, he expressed interest in streaming on Twitch. He received significant support from the community, particularly from Chillin, who led a donation drive that aimed to raise around $1,000 so that PC Chris could obtain a better setup for streaming. However, due to unknown circumstances, PC Chris streamed only on a limited number of occasions and fell out of the community once again.
Tournament placings
[
edit
]
| Tournament | Date | 1v1 placement | 2v2 placement | Partner |
| --- | --- | --- | --- | --- |
| MLG DC 2005 | January 29th-30th, 2005 | 17th | 5th | Husband |
| Gettin' Schooled 2 | June 25th-26th, 2005 | 5th | 6th | Eve |
| MELEE-FC3 | July 10th-12th, 2005 | 13th | 4th | Chillin |
| MLG Philadelphia 2005 | July 28th-31st, 2005 | 2nd | 3rd | NEO |
| MLG Los Angeles 2005 | October 14th-16th, 2005 | 7th | — | — |
| BOMB 4 | November 12th, 2005 | 7th | 5th | Unknown |
| MLG Chicago 2005 | December 16th-18th, 2005 | 3rd | — | — |
| MLG New York 2005 | February 25th-26th, 2006 | 3rd | — | — |
| Cataclysm 2 | March 4th, 2006 | 1st | 2nd | Wes |
| MLG New York Opener 2006 | April 21st-23rd, 2006 | 1st | 2nd | Wes |
| MLG Dallas 2006 | May 19th-20th, 2006 | 3rd | 13th | Sockninja |
| MLG Anaheim 2006 | June 23rd-24th, 2006 | 2nd | 9th | Kaiser GL |
| MELEE-FC6 | July 13th-15th, 2006 | 1st | 13th | Milktea |
| MLG Chicago 2006 | July 21st-22nd, 2006 | 5th | 5th | The King |
| Zero Challenge 2 | August 15th-17th, 2006 | 9th | — | — |
| MLG Orlando 2006 | August 26th-27th, 2006 | 13th | 7th | KillaOR |
| MLG New York Playoffs 2006 | October 13th-14th, 2006 | 2nd | 5th | Wes |
| MLG Las Vegas 2006 | November 18th-19th, 2006 | 1st | 7th | Wes |
| I.V.E.S.T.I.C.L.E. | January 6th, 2007 | 2nd | 5th | OneAndOnly KIP |
| Tristate Gaming Tournament 2/18 | February 18th, 2007 | 1st | — | — |
| Zenith February 2007 | February 24th, 2007 | 1st | 5th | Wes |
| Cataclysm 3 | March 3rd-4th, 2007 | 4th | 7th | Milktea |
| Smashing for CHARITY | April 14th, 2007 | 1st | — | — |
| V.E.S.T.I.C.L.E. | April 7th, 2007 | 2nd | 1st | Cort |
| N.Y.S.T 2 | April 28th, 2007 | 1st | 1st | Plank |
| MLG Long Island 2007 | May 5th-6th, 2007 | 3rd | 6th | OneAndOnly KIP |
| EVO East | May 25th-27th, 2007 | 2nd | — | — |
| Killa Fleet Biweekly 6/8 | June 8th, 2007 | 1st | 1st | OneAndOnly KIP |
| New Smash City IV | June 9th, 2007 | 1st | — | — |
| Pound 2 | June 16th-17th, 2007 | 5th | 1st | Mew2King |
| Zenith July 2007 | July 1st, 2007 | 1st | 1st | Wes |
| Sex Tickle | July 7th, 2007 | 1st | 1st | Cort |
| MELEE-FC Diamond | July 12th-14th, 2007 | 2nd | 1st | Cort |
| Zero Challenge 3 | July 20th-22nd, 2007 | 1st | 5th | Milktea |
| EVO West | July 27th-29th, 2007 | 2nd | — | — |
| EVO World 2007 | August 24th-26th, 2007 | 4th | — | — |
| Super Champ Combo | September 29th-30th, 2007 | 2nd | 2nd | Cort |
| C3 October | October 20th, 2007 | 3rd | 2nd | Mew2King |
| Viva La Smashtaclysm | November 10th-11th, 2007 | 5th | 4th | Cort |
| Mass Madness 6 | December 8th, 2007 | 1st | 1st | Cort |
| Rochester--Final Smash! | January 26th, 2008 | 2nd | 2nd | Plank |
| Pound 3 | February 2nd-3rd, 2008 | 3rd | 3rd | Cort |
| LOBSTER 2 | March 1st, 2008 | 1st | 1st | milktea |
| ChuDatz Final Biweekly | August 3rd, 2008 | 3rd | 3rd | InfernoOmni |
| Smashageddon | January 31st, 2009 | 1st | 1st | Cactuar |
| G.I.M.P.E.D. 1 | February 21st, 2009 | 2nd | 2nd | Scar |
| Mass Madness 14 | February 28th, 2009 | 1st | 1st | Cort |
| Revival of Melee | March 7th-8th, 2009 | 4th | 1st | Mango |
| Pound 4 | January 16th-18th, 2010 | 17th | 49th | Kiwi |
| Apex 2010 | August 6th-8th, 2010 | 33rd | 25th | Mofo |
| No Johns 5/14/11 | May 14th, 2011 | 2nd | 2nd | OTG |
| No Johns 8/6/11 | August 6th, 2011 | 9th | 4th | OTG |
| No Johns 9/3/11 | September 3rd, 2011 | 1st | — | — |
| Apex 2012 | January 6th-8th, 2012 | 49th | 9th | OTG |
| Zenith 2012 | May 26th-27th, 2012 | 9th | 4th | OTG |
| Justice 3 | May 24th, 2014 | 17th | — | — |
| Super Nebulous 2 | January 24th, 2015 | 17th | — | — |
| Apex 2015 | January 30th-February 1st, 2015 | 49th | 49th | DoH |
| MVG Sandstorm | April 18th-19th, 2015 | 13th | — | — |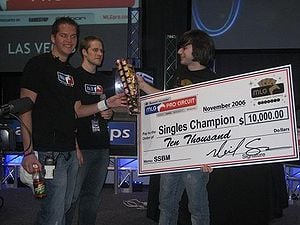 External links
[
edit
]