Smasher:CAOTIC
From SmashWiki, the Super Smash Bros. wiki
Jump to navigation
Jump to search
CAOTIC is an American-Australian Peach player from San Diego, California currently residing in Sydney, Australia. His continuous contributions to competitive Smash across multiple continents fuels the game's tournament scene into the present.
Background
[
edit
]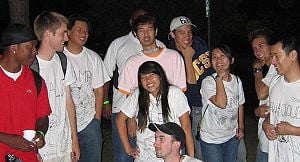 CAOTIC hosted triweekly Smash tournaments in San Diego throughout 2006 and would ultimately become an influential personality in the overall Smash scene in southern California. He eventually became a panelist to develop the SoCal Power Rankings list which has since spawned many flattering imitations in various regions in the world.
He was instrumental in the conduction of one of the most global tournament to date of the 2000s, Zero Challenge 2, and in the production and distribution of the accompanying DVD.
CAOTIC is recognized as a developer of Australia's Smash Bros. communities and has made large and notable contributions to it. He was ranked 13th on the SoCal Power Rankings before he moved to Australia.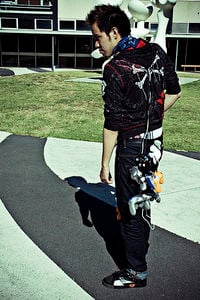 Tournament placings
[
edit
]
| Tournament | Date | 1v1 placement | 2v2 placement | Partner |
| --- | --- | --- | --- | --- |
| @M | February 14th, 2005 | 13th | — | — |
| SEAT 1 | September 22nd-23rd, 2005 | 7th | 3rd | Anfology |
| SEAT 2 | December 10th, 2005 | 2nd | — | — |
| HRP+ Tournament | 2006 | 2nd | 5th | — |
| Champ Combo: Yayuhzzz Edition | March 25th, 2006 | 17th | 9th | — |
| Champ Combo: Norcal Edition | April 8th, 2006 | 33rd | 7th | Mike Y |
| TANG | June 2006 | 1st | — | — |
| SKYPAL Low Tier Tournament | June 2006 | 13th | — | — |
| Canada Day Tournament | June 2006 | 9th | — | — |
| MLG Anaheim 2006 | June 23rd-24th, 2006 | 33rd | 25th | Eddykim1 |
| MLG Anaheim 2006 Amateurs | June 23rd-24th, 2006 | 17th | — | — |
| Zero Challenge 2 | August 15th-17th, 2006 | 49th | 33rd | Doraki |
| MLG Orlando 2006 | August 26th-27th, 2006 | — | 17th | Cronos_Rainbow |
| MLG Orlando 2006 Amateurs | August 26th-27th, 2006 | 17th | — | — |
| NCT2 | October 28th, 2006 | 17th | 9th | — |
| USTX | | — | 1st | — |
| UCSB Tournament | | 2nd | 2nd | — |
| Comrades of the Anfology | January 27th, 2007 | 2nd | 1st | Bringer of Death |
| Comrades 2 | June 2007 | 2nd | 1st | Ken |
| S3 Cubed Sunday | July 2007 | 1st | 3rd | Myst Walker |
| S3 Cubed Wednesday | July 2007 | 1st | — | — |
| Comrades of the Kaydash | September 14th, 2007 | 5th | 3rd | Syke |
| Smash Revolution | 2007 | 1st | 1st | — |
| Reloaded Festival 08 | January 26th-27th, 2008 | 1st | 1st | — |
| Rambo | April 26th, 2008 | 1st | 1st | Shaz |
| San Diego Triweekly XX | November 15th, 2008 | 5th | — | — |
| CAST 4 | November 22nd-23rd, 2008 | 9th | — | — |
| OHN7 | December 7th-8th, 2008 | — | 1st | Kupo |
| AutumnLan | May 23rd-24th, 2009 | 2nd | 1st | Accelerate |
| GENESIS | July 10th-12th, 2009 | 49th | 49th | Doraki |
| Apex 2013 | January 11th-13th, 2013 | 193rd | — | — |
| Never Stand Still 2 | April 7th, 2015 | 3rd | — | — |
| Battle Arena Melbourne 7 | May 22nd-24th, 2015 | 17th | 3rd | S.D |
| EVO 2015 | July 17th-19th, 2015 | 1442nd | — | — |
| Battle Arena Melbourne 11 | May 17th-19th, 2019 | 65th | 7th | S.D |
CAOTIC was one of three Bowsers to participate against the unfortunate victims of OC2's "Bowser Challenge" matches which pitted an opponent on a team against MagnuM, Gimpyfish and CAOTIC on Fountain of Dreams.
In addition to playing Bowser, CAOTIC also forms one half of the team "Peaches on Ice" as Peach with Wobbles.
CAOTIC was interviewed for the The Smash Brothers documentary and narrates the final sequence before the credits
Video links
[
edit
]
CAOTIC's videos:
See also
[
edit
]
External links
[
edit
]