Character Roll Call
From SmashWiki, the Super Smash Bros. wiki
Jump to navigation
Jump to search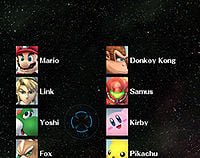 The Character Roll Call (キャラクターロール, Character Roll) is an ending sequence used in Super Smash Bros. Brawl based on the shooting feature of Super Smash Bros. and Super Smash Bros. Melee's credits. However, unlike the previously mentioned credits, the Character Roll Call displays the character cast instead of the staff credits and voice actors. It is played after the successful completion of Classic Mode or All-Star Mode. The main idea is to shoot the panels of characters, Assist Trophies, character items (i.e. Bob-omb, Hothead, Mr. Saturn and Sandbag), Pokémon (which appear from Poké Ball) and trophies the player has unlocked or collected. Once a panel is hit, it flips and coins disperse from the panel. At the end, the total screen appears indicating how many panels were hit out of the total amount of panels shown, followed by how many coins the player has earned.
Hitting the panels rewards the shooter with two points, while hitting the name of the panel rewards only one point. No unlockables can be achieved with this feature. The higher the difficulty level, the more coins are earned per panel.
On record, no person has claimed to have struck every target on a full Character Roll Call in Brawl due to the sheer amount of trophies on-screen at one time.
A different music track will play based on the character the player was using. These themes usually are themes from the end of a game or else a personal theme.
Despite being a character item, the Unira isn't listed within the Roll Call.
External links
[
edit
]