Peach (SSBU)/Side special
From SmashWiki, the Super Smash Bros. wiki
Jump to navigation
Jump to search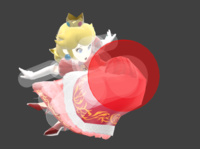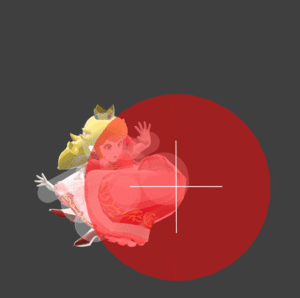 Overview
[
edit
]
Peach thrusts her body forward to make a powerful bash with her rear. The move deals 12% damage. If Peach connects to an opponent, Peach will bounce off them and will fall to the ground. If Peach misses the opponent, she will be left open; the move must not be used recklessly. However, an aerial Peach Bomber has less landing lag. Peach Bomber can KO near the blast zone.
Peach will bounce off shields, making the move safe for shield pressure. She can follow up with a neutral aerial or forward aerial to poke the opponent's shield or when they drop their shield. Peach can perform Peach Bomber to tech chase opponents. Peach can use Peach Bomber to grab the ledge, otherwise hit opponents attempting to edgeguard her. Peach can use the move to edgeguard opponents, but she can risk self-destruct.
Peach can use side special to catch an opponent either getting up or rolling from the ledge. If Peach misses the Peach Bomber, she can still recover back to the stage safely.
Update History
[
edit
]
Peach Bomber has more ending lag if it connects (FAF 19 → 25), though the period when the drift starts remains unchanged.
Peach Bomber can grab edges for longer (frame 16-37 → frame 16 onwards).
Hitboxes
[
edit
]
ID
Radius
Bone

Offset

G

A

Searchbox
0
3.5
hip
0.0
0.0
0.0
ID
Part

Rehit rate

Damage

SD

Angle

Angle type

BK

KS

FKV

Set weight

Radius
Bone

Offset

H×

SDI×

T%

Clang

Rebound

Effect
Type

G

A

Sound
Direct

Hit bits

Hit part

Blockable
Reflectable
Absorbable
Flinchless

No GFX

Heedless

On hit
0
0
0
12.0%
6.0

Forward

60
73
0
7.7
top
0.0
5.0
4.5
1.0×
1.0×
0%
Fire
All
All
These timings apply if Peach does not land during the move. Jostling is disabled during frames 12-36, while ledge grabs are enabled from the front starting on frame 16.
| | |
| --- | --- |
| Searchbox | 12-36 |
| Interruptible | 88 |
| Animation length | 88 |
| | |
| --- | --- |
| Hitbox | 2-3 |
| Interruptible | 27 |
| Animation length | 52 |
Landing
[
edit
]
This animation applies if Peach lands while the searchbox is active; otherwise, a normal landing occurs. When using the move on flat ground, Peach usually lands on frame 29, allowing the move to be interrupted on frame 63.
| | |
| --- | --- |
| Interruptible | 35 |
| Animation length | 43 |
Parameters
[
edit
]
Vertical speed multiplier before jump
1.1
Initial horizontal speed on jump
2.9 (tilt input)
3.3 (smash input)
Initial vertical speed on jump
0.15
Gravity on jump
0.04
Fall speed on jump
1
Vertical speed multiplier on ending
2
Air friction on ending
0.1
Gravity on ending
0.05
Air acceleration on ending
0.05
Horizontal speed on hit
-0.95
Vertical speed on hit
1.4