Peach (SSBU)/Down tilt
From SmashWiki, the Super Smash Bros. wiki
Jump to navigation
Jump to search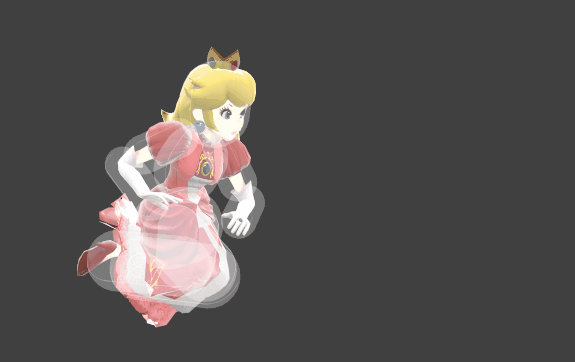 Overview
[
edit
]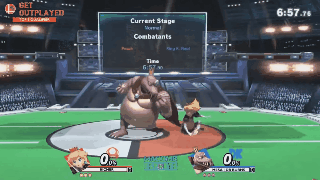 Also known as Underfoot Kick (足もとキック), Peach performs a low sweep kick. The move's unconventional meteor smash is untechable, making it her best combo starter. It can lead into multiple float-cancelled neutral aerials which can be finished with a dash attack or a forward aerial. Down tilt can combo into a forward smash, dash attack, down aerial, up aerial at low percentages. At high percentages, it can combo into a forward aerial.
With good spacing, down tilt is safe on shield if the opponent has a short grab range. Peach can perform down tilt after a spot dodge.
Down tilt along with forward and up tilt can recatch thrown items. This allows Peach to effectively perform turnip combos with down tilt.
Down tilt can 2 frame punish opponents by the edge of the stage; it can be followed up with a forward smash or forward aerial.
Hitboxes
[
edit
]
ID
Part

Rehit rate

Damage

SD

Angle

Angle type

BK

KS

FKV

Set weight

Radius
Bone

Offset

H×

SDI×

T%

Clang

Rebound

Effect
Type

G

A

Sound
Direct

Hit bits

Hit part

Blockable
Reflectable
Absorbable
Flinchless

No GFX

Heedless

0
0
0
7.0%
0

Standard

60
105
0
3.8
top
0.0
3.2 to 2.8
6.5 to 10.2
1.0×
1.0×
0%
Punch
All
All
1
0
0
7.0%
0

Standard

15
105
0
3.8
top
0.0
3.2 to 2.8
6.5 to 10.2
1.0×
1.0×
0%
Punch
All
All
| | |
| --- | --- |
| Hitboxes | 8-9 |
| Interruptible | 24 |
| Animation length | 33 |