Peach (SSBU)/Neutral attack/Hit 1
From SmashWiki, the Super Smash Bros. wiki
Jump to navigation
Jump to search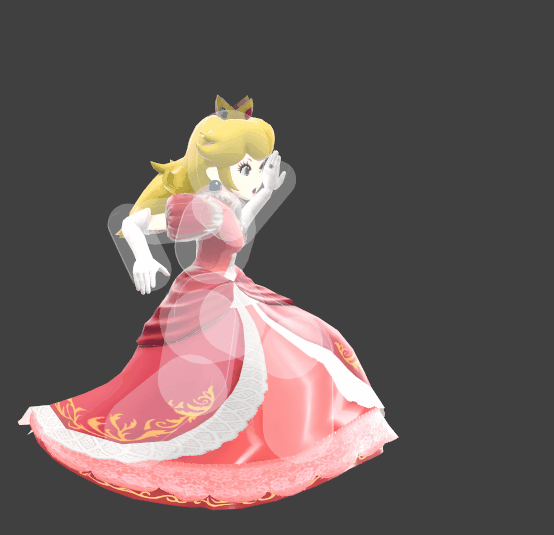 Overview
Peach slaps inwards with the leading arm. The first hit of neutral attack deals 2.0% damage.
While pressuring the opponent's shield, neutral attack's first hit can be used to attack the opponent before they act out of shield along with the second hit. However this option can be countered if the opponent continues shield. The first hit of neutral attack is one of Peach's fastest out of shield options. It can be used after performing a perfect shield. If two attacks collide to each other, Peach can immediately perform neutral attack. Peach can perform neutral attack after mashing out of the opponent's grab.
At low percentages, neutral aerial can combo into neutral attack. The move can set up jab resets.
Update History
[
edit
]
Neutral attack 1 connects into neutral attack 2 more reliably.
Hitboxes
[
edit
]
ID
Part

Rehit rate

Damage

SD

Angle

Angle type

BK

KS

FKV

Set weight

Radius
Bone

Offset

H×

SDI×

T%

Clang

Rebound

Effect
Type

G

A

Sound
Direct

Hit bits

Hit part

Blockable
Reflectable
Absorbable
Flinchless

No GFX

Heedless

0
0
0
2.0%
0

Forward

30
25
0
2.0
top
0.0
9.0
5.0
1.2×
1.0×
0%
Peach Slap
All
All
1
0
0
2.0%
0

Forward

20
15
0
2.0
top
0.0
9.0
8.0
1.2×
1.0×
0%
Peach Slap
Fighter only
All
2
0
0
2.0%
0

Forward

20
15
0
2.4
top
0.0
9.0
10.5
1.2×
1.0×
0%
Peach Slap
Fighter only
All
3
0
0
2.0%
0

Forward

30
25
0
2.0
top
0.0
9.0
8.0
1.2×
1.0×
0%
Peach Slap
All
All
4
0
0
2.0%
0

Forward

20
15
0
2.4
top
0.0
9.0
10.5
1.2×
1.0×
0%
Peach Slap
All
All
Hitboxes
2
Continuability
Held on hit or tapped
7-30
Held without hitting
14
Interruptible
28
Animation length
37