Peach (SSBU)/Dash attack
From SmashWiki, the Super Smash Bros. wiki
Jump to navigation
Jump to search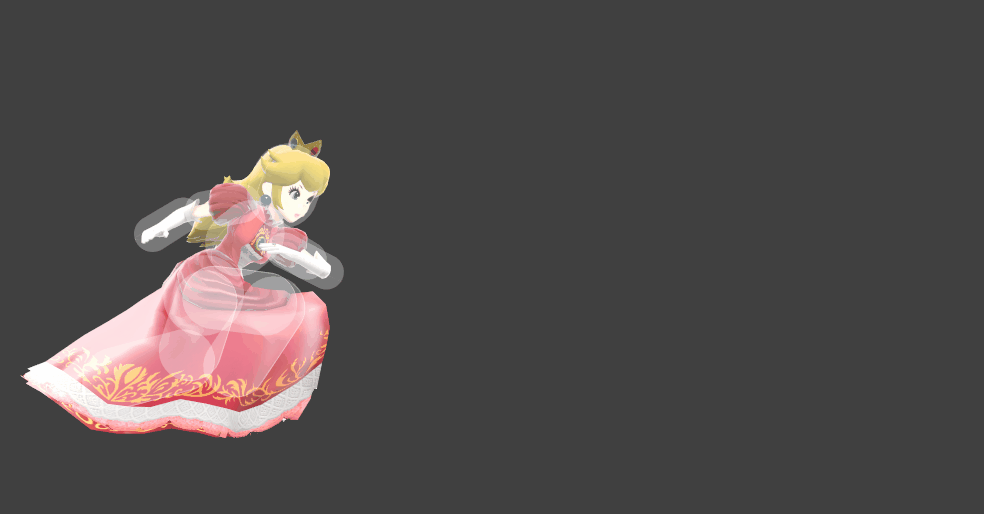 Overview
[
edit
]
Also known as Lady Push (レディープッシュ), Peach creates magical sparks of hearts in her hands. She strikes with both arms extended forward, then quickly spreads her arms out. Dash attack's first hit deals 4% damage and the second hit deals 6% damage.
Peach runs forward when performing a dash attack making the move unsafe on shields. Dash attack is relatively quick with good range that can serve as a situational KO move at higher percents. Dash attack is an out of shield option but can be used after a perfect shield. After performing a combo from down tilt to multiple float-cancelled neutral aerials, Peach can finish the combo with a dash attack. Down tilt, float-cancelled neutral aerial or float-cancelled back aerial can combo into dash attack at low percentages.
Update History
[
edit
]
Dash attack has reduced knockback scaling (140 → 130).
Hitboxes
[
edit
]
ID
Part

Rehit rate

Damage

SD

Angle

Angle type

BK

KS

FKV

Set weight

Radius
Bone

Offset

H×

SDI×

T%

Clang

Rebound

Effect
Type

G

A

Sound
Direct

Hit bits

Hit part

Blockable
Reflectable
Absorbable
Flinchless

No GFX

Heedless

Shieldstun
Hit 1
0
0
0
4.0%
0

Forward

0
100
55
3.0
top
0.0
7.0
5.5
1.0×
1.0×
0%
Magic
All
All
2.9x
1
0
0
4.0%
0

Forward

0
100
40
4.0
top
0.0
7.0
10.5
1.0×
1.0×
0%
Magic
All
All
2.9x
2
0
0
4.0%
0

Forward

0
100
45
3.0
top
0.0
7.0
5.5
1.0×
1.0×
0%
Magic
All
All
2.9x
3
0
0
4.0%
0

Forward

0
100
25
4.0
top
0.0
7.0
10.5
1.0×
1.0×
0%
Magic
All
All
2.9x
Hit 2
0
0
0
6.0%
0

Forward

50
130
0
5.0
top
0.0
8.0
11.2
1.2×
1.0×
0%
Magic
All
All
—
1
0
0
6.0%
0

Forward

50
130
0
4.5
top
0.0
8.0
6.5
1.2×
1.0×
0%
Magic
All
All
—
| | |
| --- | --- |
| Hit 1 | 6-9 |
| Hit 2 | 17-19 |
| Interruptible | 38 |
| Animation length | 51 |