Peach (SSBU)/Neutral special
From SmashWiki, the Super Smash Bros. wiki
Jump to navigation
Jump to search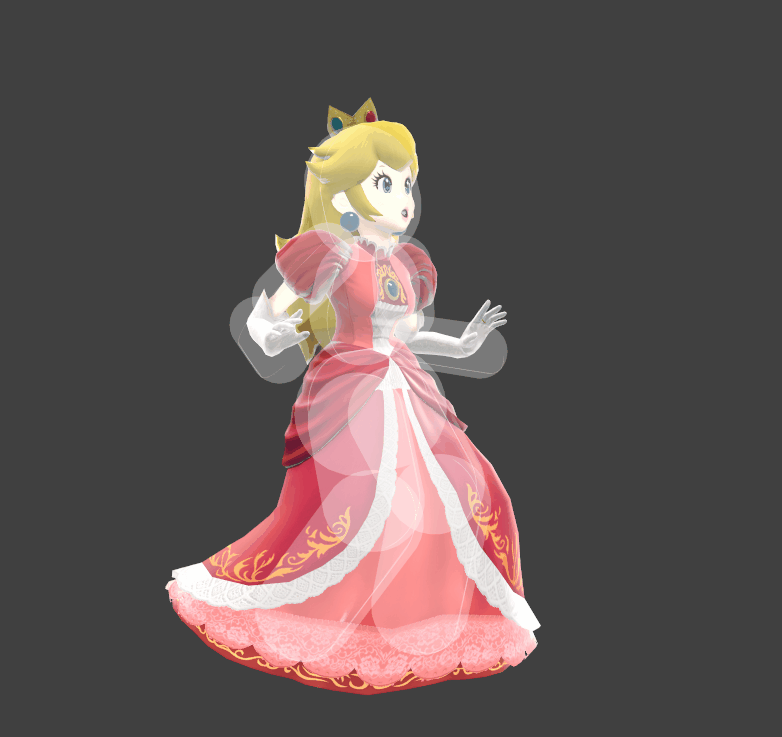 Overview
[
edit
]
The neutral special called Toad, Peach covers her ears with a terrified expression and turns away as Toad appears in front of her, arms spread out. If hit, Toad will retaliate with a spray of spores, and Peach will wince. Toad releases 6 spores, dealing 21% if all spores hit. Each spore hit deals 3.5% damage. If attacked from behind, Peach and Toad switch places.
The neutral special can be used if Peach can predict the stage recovery of the foe or the attack from the foe. However, the neutral special should not be abused all the time as the opponent can mix up their moves and timing. Peach cannot move until the move reaches 63 frames. In competitive play, Peach players do not overuse the neutral special.
Update History
[
edit
]
Toad no longer stalls continuously in the air after the first use.
Toad's counterattack connects more easily when blocking an attack from behind.
Hitboxes
[
edit
]
ID
Part

Rehit rate

Damage

SD

Angle

Angle type

BK

KS

FKV

Set weight

Radius
Bone

Offset

H×

SDI×

T%

Clang

Rebound

Effect
Type

G

A

Sound
Direct

Hit bits

Hit part

Blockable
Reflectable
Absorbable
Flinchless

No GFX

Heedless

Spores
0
0
0
3.5%
2.0

Speed-based

40
210
0
4.5
top
0.0
0.0
0.0
1.0×
1.0×
0%
Punch
All
All
Counter
[
edit
]
| | |
| --- | --- |
| Intangibility | 8-10 |
| Counter | 9-34 |
| Interruptible | 63 |
| Animation length | 69 |
| | |
| --- | --- |
| Intangibility | 1-3 |
| Spores | 3-18, 6-21, 9-24, 12-27, 15-30, 18-33 |
| Interruptible | 61 |
| Animation length | 62 |
Parameters
[
edit
]
| | |
| --- | --- |
| Horizontal speed divisor on startup | 2 |
| Initial vertical speed | 0 |
| Gravity | 0.025 |
| Fall speed | 0.7 |
| Air friction | 0.0025 |
| Counter bubble size | 9u |
| Counter hitlag on activation | 18 frames |
| Toad spore offsets | [-1, 4, 0] |
| | |
| --- | --- |
| Initial speed | 10 to 15 |
| Friction | 0.7 |
| Maximum random trajectory deviation | 40° |
| Lifetime | 16 frames |