Aerial attack
From SmashWiki, the Super Smash Bros. wiki
Jump to navigation
Jump to search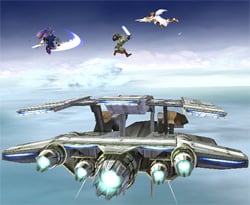 An aerial attack (空中攻撃, Midair attack) is any move that is performed in midair that is not a grounded attack or special move. Their official terms vary between titles; they are known as midair attacks in Super Smash Bros. Melee, and air attacks in Brawl, Smash 4 and Ultimate. Most aerial attacks deal moderate damage (9%-14%). Aerial attacks can be L-cancelled in SSB and Melee.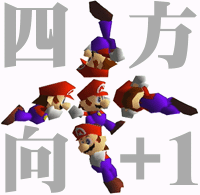 The types of aerial attacks are listed below, with a list of their typical uses:
Certain characters with a tether grab also possess a grab aerial, which is used by pressing the grab button. Similarly, characters who can glide possess a glide attack, which is used when attacking out of a glide.
Super Smash Bros. for Wii U digital manual description

[

edit

]
"Press

while airborne to perform air attacks. Tilting

in a direction and pressing

will trigger different moves."
Since Melee, a number of select aerial attacks have a small spark effect akin to smash attack; the aerials that possess such special effects often change from game to game.