Zero Suit Samus (SSBU)/Down smash
From SmashWiki, the Super Smash Bros. wiki
Jump to navigation
Jump to search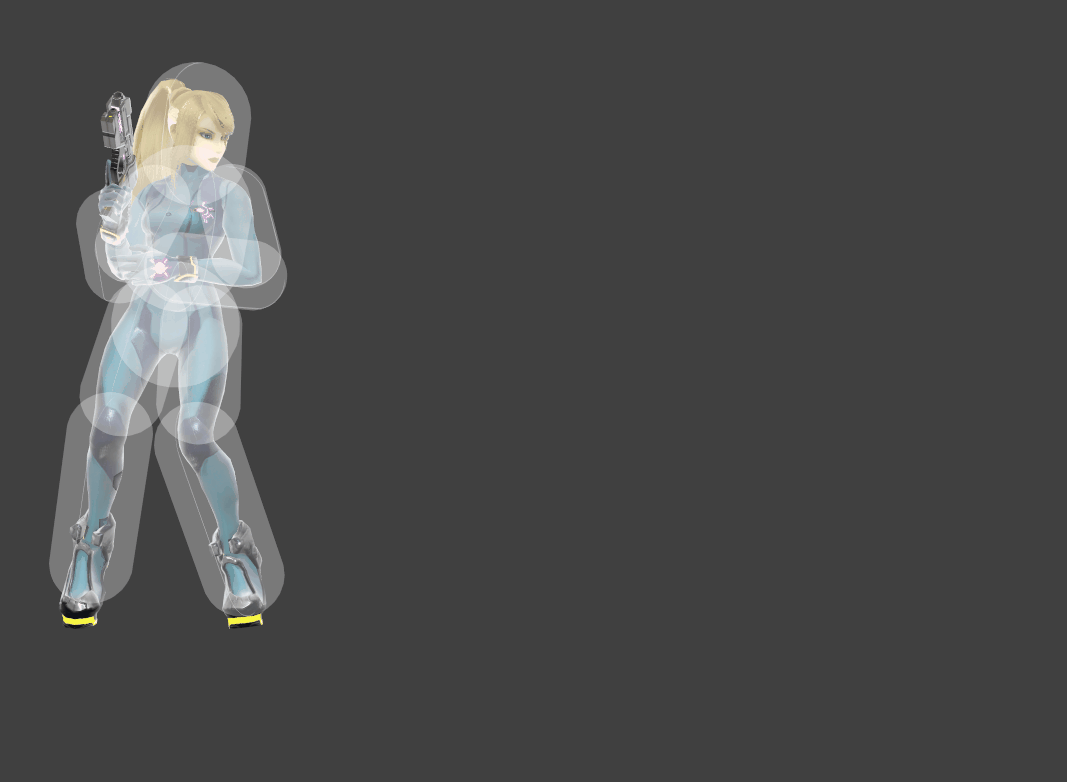 Overview
[
edit
]
Zero Suit Samus aims her Paralyzer downwards and fires an electrical blast towards the ground which paralyzes opponents for some time, allowing her to follow up with one of her finishers for a potential KO.
The amount of time the move keeps the opponent paralyzed depends on what percent they are at with the move keeping them stunned for longer the higher their percentage is. The move comes out quite slowly on frame 20 which makes it one of the slowest down smashes in the game. However, its ending lag is very low as it only has 17 frames of cooldown, making it difficult to punish. Additionally, it also has large hitboxes that lasts for 5 frames which gives it decent range as well as 2-frame potential. Its low ending lag combined with its decent range even makes it rather safe on shield if it is properly spaced.
The move does have some shortcomings, however. As previously mentioned, the move has slow startup which can make it difficult to land at times and unlike most down smashes, it only hits in front of the user rather than on both sides. A big nerf it has received is that the move also applies hitlag to both Zero Suit Samus and her opponent whereas in previous Smash games, only her opponent suffered from hitlag. Lastly, the move has a lower hitlag multiplier and less overall knockback which reduces the amount of time the opponent is paralyzed, particularly at low percents where it will be unsafe on hit which is exacerbated if the sourspot is landed. All of this combined prevents the move from granting Zero Suit Samus the frame advantage it did in Smash 4 and especially in Brawl, although it is still very rewarding.
Although not as potent as it was in previous Smash titles due to the nerfs it has received, it still remains as a valuable tool in Zero Suit Samus's toolkit.
Hitboxes
[
edit
]
ID
Part

Rehit rate

Damage

SD

Angle

Angle type

BK

KS

FKV

Set weight

Radius
Bone

Offset

H×

SDI×

T%

Clang

Rebound

Effect
Type

G

A

Sound
Direct

Hit bits

Hit part

Blockable
Reflectable
Absorbable
Flinchless

No GFX

Heedless

0
0
0

8.0%

0

Standard

0
90
0
4.0
top
0.0
3.0
13.0 to 8.0
0.6×
1.0×
0%
Electric
All
All
1
0
0

6.0%

0

Standard

0
85
0
7.0
top
0.0
3.0
17.0 to 10.0
0.6×
1.0×
0%
Electric
All
All
| | |
| --- | --- |
| Charges between | 15-16 |
| Hitboxes | 20-24 |
| Interruptible | 42 |
| Animation length | 55 |
| | | | | |
| --- | --- | --- | --- | --- |
| | | | | Zero Suit Samus's moveset |